Jordan Craig Says Tristan Thompson Has Only Seen 2-Year-Old Son 9 Times TOTAL & Khloe Affair Caused 'Pregnancy Complications' + Jordyn Woods & Kylie Reunite In The Club
​
Jun 11 | by _YBF
​ ​ ​ ​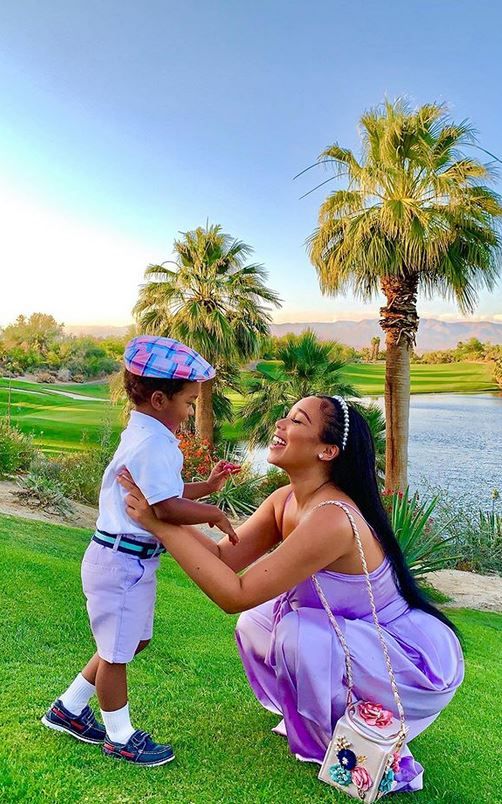 Tristan Thompson's deadbeat dad antics are being exposed by his son's mother Jordan Craig. Deets on why he has been missing in action, how his affair with Khloe Kardashian caused issues with her pregnancy, plus an update on Jordyn Woods' friendship with Kylie Jenner inside...
Jordan Craig - mother of Tristan Thompson's first born - has been quiet long enough. And now, she's speaking her piece as the former couple battles it out in court over child support for their 2-year-old son, Prince Oliver Craig Thompson.
In court documents obtained by RadarOnline, Jordan - who allegedly married Tyga before hooking up with Tristan - claims the 28-year-old NBA player has only seen his son nine times...total, during a declaration in November 2018. Since the time of his birth (December 2016), Jordan says the Cleveland Cavalier player saw their son once in 2016, four times in 2017, and four times in 2018. He only spent time with him alone in one instance over the years, she added.
Interesting, being that he posts photos of his son on his social media as if he's a doting dad.
"I have given Tristan almost two years to step up and assume the fatherly role for our son. As set forth below in detail, he has failed to do so," Craig, 27, wrote in her declaration.

"I cannot force Tristan to be a father. I have been and will continue to be the sole caretaker of our son. It is my pleasure to care for him daily and tend to his needs."

"I only ask that the court order Tristan to pay child support in the amount he is legally required to under the guidelines."
The site reports:
In her January 31, 2019 deposition, Craig said Thompson initially paid her $15,000 a month.

When asked how many times he had seen Prince during his January 29, 2019 deposition, Thompson answered, "I don't know the exact number."

The NBA player said he disagreed with "multiple things" characterized in Craig's declaration statements.

When asked about specific time periods of visitation set forth in Craig's declaration, Thompson replied, "I doubt anyone was keeping time," he said. "Well, I think it's inaccurate."

Thompson said while Craig has invited him to attend Prince's doctor and dentist appointments, she does so when he's not available due to his public schedule.

Thompson alluded that Craig has denied him visitation, and added that his family and friends have tried to reach out to his ex, but "they got delayed response from her for us to even see him."
While they didn't see eye-to-eye, the former couple was able to reach an agreement on child support.
Both sides did come to an agreement over child support last month, with Thompson agreeing to pay $40,000 per month. He also was ordered to pay Craig $200,000 for retroactive child support within 10 days of signing the May 14 settlement.
Whoa.
As we all know, Tristan ended up leaving Jordan while she pregnant with their son and started a relationship with Khloe Kardashian.
Just one month into her pregnancy, she found out he was cheating on her, so she left Cleveland and moved back to LA.
"Tristan insisted he would change for our family, and tried to get back together on numerous occasions," she said in the court papers, adding that she took him back and moved into a new L.A. home with him.
Not long after, she came across pictures of Tristan "with one of the women I previously confronted him about, and whom Tristan had denied even knowing." And that was Khloe Kardashian. She said his affair stressed her out and put a strain on her pregnancy.
"Their relationship went viral and everything took a turn for the worst," Craig painfully recalled. "Every day several articles were published worldwide mocking my new unfortunate reality and my pregnancy would now become one of the most popular gossip headlines due to the woman Tristan was now publicly dating during my pregnancy."
"This brought an enormous amount of negative, unwanted attention and stress into my life, and more critically, into my pregnancy," she claimed. "My obstetrician ordered me to be on bed rest due to high levels of stress that eventually caused me to have serious pregnancy complications."
Despite everything going on, Prince came out healthy.
They say the way you get him is the way you keep him and that rang "true" for the "Keeping Up With The Kardashian" star. Khloe was presented with video footage of Tristan cheating on her just days before she gave birth to their daughter, True Thompson, in April 2018.
Then, the Jordyn Woods cheating scandal broke and their relationship was unsalvageable.
Speaking of Jordyn Woods...
On Friday night, Jordyn, her former bestie Kylie Jenner AND Tristan Thompson ended up paryting inside Bootsy Bellows. What a coincidence.
Sources say Jordyn and Kylie spoke to each other briefly inside the VIP area after Kylie came down from her section to say "Hi" to Jordyn, who was in another section.
TMZ reports:
As one source put it, the "good vibes" were flowing. Kylie and Jordyn weren't alone, there were some mutual friends around to help break the ice.
The girls were there to celebrate their friend Stassie Karanikolaou's birthday. Jordyn and Kylie are supposedly secretly texting each other.
Meanwhile, Tristan was also in the mix. He hung out with Drake, NBA baller Jordan Clarkson and Shaq's son, Shareef O'Neal. Sources claim he walked up to Kylie's section, but her sister Kendall Jenner was the only person to talk to him. Jordyn and Tristan didn't communicate either.
Sounds like Jordyn and Kylie could be back friends, or at the least, associates.
Meanwhile, Kylie has been posting her new bestie up on her socials like crazy:
Oh.
Photo: Jordan's IG
​ ​
​ ​ ​