FOLKS ARE BOLD! Woman Tries To Kidnap Two Children Right In Front Of Their Parents & Security At Atlanta Airport (WATCH)
​
Jun 27 | by _YBF
​ ​ ​ ​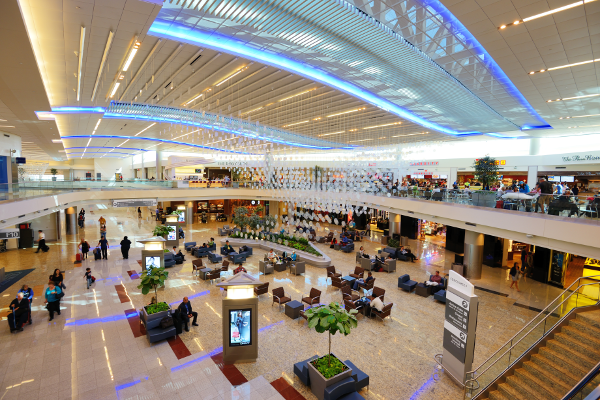 A woman tried to abduct two children right in front of their parents and close to where TSA/Security usually is present at the Atlanta airport. Watch the disturbing video inside...
Police have arrested a woman who tried to kidnap two children at Atlanta's airport. And now, ATL police are giving props to a police traffic control officer who jumped into action when she saw what was going down.
In surveillance video from inside Hartsfield-Jackson International Airport, you see 26-year-old Esther Daniels attempt to grab a stroller with a child in it. The mother was literally standing right in front of her and when she realized what the woman was doing, she fought her off. Daniels then tried to snatch up one of the other children, and that's when the dad stepped in. All of this is going down right in front of where TSA/Security usually stakes out in the airport.
An Atlanta police traffic control officer saw the scuffle and immediately ran over to help. Daniels tried to run, but the traffic control officer chased her down and kept her detained until backup arrived.
Check it:
According to reports, Daniels became combative and uncooperative. An officer said Daniels appeared "to be experiencing mental distress." She was taken to a local hospital to be checked out before being transported to the Clayton County Jail where she was held without bond. She was charged with kidnapping and obstruction.
Thankfully, the children were not injured. The family was headed to Disneyland before the attack happened.
Now, Atlanta police are praising the traffic control officer for coming to the rescue when she was working in a civilian capacity.
"She deserves all the praise," Atlanta police spokeswoman Tashena Brown said. "Especially for her to have been working, really, in a civilian capacity, for her to just to jump in right away with no hesitation is amazing."
Daniels is scheduled to appear before a Clayton County judge for a preliminary hearing July 11th.
Keep your babies safe.
Photo: ESB Professional / Shutterstock.com
​ ​
​ ​ ​