Wimbledon Is On One! Venus Williams Loses To 15-Year-Old YBF Teen CoCo Gauff + Naomi Osaka Out In First Round!
​
Jul 01 | by Natasha
​ ​ ​ ​
As if facing the legend that is Venus Williams isn't bubble guts-inducing enough, try doing so at 15 in your first ever Wimbledon tourney. And winning. Meet the history making Coco Gauff inside, plus deets on Naomi Osaka's huge first round upset.
Venus Williams just got ousted in the first round of Wimbledon by a YBF chick who could be her mini-me.
She's Cori "Coco" Gauff, and it's about time you get to know her. Because the Atlanta native is making some serious waves at her first ever Wimbledon tourney.
At today's round 1 matches, the favorites are falling left and right. Venus (39) is out, and it's all because of the new tennis queen on the rise, Coco. By the way, she's only 15.
CoCo beat the five-time champion 6-4, 6-4 just minutes ago in a first-round meeting. She was seen sobbing after winning her last match point, and we totally see why. This her first Grand Slam match, period. Sheesh!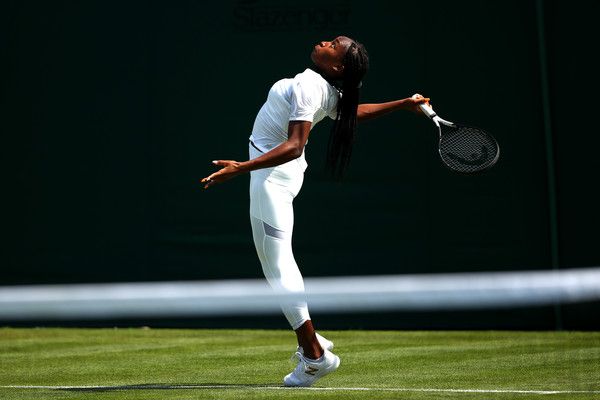 She made history last week after becoming the youngest player to enter the main draw at Wimbledon in a decade after breezing through the qualifying round (pictured above). She entered ranked at 313th, but clearly, that didn't matter.
CoCo's no stranger to winning though. The now Florida resident won the Junior Roland Garros (French Open) in 2018, the second youngest athlete to do so.
She says her first tennis match she ever watched was Serena Williams winning at Wimbledon one year. While she's being touted as "the next Serena," we can't help but think she's giving us a teenaged Venus vibe too.
By the way, CoCo also knocked out a top seed during the Wimbledon qualifying round a few days ago. Get it young queen!
Unfortunately, Naomi Osaka - ranked #2 in the world - also got knocked out in today's first round. Yulia Ptintseva delivered the crushing blow, but the 21-year-old who represents Japan (her father is Haitian), will definitely be back in tip top shape for the next Grand Slam, we're sure.
Check out Naomi hitting the practice courts this weekend before today's loss.
Photos: Getty
​ ​
​ ​ ​