Chris Brown Fires Off Shots At 'Uglies' Who Criticized His 'Only Wanna F*ck Black B*tches With The Nice Hair' Lyric
​
Jul 02 | by _YBF
​ ​ ​ ​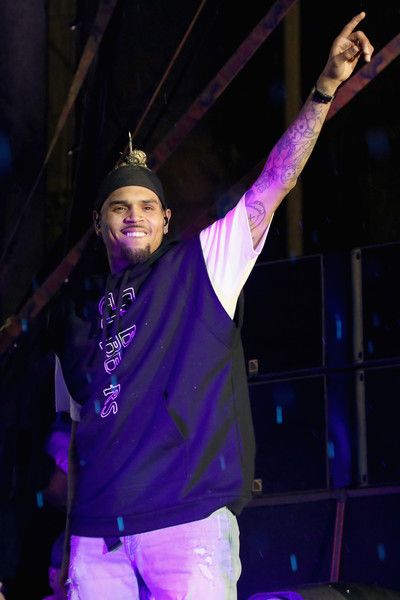 Chris Brown is poppin' off on all of the "uglies" who take issue with lyric on his INDIGO album about "black b*tches with the nice hair." Sighs....
Chris Brown's Indigo album went straight to No. 1 on the U.S. album chart on iTunes following its release. Now, fans are dissecting his lyrics and calling him out for shading black women!
On his track "Need A Stack" featuring Lil Wayne & Joyner Lucas, Breezy sings about "only wanting to f*ck with black b*tches with the nice hair."
"Diggin' it, then I'm lickin' all on that pussy, put it right there/ Only wanna fuck the black bitches with the nice hair," Breezy sings on the track.
It's at the 3-minute mark below:
Once fans discovered this lyric, they started going off on Twitter:
Fuck Chris brown he's a big ass coon for calling black women bitches and saying he only like the ones with "good hair" I stopped fucking when him when he beat the hell out of Rihanna his career should of ended right there

— LovelyLittleMisfit (@Majestickay3) June 30, 2019
@chrisbrown THIS IS GOOD HAIR YOU PIECE OF SHYT! pic.twitter.com/N7proWKCGf

— LovelyLittleMisfit (@Majestickay3) June 30, 2019
Chris Brown said "only fuck with black bitches with nice hair" .. so fucking ignorant . No surprise though!!! I'm so tired of Black Men spreading their colorist hate. So Exhausting. Probably shouldn't insult your core fan base.

— Kaycuddles (@MissRadiant16) June 29, 2019
Chris brown all black women have good hair. Thank you.

— K H A E (@forevaakhaee) July 1, 2019
It took Chris Brown saying he only likes black women with "good hair" for y'all to see that he does not like black women? Lol pic.twitter.com/6ZMzpLcSbE

— Key-Or-Uh (@QueenKeora) July 1, 2019
Meanwhile, some folks defended him by saying that's his preference:
Men can't have preferences ? If black bitches with nice hair is what Chris Brown likes then so be it.

Same way rich nigga, 8 figure that's yo type, sis.

Stop losing sleep over other people's preferences when you picky ya damn self

— . (@WhyUMadThough) July 1, 2019
Yall can't be made a Chris Brown for saying he only wanna mess with black girls with good hair! Can someone fill me in on what I'm missing?

— Court (@princesscourtc) July 1, 2019
Don't y'all hoes start taking about Chris Brown and his preference...

He likes bitches with good hair, PERIOD.

He said what the fuck he said...

Y'all be so butt hurt about blacks and their preferences but will wear designer all day..

— Trick Papi (@trickpapithagod) July 1, 2019
Sooooo y'all mad @chrisbrown bc he don't want to fuck a black girl whit bad hair? Who want to fuck any girl with bad hair? He just said "black" bc he like "black" women, (I think) no girl would fuck a guy with bad hair or nappy hair, stop being cry babies

— clarence bell (@Bell61Hero) June 30, 2019
In his defense, he clapped back at the "uglies" (his words, not ours) who have been blasting him for his choice of words on the track.
"Yall tripping trippin," he wrote in the comments on one Instagram account. "Y'all b*tches don't wanna f*ck da n*gga wit da f*cked up teeth do you??? Only b*tches upset is the uglies (not the black queens)."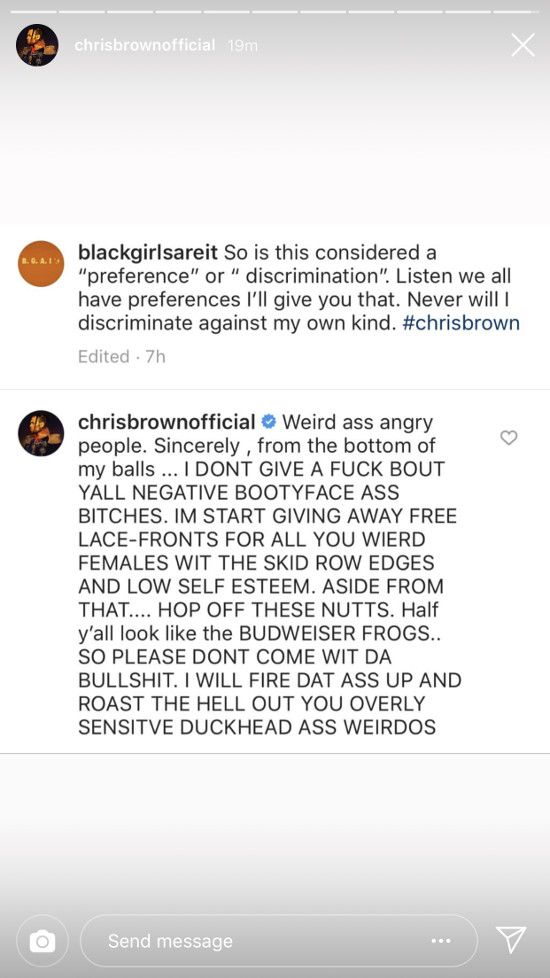 The Grammy winner then screenshotted a response he made to @BlackGirlsAreIt and posted on his IG Stories.
"So is this considered a 'preference' or 'discrimination,'" they wrote. "Listen we all have preferences I'll give you that. Never will I discriminate against my own kind. #chrisbrown."
This got him in his bag, so he unleashed a long, expletive laced rant:
"Weird ass angry people," he awrote. "Sincerely, from the bottom of my balls...I DON'T GIVE A F*CK BOUT YALL NEGATIVE BOOTYFACE ASS B*TCHES. IM START GIVING AWAY FREE LACE-FRONTS FOR ALL YOU WIERD FEMALES WIT THE SKID ROW EDGES AND LOW SELF ESTEEM. ASIDE FROM THAT...HOP OFF THESE NUTTS. Half y'all look like BUDWEISER FROGS...SO PLEASE DON'T COME WIT DA BULLSH*T. I WILL FIRE DAT ASS UP AND ROAST THE HELL OUT OF YOU OVERLY SENSITIVE DUCKHEAD ASS WIERDOS."
He then made a video challenging all of the "angry uglies" to send him a picture of what they look like:
Breezy's mom Joyce Hawkins not shockingly hopped on Instagram to defend her son: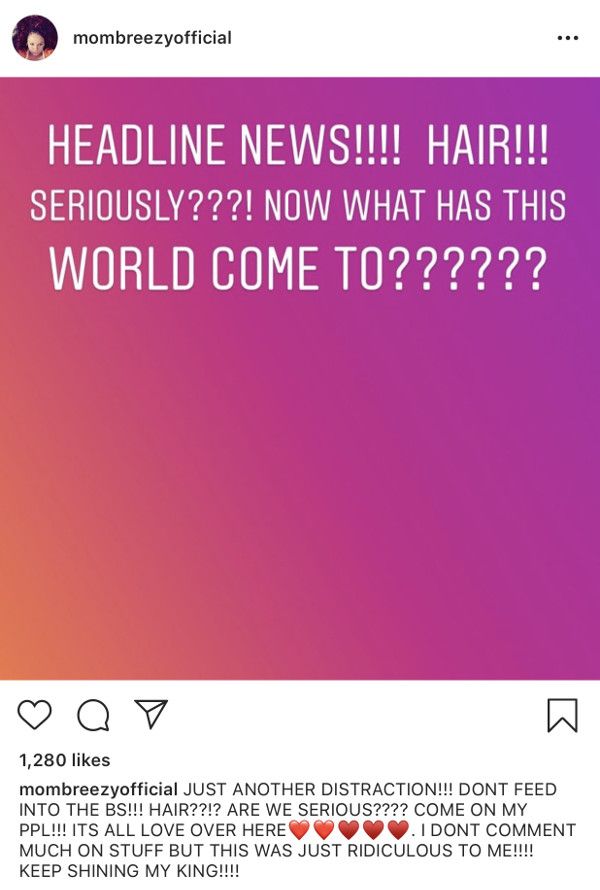 Honestly, his mom is the traditional fit for the hair stereotype he gave. For her to discount other people who may have an issue with what was said, just because she personally does not take issue, isn't cool.
Thoughts?
In other news...
VIDEO: Chris Brown surprising fans at a dance studio in Miami last night! : @biancarobinson_ pic.twitter.com/sIkSoan8KU

— CBE NEWS (fan page) (@CBENEWSSS) July 2, 2019
Breezy is shooting the visuals for his "No Guidance" music video in Miami. He made a surprise stop at a dance studio yesterday to show love. Peep the clip above.
In case you missed, Breezy flexed his basketball skills for the "Ace Family Charity Basketball Game" over the weekend. Check out the courtside flicks with his daughter, Royalty Brown, HERE.
Photo: Getty
​ ​
​ ​ ​