Wendy Williams Is 'CRAZY' About Her New Man & It's NOT The 27-Year-Old She's Been Spotted With - Watch Her Tearful Return From Hiatus
​
Jul 08 | by _YBF
​ ​ ​ ​
Wendy Williams is having the best Hot Girl Summer and she's dishing on her love life. She has a new man and it's NOT the 27-year-old convicted felon she has been spotted with. Deets on Dr. BAE, her being diagnosed with with lymphoedema, and more inside....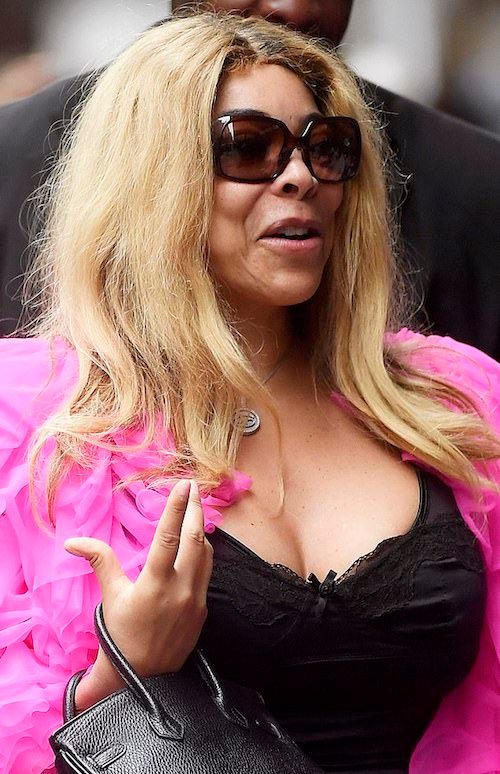 Wendy Williams returned to her purple chair this morning to host her daytime talk show after a five-week hiatus. And chick spilled all the tea about her Hot Girl Summer.
Tears started swelling up in her eyes the moment she stepped foot on stage. The crowd loudly chanted her name as she geared up to deliver her Hot Topics segment.
"Let's get started! I'm the Hot Topic!," she said.
The 54-year-old, who celebrates her birthday on July 18th, didn't waste anytime to share details about her love life. She's no longer single! Oh?
While she has been spotted out and about in Los Angeles and NYC with 27-year-old convicted felon, Marc Tomblin, turns out, he's NOT her new man. Mmhmm....
The famed talk show host -pictured in pink after today's show - has been getting her groove back with a DOCTOR in his 50s! And she's CRAZY about him. He has been married, his kids are grown, and he's black! Yasssss!
"I'm not on the market anymore. I'm not in love. I don't know how I'm doing," she shared holding back tears. "I'm not in love but there's somebody that I'm crazy about. It's not who you think. OK? Mother doesn't deal with children, but it just so happens that I guess with my charm and wit, I attract people of all ages."
"He's from LA. He came to New York. He had never been to New York before," she said. "Skyscrapers and everything. I'm a hand holder. If we go out, I'm holding your hand."
Then, she opened up about her 27-year-old boy toy just being a friend:
"27-year-old boys, quite frankly, find me attractive. I get it, but when it comes time for the comfort of a man, I need someone in his 50s, too, and he's gotta work. It helps that he's a doctor. He's been married. His kids are in their 20s, and yes, he's black. He's brown-black."
The newly single TV host - who's getting a divorce from her estranged husband Kevin Hunter Sr. - also dished on the ongoing drama with her family.
"My family is doing fine," she said, referring to a tabloid cover that said her family was falling apart. "I'm doing fine."
Wendy's son, Kevin Hunter Jr. is reportedly set to appear in court again Tuesday over his alleged assault against his father. The prosecutor asked for more time so he could review the case, and it was continued. The prosecutor believes the case would be resolved at the next hearing, so it sounds like a plea deal may be reached.
So what was Wendy up to during her hiatus? She revealed she traveled to Arizona and Idaho to gather her thoughts.
"I was just a woman relaxing and gathering my thoughts," she said about her hiatus. "I had my books, my thoughts, but mostly gathering my life for me, my son and my family."
She also had lunch with Kanye West and the Kardashians, and she got her entire life during Pride in LA with Blac Chyna and NYC.
Well, good for her.
Peep the clips below:
Wendy Williams also has new health issues on her hands. She revealed she has been diagnosed with lymphoedema as she talked to the audience about paparazzi shots that showed her swollen ankles.
"Lymphoedema, by the way, I've been diagnosed," she explained. "It's not going to kill me, but I do have a machine — and how dare you talk about the swelling of it all."
Despite her health concerns (she has also been diagnosed with Graves' disease and hyperthyroidism), she said she has everything under control.
"I've got it under control. If [the swelling] in my feet never goes all the way down, at least I have this machine," she explained. "I sit for 45 minutes a day. It's the best party entertainer ever. Everybody [that] comes over wants to do it."
Glad she's getting her life back!
Photos: Splash
​ ​
​ ​ ​