HAPPIEST PLACE ON EARTH TURNS VIOLENT: Police Launch Investigation Into #DisneylandFight! [UPDATED]
​
Jul 09 | by _YBF
​ ​ ​ ​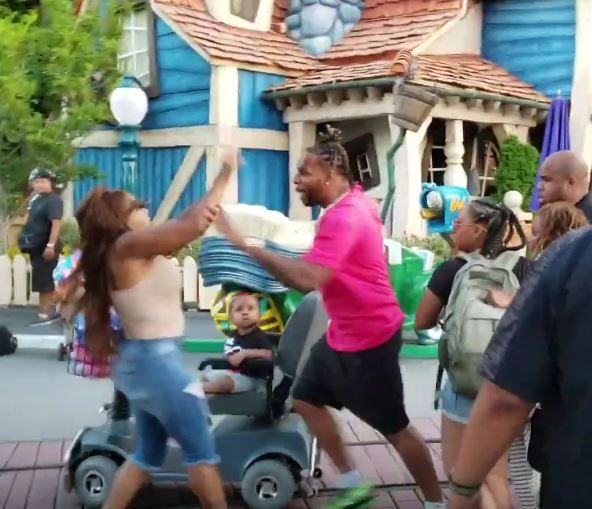 Chile, folks were fighting at the Happiest Place on Earth! Now, police are launching an investigation. Deets on the INSANE Disneyland fight inside...
UPDATE:
The family that was fighting at Disneyland may face possible charges.
According to The Blast, the Anaheim Police Department has sent over their investigation report for possible charges against the aggressors in the fight. A spokesperson for APD tells us, "The case has been presented to prosecutors for review."
The arrests of possible suspects could come in the next few days.
---------------------------------------------------
Just when you thought you've seen it all. Sighs....
A video of a family FIGHTING inside Disneyland has gone viral. And now, Anaheim police are looking into what happened.
Police were called to Disneyland in Anaheim on Saturday following a fight that involved four family members in Mickey's Toontown. The ratchetry went down in front of plenty of people, including young children who were in tears watching the fiasco go down. Extremely shameful & unnecessary actions from everyone involved.
As of now, no charges have been filed since the family isn't cooperating with police. Shocker.
"They were all uncooperative and didn't want anything done, and we didn't have the luxury of viewing the video at that time, so we wrote a report," Anaheim Police Department Sgt. Daron Wyatt said.
"Now that we have the video, detectives will be following up to see if any criminal charges can be filed," Wyatt told the Los Angeles Times.
Now, Anaheim city attorneys are working with detectives to draw up charges against the fighting family members.
In the viral video, a woman seemingly spits in a man's face (the man is believed to be her brother) and that's when all hell broke loose. The man in the red shirt went postal on everyone - women included - punching, pulling hair and knocking people over. You can hear the man in the red shirt say something about being affiliated with the Crips gang and that he's going to jail. Yikes.
"I'm ready to go to jail tonight," the man in the red shirt can be heard saying. "I don't give a f*ck!"
It's unclear what exactly caused the fight.
After the man in the red shirt starts beating and dragging one woman, bystanders finally step in and take the man down. One man hold him in a choke hold to subdue him before Disneyland security arrived.
"Any type of violence is inexcusable and will not be tolerated," Disneyland spokeswoman Liz Jaeger said. "Those involved were immediately removed from the premises and turned over to the Anaheim Police Department."
WARNING! The video is graphic and contains profanity. You can check it out here.
A high school football coach from Texas - who witnessed the fight - is speaking out about what happened. He jumped in to subdue the man in the red shirt who was attacking the women.
"When the man regained consciousness, he kept asking, 'Who choked me out?'" explained Jason Blair, of El Paso, told KFOX14. "I didn't understand why people were recording and not helping," Blair said, noting how he told the man in red "to back off" before bringing him down to the ground with the others.
"Without a doubt I would do it again," Blair told KFOX. "When something is not right, you have to jump in."
Not to make light of this situation - because it's super unfortunate - but the commentary from this reporter was epic:
The reporting of the #disneylandfight LMFAO!! pic.twitter.com/AnHL1lNtuG

— KEEM (@KEEMSTAR) July 9, 2019
OK, sis!
Also, calm TF down while you're with your kids at Disney please.
Photo: YouTube Screenshot
​ ​
​ ​ ​