Nicki Minaj Cancels Saudi Arabia Concert After 'Reflecting' + Scores A Victory In Court But Hit With Paparazzi Lawsuit
​
Jul 09 | by _YBF
​ ​ ​ ​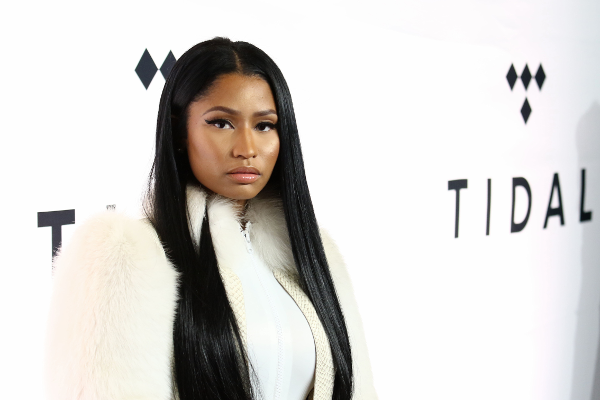 After a hiatus, Nicki Minaj is back in the headlines with several new happenings. Find out why she pulled out of her Saudi Arabia concert, her latest legal drama, and deets on her record label inside...
Over the last few months, Nicki Miknaj had been keeping a pretty low profile. But, that all changed when she dropped her new MEGATRON video and her joint track with Trina, "BAPS."
Soon after, she announced a new album is coming down the pipeline, but she didn't offer any further deets other than she still hasn't come up with a title just yet. Wait on it Barbz.
While she's getting back into hustle mode, the 36-year-old rapper recently had to cancel an upcoming show.
The Head Barb reportedly backed out of performing at the Jeddah World Fest in Saudi Arabia. She said it's her way of showing support for women's rights, gay rights and freedom of expression.
"After careful reflection I have decided to no longer move forward with my scheduled concert at Jeddah World Fest," Minaj said in a statement. "While I want nothing more than to bring my show to fans in Saudi Arabia, after better educating myself on the issues, I believe it is important for me to make clear my support for the rights of women, the LGBTQ community and freedom of expression."
She was set to hit the stage on July 18th.
Following her statement, she put up an Instagram post asking all of her fans in Saudi Arabia to "voice their opinions" so she can respond directly to her fans.
In SA, it's a traditionally super conservative culture where people (mainly single men and women) are segregated by gender in some public places like restaurants, public schools and universities, etc. Also, same-sex relationships are criminalized.
Last week, the Human Rights Foundation called for the "MEGATRON" rapper (and other performers) to pull out of the show. After Nicki's cancellation announcement, the non-profit praised her decision on Twitter:
THANK YOU @NICKIMINAJ for cancelling your #SaudiArabia concert and for supporting LGBTQ & women's rights. Millions of people around the world are inspired by your devotion to human rights and human dignity. We at @HRF salute you & are grateful for your leadership #freeloujain

— HRF (@HRF) July 9, 2019
In legal news...
The QUEEN raptress just scored a victory in court without ever having to step foot in court for it. A promoter sued her for $53,000 in 2017 with claims that she breached a deal they had for NBA All-Star Weekend in 2011. The judge ended up dismissing the lawsuit since Nicki was never served. The Blast https://theblast.com/c/nicki-minaj-promoter-nba-all-star-lawsuit-dismissed ">reports:
According to court documents obtained by The Blast, a New York judge has dismissed the lawsuit brought by promoter Cahuenga, Inc. The judge said the case was being thrown out because Cahuenga didn't serve Minaj, despite years to lock that down.

The suit explained Minaj signed a deal with them in 2011, where she agreed to make an appearance and host an event at Siren Studios in Hollywood. Cahuenga paid the singer a total of $53,000 prior to the event and Minaj was to arrive at midnight and stay until 1:00 AM. The company claims Minaj arrived 90 minutes late, at 1:30 AM, and left in less than 30 minutes.

Cahuenga said they got screwed on the deal and claimed to have lost profits. They sued Minaj for in excess of $53k.
While she scored a victory in that case, another lawsuit was filed against her recently.
Paparazzi are coming after the Pinkprint rapper for posting images of herself on her Instagram that she did not receive permission to post. Photogs at Splash News and Picture Agency pulled the trigger on a lawsuit against the NYC raptress, accusing her of "using multiple copyrighted images they took and using them without permission or authorization." Yikes. They claim they've hit her up several times about posting their images, but she continued.
Making money from lawsuits is often a revenue model for some photogs, so they're gunning after folks posting unauthorized pictures on social media.
The Blast reports:
Splash News and Picture Agency claims that they took multiple photos of the musician including one of her wearing a multicolored Oscar De La Renta gown outside of the Harper's Bazaar Party in New York City in November 2017, two other photos of the rapper in a plaid Burberry outfit in New York taken in August 2018, another of her outside a New York Fashion Week party in New York in September 2018 and a couple more of her in a cheetah print outfit in the same month.

Splash fired off legal notices to Minaj of her infringement through letters in December 2017 and March 2018. They even sent over a draft of the lawsuit they planned on filing against her.

They accuse Minaj of refusing to comply and continued to post their images. Splash claims to have lost out on a ton of profits by her posting their photos, which they say causes the value to go down.

The suit continues, "In addition, defendant's unauthorized use is expressly commercial in nature. Minaj uses her Instagram feed for the purpose of promotion—specifically, to promote her business interests, products, and ventures; to promote and sell the products and services of others; to maintain and increase her visibility and desirability as an endorser, actress, model, and entertainment personality; and to promote her persona and celebrity status. In short, every one of Minaj's Instagram posts is fundamentally promoting something to her 91 million followers."
These photogs aren't playing out in these Internet streets.
In other news...
After launching her #MegatronChallenge recently, the NYC rapper is looking to sign the winners to her new record label. For the challenge, participants have to spit their best freestyle over the reggae-infused instrumental.
The first place winner will receive $10,000, the runner up will receive $5,000, and the third place winner will get $1,000. Not only does the winner get 10 stacks, they'll also be signed to Nicki's label. Chick is also looking for A&R's to join her label as well:
"I'M BREEDING PURE PITBULLS ON MY LABEL SO HAVE YALL FKN FUN NOW!!!!!!!!!!!! Labels don't hit them up, u wasn't thinkin bout them," she wrote on IG Stories.
May the Barb with the best bars win.
Photo: JStone / Shutterstock.com
​ ​
​ ​ ​