ASAP Rocky's Jail Petition Drama! Folks Remember His Ferguson Comments & His #FreeFlacko Situation Is Above Them Now
​
Jul 10 | by _YBF
​ ​ ​ ​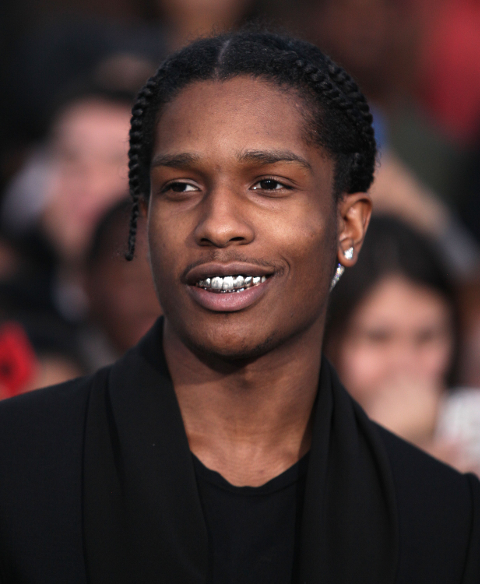 Celebs and fans are rallying behind ASAP Rocky, who's currently sitting in a Swedish jail for assaulting someone in the streets. However, folks remember when he turned a blind eye to racial injustices happening here. More inside...
Rapper ASAP Rocky (real name Rakim Mayers) is currently sitting in a Swedish jail after he was involved in a street brawl in Stockholm earlier this month. Now, his celeb friends are boycotting, signing petitions, and calling out injustice in his defense.
Stand in support and request Rocky's release from Swedish officials! Sign the petition and join the movement at https://t.co/Yapx5a29of #JusticeForRocky pic.twitter.com/HNFVmwUDNi

— A$AP MOB (@ASAPMOB) July 9, 2019
A petition demanding the Harlem rapper's release from a Swedish prison was launched by his Hip Hop collective, ASAP Mob. They allege he has been denied the right to fair representation and that he's being held in "inhumane conditions." He filed an appeal on Monday (July 8th), but it was denied, so the Swedish court ordered him to spend two weeks in pre-trial detention while police investigate the incident.
ASAP Ferg responds to people reaching out about ASAP Rocky: pic.twitter.com/7eZvuXCnb3

— XXL Magazine (@XXL) July 9, 2019
The petition has over 370,000 signatures at the time of this post.
Several of his famous friends have vowed to boycott Sweden until ASAP's release. Rappers T.I., Tyler The Creator, Schoolboy Q, The Game, Post Malone, Lil Yachty, and more are holding their homie down via social media:
Free @asvpxrocky!!! We targeted all over the world shit crazy pic.twitter.com/MYDdywRj5H

— Tity Boi (2 Chainz) (@2chainz) July 9, 2019
"Power" star LaLa Anthony joined in on supporting ASAP, but ended up getting dragged for posting up the #FreeFlacko petition:
So, why are folks mad?
People haven't forgot about the time he turned a blind eye to racial injustices a few years ago. In 2015, ASAP made some comments about Ferguson and the #BlackLivesMatter movement that rubbed people the WRONG way.
In the Time Out interview he said:
"Let Kendrick and J. Cole deal with that sh*t," he retorts. He starts rapping from his record, moving his hands while swooshing through the room on his board. He goes into the song "Dreams," spitting, "I just had an epic dream like Dr. King / Police brutality was on my TV screen—I specified 'TV' because I was in London. Why would I feel compelled to rap about Ferguson? I'm not about to say that I was down there throwing rocks at motherf*ckers, getting pepper-sprayed. I'd be lying. Is it because I'm black? What the fuck, am I Al Sharpton now?" He halts the electronic skateboard and looks me in the eye. "I'm A$AP Rocky. I did not sign up to be no political activist. I wanna talk about my motherf*ckin' lean, my best friend dying, girls, my jiggy fashion and my inspirations in drugs. I live in f*cking Soho and Beverly Hills. I can't relate. I go back to Harlem, it's not the same. It's a sad story. I gotta tell you the truth. I'm in the studio, I'm in fashion houses, I'm in these b*tches' drawers. I'm not doing anything outside of that. That's my life. These people need to leave me the f*ck alone."
Black Twitter is letting him HAVE it:
Fuck that nigga asap rocky Im too busy being black in the Bronx to give a fuck about him lol I dont be out there in sweden so thats none of my business

— Juliana King (@Electrickseoul) July 10, 2019
When unarmed black men were being murdered at the hands of the police, ASAP Rocky was out here like "I don't wanna talk about no Ferguson shit I don't live over there, I live in SoHo, Beverly Hills, I can't relate." Now look at him

— ashh (@ashhhhlorenn) July 10, 2019
Lol @ y'all feeling bad for ASAP Rocky who gives no fucks about black people, our issues or all the wrongfully convicted black men sitting in prison. Y'all fucking kill me man

— newilson (@jameswxlson) July 10, 2019
See when you do clownery, clownery comes back to you . I don't live in Sweden either beloved . Be easy #ASAPRocky pic.twitter.com/CyHswbbM3Q

— Tierra (@tntcheeks) July 10, 2019
The online petition alleges ASAP is being held in "inhumane conditions," which include him being locked down in solitary confinement in unsanitary conditions.
On Monday, July 8th, we filed an appeal with the Swedish Supreme Court to have Rocky released from the inhumane conditions and the clear violation of human rights. They rejected the filing, which means Rocky will remain in prison for two weeks. The conditions of the facility are horrific. Some of the inhumane conditions Rocky and his colleagues are facing at the Stockholm Detention Center include 24/7 solitary confinement, restriction of amenities for the most basic of human functions, access to palatable and life sustaining food as well as unsanitary conditions.
TMZ also reported ASAP was being held in a cell next to someone with "severe mental issues who slams his head against the concrete wall and hurls feces every which way... feces that are not cleaned up." A source reportedly told them he was being made to sleep on a yoga mat with no blanket, drink water that was not clean, and had only been given an apple to eat each day during his first five days at the prison.
However, that may or may not be the case.
here are the "inhumane conditions" where #ASAPRocky is being held ... bruh #TMZ is always spreading false rumors pic.twitter.com/XWHPr7XntW

— InMillyRockINewYork (@RaptdHoe) July 9, 2019
Fredrik Wallin - the governor of the prison where the rapper is being held - refutes the description of the facility that has been released in the media.
"The Swedish Prison and Probation Service has a policy not to comment on individual cases or prisoners," Wallin told PEOPLE. "However, we can refute the picture of prison Kronoberg which is described in the article in TMZ. To exemplify, prison staff and prisoners drink the same municipal tap water."
Wallin said prisoners at Kronoberg normally live in cells that contain a desk, a bed with a mattress, and a TV. He said the prison was renovated in the last few years, with all the prison cells being reconstructed, leaving the prison in "good condition."
"I have no knowledge on any current diseases in the remand prison," Mr Wallin told Newsbeat.
In fact, Swedish prisons have been considered the model prison system.
Thoughts?
Photo: DFree / Shutterstock.com
​ ​
​ ​ ​