THE YBF PODCAST: Ultimate Hustler Master P Gives Tea On His Problematic Relationship With Tyler Perry, The New Generation Of Talent, Black Ownership & 'I Got The Hook Up 2'
​
Jul 12 | by Natasha
​ ​ ​ ​
Natasha FINALLY got to meet one of her entrepreneurial idols - New Orleans legend Master P! After she fan-girled out, they got to the ish y'all want to know.
Subscribe to The YBF Podcast on Apple, Spotify, Google & anywhere you get your podcasts!
Say what you will about Master P., but put some respek on his name, especially since his name is now synonymous with Independent AF. The New Orleans icon and hip hop legend is back to doing what he does best - creating & hustling with his own ends and putting on the next generation of talent.
It's been 20 years since P dropped the iconic BLACKbuster classic (we said what we said), I Got The Hook Up, for the culture - all about hilariously hustling in these streets, independently, with a product that can outlive you. Now, he's dropping gems every entrepreneur needs to hear as the sequel - that is independently funded by himself and Romeo Miller - hits theaters!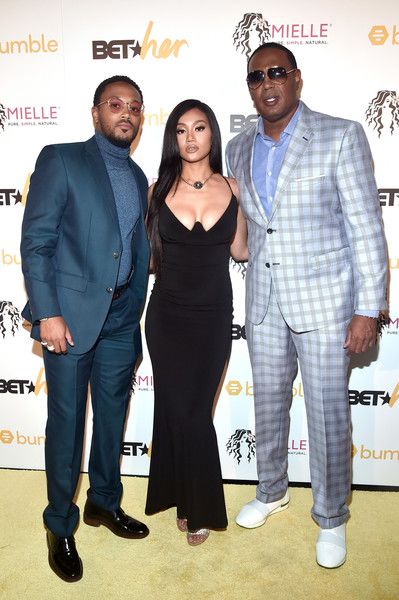 On the latest episode of The YBF Podcast, Percy "Master P" Miller & Natasha chop it up about why he and Tyler Perry have a super awkward acquaintanceship and why P thinks that's problematic, New Orleans gentrification, the best advice he gave to the late Nipsey Hussle, why blacks in Hollywood are scared of P., why blacks in Hollywood need to pool their money and create their own "Black Panther" type blockbusters to create ownership and wealth, the upcoming No Limit Tour, why female rappers are running the game right now, P's bomb parenting style & super talented kids (Cymphonique & Romeo pictured above), why he's still fine and an eligible bachelor, why his fine a-- son Romeo is too, what he's looking for in a woman (ladies - he cooks!), the real reason he hustled his way to independence, how to not give up during tumultuous times as an entrepreneur, remaking "Make 'Em Say Uhh" (Natasha gave him the new rappers who should be featured and she wants her producer credits!), why he cast new rappers and social media comedians in I Got The Hook Up 2, and why "I Got The Hook Up" is iconic for the culture.
Oh, and Natasha picks the PERFECT (newly single) lady who Master P should date. Guess who....
P.S. ladies: He's 49, a Taurus, a total gentleman, and not one crack in his black(ness). Still fine.
I Got The Hook Up 2 is in AMC Theaters NOW! It's is also available on all VOD platforms: Amazon, iTunes, Google Play and more!
​ ​
​ ​ ​