A$AP Rocky Officially Charged With Assault, Will Remain In Sweden Jail Until Trial + ASAP's 'Victim' Previously Convicted Of Assault
​
Jul 25 | by _YBF
​ ​ ​ ​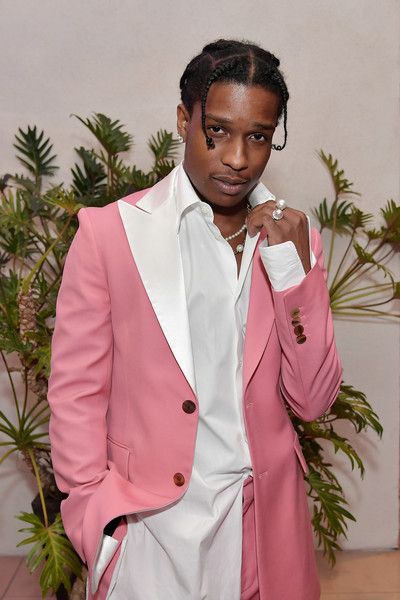 Welp. A$AP Rocky has officially been charged and he'll remain behind bars in Sweden until he goes to trial. Deets about what's next for the rapper, plus new info about the alleged "victim's" criminal past inside...
Doesn't look like A$AP Rocky will be participating in the #HotBoySummer festivities this year.
The "F*ckin' Problems" rapper (real name Rakim Mayers) has officially been charged with assault after being held in a Swedish jail for weeks without being brought up on charges. Two men in A$AP's camp have also been charged. The rapper and the two other men, David Rispers Jr. and Bladimir Corniel, will stay behind bars until they go on trial.
A$AP could face 2 years in prison if convicted. Yikes.
Stockholm's prosecutor's office released a statement revealing the rapper has been charged "for the abuse of a person," according to NPR. He'll remain in prison at least until his trial begins next Tuesday.
"Together they have handed out blows and kicks against a lying person," prosecutor Daniel Suneson said in the statement. "[T]he plaintiff has been injured on the arms, among other things."
The prosecution says these charges are being brought despite claims of self defense, and that there is more evidence the public is not privy to:
"I have today commenced criminal proceedings against the three individuals suspected of assault causing actual bodily harm, having come to the conclusion that the events in question constitute a crime and despite claims of self-defence and provocation," said public prosecutor Daniel Suneson of the City Public Prosecution Office in a release early Thursday morning.

"I have studied the videos made available to the inquiry," Suneson said. "It is worth noting that I have had access to a greater amount of material than that which has previously been available on the internet. In addition to video material, the injured party's statements have been supported by witness statements."
The 30-year-old rapper and two men from his camp have been sitting in a Sweden jail since July 5th following a street brawl. He's being accused of assaulting a man in the Stockholm streets on June 30th. He was there as part of his tour. In the clip, A$AP said the men kept following and harassing him. You can even see him telling the men to stop in the video he posted to his Instagram account. The Harlem native has been adamant that he was fighting in self defense. However, Stockholm courts aren't trying to hear it.
Not even Kanye West, Kim Kardashian West and Trump could get A$AP out of this mess. 'Ye offered to "personally vouch" for Rocky's bail. Kim called for Sweden to release him and Trump offered to speak to Sweden officials in the rapper's defense.
Oh, and get this. The "victim" - the man who provoked the rapper before he got beatdown - reportedly has a criminal past. According to TMZ, he was convicted of criminal assault in Sweden three years ago.
Mustafa Jafari, Rocky's alleged victim, was convicted of striking a man in his forehead and beating the victim's face back in 2016, when Jafari was 16 years old. It happened on the streets of Stockholm, the very place Jafari harassed and assaulted A$AP and his crew earlier this month.
Jafari was prosecuted and convicted of assault, and his sentence ... 30 hours of community service. He was also ordered to pay his victim around $500 in cash.
The "victim" also has a past with drugs.
Jafari was also convicted of 2 minor drug offenses ... one in November 2017 and the other in May 2018. He was ordered to pay a fine for both, but served no jail time.
Jafari has been cleared and will not be brought up on charges in connection with the incident.
More than 620,000 people have signed ASAP's Change.org petition demanding his release. Several celebs have said they will boycott Sweden until A$AP is released. However, a lot of folks aren't here for helping ASAP get out of jail since he turned a blind eye to the #BlackLivesMatter movement.
Photo: Getty Images
​ ​
​ ​ ​