U.N.I.T.Y: Nicki Minaj and Megan Thee Stallion Have An Epic Impromptu IG Live
​
Jul 28 | by Natasha
​ ​ ​ ​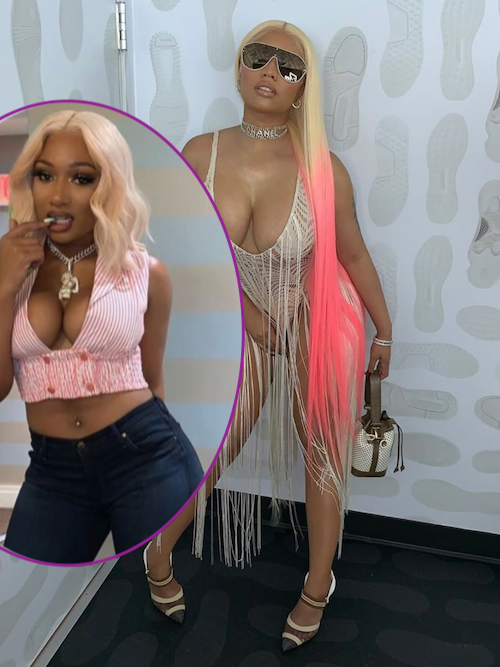 When a Barbie and a Hot Girl Link up, you never know what to expect! Nicki Minaj and Megan Thee Stallion randomly jumped on Instagram live together and it was all love. And all the shenanigans too. Get inti it inside.
Last month, when asked her fav top 5 fav rappers in an interview, Meg listed the likes of Lil Kim, Missy, Eve and Foxy Brown and of course herself. Because Nicki's name was missing from the lineup, you know the Barbs got their twitter fingers moving and accused the new rapper of not giving Nicki her props. But Meg quickly got the trolls together.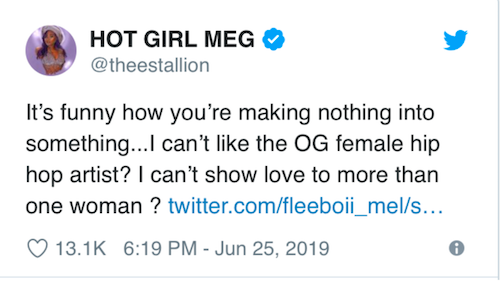 The rumor mill (or as Nicki would call it - the Nicki Hate Train) was buzzing, especially since there hasn't been much unity amongst our female hip-hop artist in a long time. Last year, we saw how hot the Nicki and Cardi B beef got in public. It's like the fans feel that they have to choose one over the other, and that shouldn't be the case. Unless you actually just prefer one over the other. We're allowed to like both Jay Z and Nas, right? No one ever said we had to pick one. For some reason, when it comes to female rappers, things seem to be a bit different.
It was refreshing to see Nicki show her support for Meg, as she congratulated her on her music career, encouraged her to finish college and even gave her some pointers on recording her album. Meg was literally gagging when Nicki popped up on her screen (after it took Nicki forever to figure out how to work IG Live). She confessed that she's loved the New York rapper since she was in the eighth grade and even expressed that the beefing amongst females in hip-hop needed to stop. Meg said:
"Stop playing with Nicki Minaj like she ain't the f%&*ing Goat. Like she ain't that b%#@h. Don't ever question me...People gotta stop being so sensitive and everybody taking shots and jabs, that's not the vibes, that's not what we doing. We all ladies, we all women and we all for that empowerment."
We're sure everyone got their life watching this Live. It was like watching two girlfriends chillin', acting up and talking ish.
During the lovefest, when Nicki said, "Congratulations on you doing your thing, rapping and writing and going to school." Meagan co-signed and emphazised the WRITING. Oop.
The vibe between the two was dope and Nicki showed a side of herself that we rarely see, as she often giggled throughout the interaction. She received the respect from Meg that she deserved and threw some back her way as well. If these two can get it poppin' like that on IG imagine what they would do on a track together? Meg said that she's currently working on her album and Thee Stallion did not miss her opportunity to shoot her shot!
"I ain't going to do a "Freaky Girl" song without Nicki Minaj...I'm finally going to start working on my album and we need the queen," Meg screamed out.
We are all here for this female bonding session and now they have us all feenin' for a collabo.
Watch the IG live of the two rappers above.
Photos: Instagram
​ ​
​ ​ ​