'Rookie' Star Afton Williamson QUITS Show After Claims Of Sexual Harassment & Racial Discrimination
​
Aug 05 | by _YBF
​ ​ ​ ​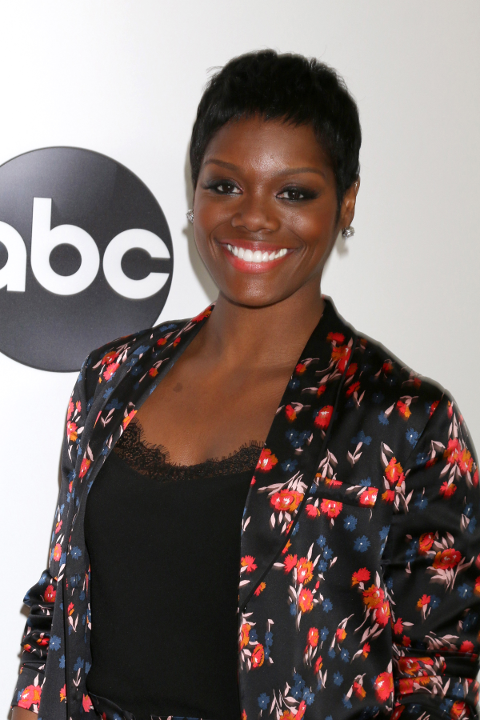 "Rookie" star Afton Williamson has quit the series after she claims she was sexually harassed and racially discriminated against. Find out what she said, plus Entertainment One and ABC Studio's response inside...
"The Rookie" season 2 will be missing one of their stars after sexual harassment and racial discrimination claims.
Star Afton Williamson has announced she will NOT reprise her role as Officer Talia Bishop for the upcoming second season of "The Rookie" because she has endured instances of "racially charged inappropriate comments." She's fed up with comments that have been made to her from the hair department and she's done with dealing with bullying from executive producers.
Williamson posted a lengthy Instagram post revealing she's quitting the ABC cop drama. She said she brought up her concerns, however she was ignored by the showrunner.
In her post, she accused showrunner Alexi Hawley of not passing her concerns to human resources and said the hair department head was only fired after a "sexual assault" incident she said she suffered at the show's wrap party.
"Throughout the filming of the pilot, I experienced Racial Discrimination/Racially Charged inappropriate comments from the hair department and bullying from Executive Producers," Williamson wrote. "During the Season, it continued along with Sexual Harassment from a recurring guest star and the racist commentary & bullying from the Hair Dept. Head escalated into Sexual Assault at our Wrap party."
Sadly, this is not the first we've heard of black actors and actresses receiving mistreatment (or no treatment at all) when it comes to hair and makeup needs on set.
Not only that, she accused a recurring guest star (who remains anonymous) of sexual harassment and said she was required to film scenes with him even after she filed complaints about his behavior.
"The only time I was asked to participate in an investigation was after a meeting I called in June following our Season 2 announcement," Williamson wrote. "This meeting included the Showrunner and two other producers as well as my agent and SAG-AFTRA Union Rep. It was clear to all present in the meeting that the Showrunner had not shared my reports with the any of the producers."
"After my initial report of sexual harassment, I was assured that the actor would be fired. […] This actor reappeared on our call sheet at the end of the season, I was even written in scenes with him."
In that instance, "It was clear to all present in the meeting that the Showrunner had not shared my reports with the any of the producers."
Read her full post below:
Following her Instagram post, Entertainment One and ABC Studios issued separate statements via Deadline.
"We take claims of this nature very seriously," said a spokesperson for lead studio eOne, which handles production and any related issues. "We have initiated an independent investigation which is ongoing and as such, it would not be appropriate to comment at this time."

In their statement, ABC Studios said that eOne in late June "made us aware and informed us that they launched an investigation that is ongoing," adding, "The safety of working environments is a top priority for us, and we take this matter very seriously."
Angela Bassett - who stars in Netflix's Otherhood with Afton - showed her support in the comments on Instagram:
"I'm SO proud of you and stand COMPLETELY in support of you. Speak your truth and speak it LOUD! xoAB," Bassett wrote.
We hope Afton gets the justice she deserves.
Photo: Kathy Hutchins / Shutterstock.com
​ ​
​ ​ ​