Nicki Minaj & Joe Budden Hash Out Their Differences On Joe's Podcast After She Spazzed Out On Him + Slams Rick Ross For Doing 'Clown Sh*t'
Aug 14 | by _YBF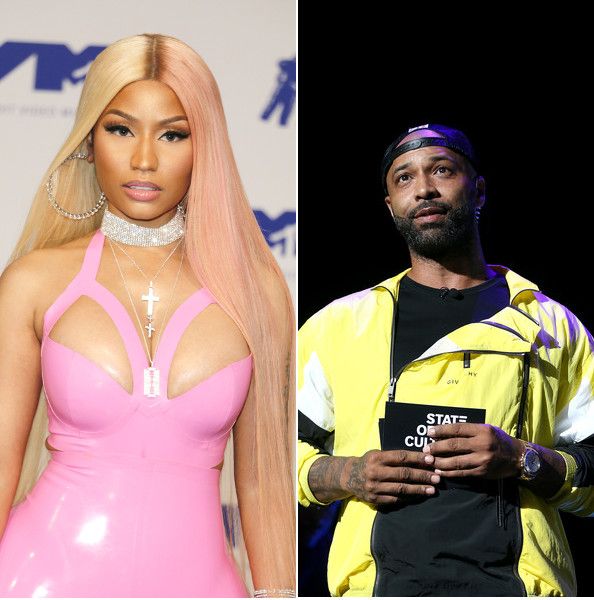 Nicki Minaj and Joe Budden went AT it on Queen Radio then they hashed out their differences on his newest podcast episode. Oh, the Head Barb also touches on Rick Ross coming for her. Get it all inside...
Nicki Minaj invited Joe Budden to her Queen Radio show to finally squash his ongoing beef with her Barbz.
"Joe is here to make peace with the Barbz," Budden said when he hopped on the mic.
However, ish turned left and things got SUPER heated between the two. If you didn't know, Joe criticized Nicki for allegedly being bothered that Cardi B was added on the Migos track "Motorsport."
On episode 15 of Apple Music's Queen Radio, the MEGATRON rapper went clean off on Joe after he accused Nicki of LYING about the origins of "Motorsport," and how her collaboration with Megan Thee Stallion on her track "Hot Girl Summer" wasn't an organic collaboration (Joe said Nicki's IG Live with Meg was planned).
The Head Barb had enough and went postal on Joe:
"You like tearing down women when they can't defend themselves," Nicki yelled. "Thank you for being here by the way." She continued, "Don't call me Fam that's how I know you're mad. F*CK OUTTA HERE FAM."
A point was made chile.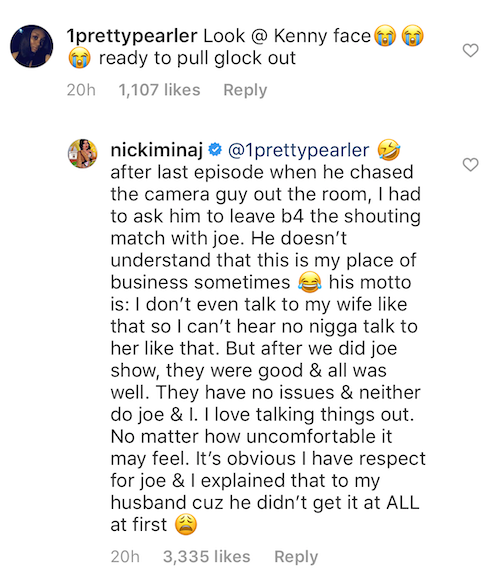 After he tried to win a screaming match with her (which she thankfully put her man Kenneth Petty out of the room for), she had her engineer turn his mic off and more. She commented on her on post on IG about the drama as well.
Check it below:
Following their explosive blow up, the Pink Friday agreed to appear on "The Joe Budden Podcast" with Rory & Mal to - once again - defend her name...and seemingly (and eventually) make a truce with Joe.
Things didn't get as heated as they did on Queen Radio, but they definitely engaged in a deep discussion about why Nicki has gone so hard to defend herself. She said Joe is unbable to handle women who have powerful voices and she hates how he can never admit he's wrong. It almost sounded like the "Barbie Tingz" rapper was firing shot at Joe's exes too.
The "Chun-Li" rapper also addressed people being mad that she used the #BlackGirlTragic hashtag improperly - which was originally created to help find missing women of color.
"And if I don't defend myself then he's right. If i do defend myself I'm the angry black woman. Black Girl Tragic and it's black bitches that do it the most. And I don't give a fuck if y'all get mad at me for using that f*cking hashtag."
Yikes.
The @JoeBudden Podcast Episode 271 "Case Study" Feat. @NICKIMINAJ is available now!

Stream exclusively on @Spotify

LISTEN HERE : https://t.co/v7yzb0wNlc pic.twitter.com/tZOdVSisr7

— The Joe Budden Podcast (@JoeBuddenPod) August 14, 2019
The Head Barb also addressed Rick Ross coming for her after she broke up with Meek Mill. She was pissed he disrespected her on his song, "Apple of My Eye." He rapped, "I told Meek I wouldn't trust Nicki / Instead of beefin' with your dog, you just give 'em some distance," rapped Rozay on the track off his album Rather You Than Me. She had some words for the Maybach Music honcho for doing "clown sh*t."
Here's what she had to say:
"Don't bring up that… Don't get me fuckin' started," she said. "Anybody that name drops a female to sell 250 albums, don't ever bring them up to me again," she said. "Outside of that, I look at people being stand up ni**as and I look at who fold quick and who do clown shit for attention when they dropping an album. I won't even go there."
Yikes. You can listen to the full below:
Or, click here.
Thoughts?
Photos: Tinseltown / Shutterstock.com/Getty