STILL BOOKED & BUSY? Wendy Williams Addresses Rumors About Her Daytime Talk Show, But Her New Jersey Comedy Tour Stop Is CANCELLED!
​
Aug 16 | by _YBF
​ ​ ​ ​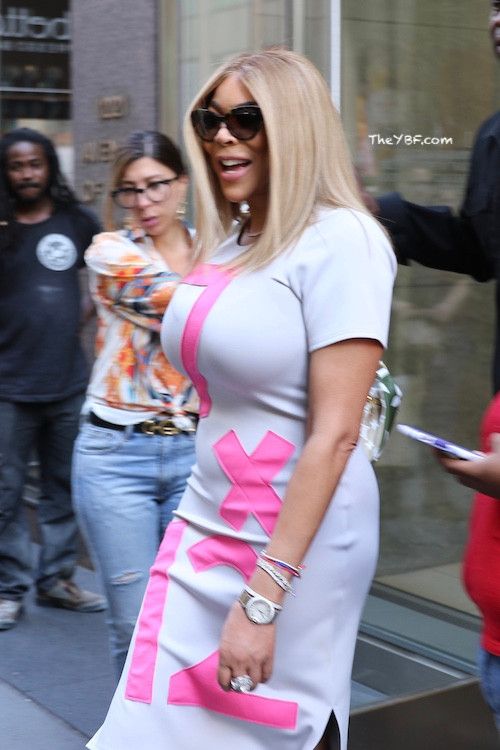 Forget what you heard! Wendy Williams says she's not going anywhere. The promoters of her comedy show, though, are cancelling ish. More inside...
Not so fast....
Talk Show Queen Wendy Williams is setting the record straight about the future of her talk show.
Yep, she'll be back September 16th.
There were rumors that the show would end after one more season, but Wendy assured TMZ that fans of "The Wendy Show" can rest easy.
"The show will be on until I say so," she said.
It was reported by the NY Post that "The Wendy Show" would end after its 11th season. Sources stated that staff members were already looking for other jobs. Yikes. Wendy considers a lot of her staff family, since many of them have been there for her through this difficult 10th season. And she even expressed how appreciative she is of them before she took her summer hiatus.
During an interview with Andy Cohen on his SiriusXM show, the 55-year-old TV host revealed she knew about her estranged husband, Kevin Hunter Sr.'s, infidelities and that some of her talk show team helped her get through those tough times, specifically her makeup artist. She said it was "very difficult" for her to appear on television talking Hot Topics (exposing everyone else's business) when she was going through so much.
"My makeup artist would cover my puffy eyes from crying," she revealed. "I knew a lot things for years, but my son was at home and it wasn't fair to him," she explained.
She said the reason she didn't leave was because she didn't want to uproot her son. When asked if she would have left IF her husband's dirty laundry wasn't leaked to the public, she responded, "Are you out of your mind? I'm not raising anyone's family," referring to the child her husband allegedly had with his alleged mistress.
Take a listen below:
Oh, and she set the record straight about a few rumors - the one about Kevin Sr. burning all of her wigs:
There's that.
Wendy also said she plans on getting married again when she finds the one she can take her wig off arround:
Despite the drama, Wendy seems to be in much better spirits lately, she's been doing a little dating and she's also hitting up cities on her "For The Record … Umm Hmm!" comedy tour.
Word just broke, though, that her stop scheduled for tomorrow night at the New Jersey Performance Arts Center Prudential Hall in Newark has been cancelled! According to the NY Daily News, the promoters are oddly blaming "the headlines":
The Emmy-nominated gossip queen was due to host a stop of the multi-city "For The Record … Umm Hmm!" comedy tour show featuring comedians Carmen Barton, Kristen Sivills, Mark Viera and Royale Watkins.
"Unfortunately, the goal and purpose of the tour has been sidelined by the headlines," Oakland-based tour promoters Bay Area Productions said in a statement to the Daily News.

"The show may be canceled, but Wendy's commitment and love for all of the fans that support her and continue to support her never will," her promoters' statement said. "It is our utmost goal to return to the marketplace in the future. Ticket holders can receive refunds at the point of purchase."
Not sure what headlines have to do with it, other than likely helping to sell tickets.
We hear from other sources she allegedly only sold a few hundred tickets for the 3100 person venue. this is odd, since she says her first show was standing room only and had 2000 people:
"The first night was a smash," she told The News. "Over 2,000 people and standing ovations. People were laughing and falling down at the same time from laughter. They were weak. And I couldn't be more happy with the friends that were along with me."
Hmph.
Yet and still, after such a tumultuous year from a crazy divorce to stint in a sober house, it's great to see Wendy moving on and continuing to use her gift.
Photos: Splash
​ ​
​ ​ ​