#YBFEATS: Everyone Is LOSING It Over Popeyes' Bomb New Chicken Sandwich! Chick-fil-A Is Shook (And Folks Are Letting Them HAVE It).
​
Aug 19 | by _YBF
​ ​ ​ ​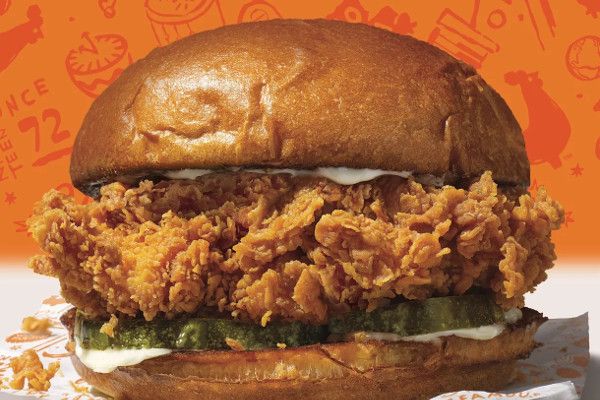 Popeyes just debuted a new chicken sandwich and folks are saying it's BETTER than Chick-Fil-A's. Oh? Let the chicken sandwhich dragging war commence!
If you've been on social media lately, you've likely seen a post or two (or three or four) about Popeyes' brand new chicken sandwich they just debuted.
Chicken. Brioche. Pickles. New. Sandwich. Popeyes. Nationwide. So. Good. Forgot. How. Speak. In. Complete. Sandwiches. I mean, sentences. pic.twitter.com/14kXBv4jJw

— Popeyes Chicken (@PopeyesChicken) August 12, 2019
One thing about the Internet is that once something takes off, it goes far and beyond. And folks are losing it over this sandwich and doing the absolute most. Lines are longer than ever at Popeyes and the online reviews are hilar.
Yup. A chicken sandwich has the Internet in complete shambles. There's a debate that the new sandwich is better than the almighty Chick-Fil-A chicken sandwich. That's a bold statement to make, however, we all tried the sandwich...and it's FIRE. It seems the Internet agrees.
Here are the tweets that have us cackling:
The lady from the Popeyes commercial listening to all the positive feedback about the Chicken Sandwich pic.twitter.com/smfeZL0UHy

— Mr.Terrific (@Jahquari) August 17, 2019
The Chik Fil A spicy chicken sandwich was raised in a 2 parent home went to College and succeeded in life. The new Popeyes spicy chicken sandwich came from a broken home in the Ghetto but still succeeded.

— Juice Davis (@jabaridavis_VFL) August 13, 2019
Me the first time I tried the chicken sandwich from Popeyes pic.twitter.com/IelKF9K282

— Prince Vegeta (@Presh_Frince) August 11, 2019
I've had that Popeyes chicken sandwich like 3 times since Saturday. I hope they're on the Upper Room menu whenever king Jesus on high calls me home. I want them served at my repast too.

— Hot Girl May Parker (@Steph_I_Will) August 16, 2019
Them: Is that Popeyes sandwich really g--

Me: pic.twitter.com/MtNZvcXT70

— Pop Farts Toaster Snacks (@tomorrowmanx) August 17, 2019
Good lord I just tried Popeyes Chicken Sandwich pic.twitter.com/3EfJW0iMGf

— (@KeemKusher) August 16, 2019
Tried the spicy chicken sandwich from Popeyes today. Upon further speculation, I have concluded you niggas were not cappin. It was truly a stupendous confectionary indeed and let's just say Chic Fil A May not see me again for awhile.

— Flex Gawd (@sayittwice_) August 14, 2019
Going to Popeyes for the 4th time today to get the chicken sandwich pic.twitter.com/pHBHZfr7sp

— (@_1tymoney) August 16, 2019
Just had the Popeyes chicken sandwich for the first time...I love y'all @ChickfilA but pic.twitter.com/kuo7bG38lk

— Mark Chang (@MettaWorldNique) August 19, 2019
I just tried this Popeyes chicken sandwich and... it's better than chic-fil-a

— eh. (@trapbndt) August 19, 2019
Me saying farewell to homophobic Chic fil a forever after trying Popeyes spicy chicken sandwich pic.twitter.com/JYJ2uzUdKA

— Parí (@princexparis) August 19, 2019
Oh, and Chic-Fil-A heard y'all praising Popeyes, so they got a little petty today:
Bun + Chicken + Pickles = all the for the original. pic.twitter.com/qBAIIxZx5v

— Chick-fil-A, Inc. (@ChickfilA) August 19, 2019
The "original." Oop.
Folks are cutting up under Chic-Fil-A's tweet:
Y'all are racist, homophobic, and not even open after Sunday brunch. NEXT. https://t.co/hcZeXgxiFl

— Frederick Joseph (@FredTJoseph) August 19, 2019
POPEYES GOT YALL IN DISTRESS pic.twitter.com/evjZXxzche

— マーク (@quanyeaux) August 19, 2019
— smr (@ayyosmar) August 19, 2019
Popeye's right now pic.twitter.com/iJJsA3rQmr

— Sleep Guy J (@JRanTheMan) August 19, 2019
— Josh McWhorter (@MC_ClapYoHandz_) August 19, 2019
Chick Fil A watching Popeyes+customers: pic.twitter.com/Ml04q7neiA

— alexis (@LexiForSenate) August 19, 2019
Teehee.
If you tried Popeyes chicken sandwich, do you think it's competition for Chick-Fil-A's signature chicken sandwich? What else should the New Orleans chicken kang (no typo) add to it?
Photo: Popeyes
​ ​
​ ​ ​