ALL GOOD IN THE HOOD: Meek Mill Balls Out With The Kids On B-Ball Court He Renovated In His Hometown
Aug 20 | by _YBF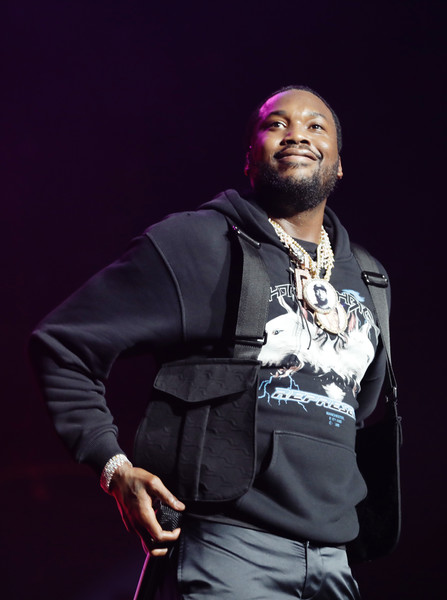 Meek Mill gives back to the kiddies in his hometown of Philadelphia. Watch the rapper ball out with the youth on a new basketball court he helped get renovated inside....
Meek Mill is continuing his journey of good faith and giving back to his hometown of Philadelphia. Last week, Meek along with Puma and Roc Nation, unveiled a renovated basketball court in East Fairmount Park.
Philadelphia's Parks & Rec Department and other local agencies also chipped in to make sure this project came to fruition, according to TMZ.
The renovation project was first announced last October and the Philly native jumped at the opportunity to be involved.
"North Philly will always be home,'' he told the crowd. "When kids go to East Fairmount Park, they deserve to ball in the best conditions possible, so I'm glad they'll have that opportunity now."
Check it:
The Championshps rapper posted the proud moment to Instagram about the special occasion.
"Redid some basketball courts in my hood today!!! S/o to #puma," he posted.
Watch him in action below:
Growing up, @MeekMill played basketball on the Strawberry Mansion Legacy Courts across from his house in North Philly. This weekend, the rapper returned to 33rd and Oxford to shoot hoops and unveil the newly-refurbished courts with @muralarts. Read more: https://t.co/CBezBB4i1s pic.twitter.com/0xAHNkI9jz

— The Philadelphia Inquirer (@PhillyInquirer) August 18, 2019
Since his release from prison in 2018, Meek has been doing his due diligence to stay out of trouble and continue his life on a positive note. He got his 2008 gun & drug conviction thrown out, his album Championships reached number 1 on the Billboard 200, he's going on tour this fall with Future, Megan Thee Stallion, DJ Mustard & YG, dropped his "Free Meek" documentary and he recently launched Dream Chaser Records with Jay-Z and Roc Nation.
Keep up the good work, Meek!
Photo: Getty