Twitter Reacts To Rihanna Honoring Activist Shaun King At Her Diamond Ball & Folks Are MADT
​
Aug 22 | by _YBF
​ ​ ​ ​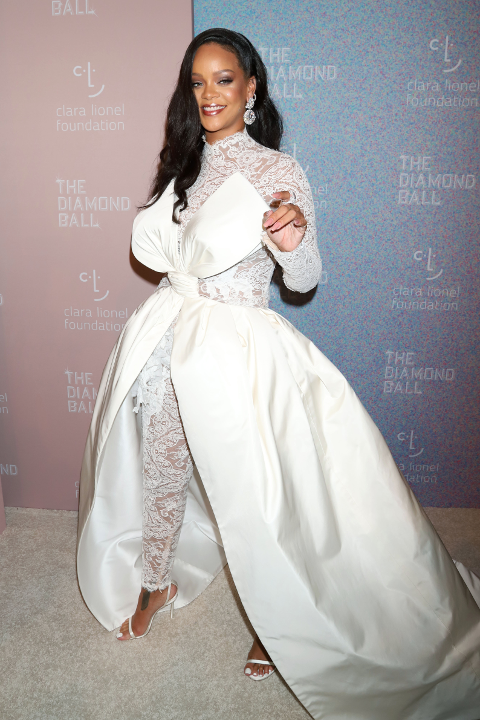 News about who will be honored at Rihanna's annual Diamond Ball has Twitter in frenzy. See why people aren't here for activist Shaun King being recognized inside...
Rihanna is gearing up for her annual Diamond Ball which raises funds to support her Clara Lionel Foundation, created by the Grammy Award winning singer to fund education and emergency response programs throughout the globe."
This year, the Ball will honor Barbados Prime Minister Mia Mottley and civil rights activist Shaun King. They will receive the Diamond Ball Award at Rihanna's fifth annual star-studded gala, which will also feature performances from Pharrell Williams and DJ Khaled.
"I can't imagine a better night than this year's Clara Lionel Foundation event with Seth Meyers, Pharrell and DJ Khaled," said RiRi in her statement. "I am particularly honored to present Prime Minister Mottley and Shaun King with this year's Diamond Ball Awards for their groundbreaking work. We are so thankful to them for joining us and making the night better than ever."
Once social media got word that Shaun King - who some dub as controversial - would be honored at RiRi's Diamond Ball, all hell broke loose. Folks started whipping out receipts as to why King shouldn't be recognized for anything at the singer's event.
Dear @Rihanna:
With respect, if you haven't already seen #IStandWithClarissa, you may wish to check it out and --strongly-- reconsider the Diamond Ball honoree.

Sh--n K-ng needs more vetting and to be accountable for a ton of harm done to the community.https://t.co/EYh7dAl8qN

— Derrick Clifton (@DerrickClifton) August 21, 2019
This legit made my heart sink. @rihanna, please have someone look into #ShaunKing's history of stealing from, threatening, and intimidating Black women, as well as misappropriating funds raised from vulnerable people.

There are so many people far more deserving of this honor. https://t.co/xgVH56usMZ

— Imani Gandy (@AngryBlackLady) August 21, 2019
Let's me just put it this way. Shaun King has claimed to have raised "$30million for causes and families." To date no independent public accounting has ever occurred. Ever. The only person writing about how every penny is accounted for is Shaun pic.twitter.com/kYQxyUzxno

— Yonic Sleuth (@TheVaginalist) August 22, 2019
Rihanna is honoring shaun king at her diamond ball. pic.twitter.com/0mdHQwks8w

— Bejá (@belledae) August 21, 2019
Let me say we live in the age of free information where a simple google search will provide the info Miss April is referring to. For example this link came up tonight when I entered his name https://t.co/McpDqFvdlG

— HoneyOhannaTene on FB & Instagram (@HoneyOhannaTene) August 22, 2019
TIL that Shaun King once ran a thing called "Life Goals University" where he charged $49.99 to teach people how to strategically plan their lives pic.twitter.com/XzLqVAJY5H

— Hannah Riley (@hannahcrileyy) August 9, 2019
LMAO I just learned that Shaun King once started a grift called "7 Mountains, 7 Continents, 1 Broken Man."

Money collected: $$$

Mountains climbed: 0

HOW IS THIS MAN STILL SUCCESSFULLY GRIFTING, Y'ALL? pic.twitter.com/0duBBan540

— Kendally Brown (@kendallybrown) August 22, 2019
Not sure if Rihanna really even knows who Shaun King is.

But I do know he won't be getting honored at the Diamond Ball when it's all said and done. pic.twitter.com/69tYfn4x7x

— C. (@MCcaptialGEE) August 21, 2019
Yikes! Do you think Rihanna will make an executive decision and scrap Shaun King from the event?
The 2019 Diamond Ball will go down September 12th with Seth Meyers tapped as the host.
Photo: JStone / Shutterstock.com
​ ​
​ ​ ​