THE YBF PODCAST: 'Southern Charm New Orleans' Star Tamica Lee Opens Up About Beef With Castmates, Post Partum & Overcoming Marital Separation
​
Aug 23 | by Natasha
​ ​ ​ ​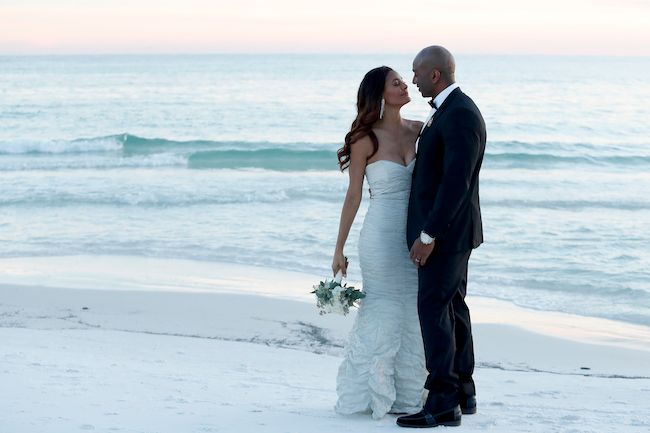 If you're a fan of "Southern Charm New Orleans" then you have to be a fan of Tamica Lee because she is our kind of chick. Homegirl is raw, real and as authentic as they come and we love her for that!
Natasha's kiki session with her about beefing with her castmates, why ultimatums work in a relationship, post partum depression, plastic surgery, and more.
We sat down with the reality star recently on the latest episode of The YBF Podcast to discuss some of the recent drama brewing on the show and to spill some tea about her favorite (and not so favorite) castmates.
Right off the bat, we had to know exactly why Tamica all of a sudden has it out for co-star Justin Reese's girlfriend Kelsey (even though after the latest episode we kind of understand why). Tamica broke it all the way down for us, explaining her stance on two-faced people and how Kelsey falls right into that category.
"I don't like people who are two-faced and when you do something in one setting and then you can't back it up or you do another," Tamica explained. "Kelsey plays victim. So in a crowd setting, she would get drunk - as we all would, I get tipsy myself, I get loud... I'm always loud - but she would drink and then come in a group setting and pick pick pick pick pick and no one sees her picking. But she would drop lines like 'you don't even know what you're talking about' so all you would see is me being over dramatic - because I'm super dramatic at 6 feet tall - and I'm like 'what are you doing?' And all you see is that. And then the minute my ugly side came out, she runs to Justin and says, 'someone's picking on me!'"
It seems like Tamica already had Kelsey figured out from the start of the episode and it was clear to Tamica - and the rest of us - that sis just wanted and needed some attention.
As our chat continued, Tamica opened up about her confrontation with Kelsey on the show when she told her, "I don't like to see you overcompensating because you don't feel like you're good enough for the person you're with," which was honestly quite a powerful woman to woman moment.
And, by the way, she's great friends with Justin.
Tamica explained her thought process behind that statement, saying:
"I'm a ride or die girl's girl. So I have to call it out. She's doing everything she wants to do and needs to do to think she's going to get the ring. She moved to New Orleans, she renovated your childhood home, she did too much! And you [Justin] still don't know?"
Whew, triggered? Tamica actually knows what she's talking about because this situation is a little familiar to her. However, in her relationship, she was able to set the appropriate boundaries to get what she wanted. She explained to us that when she found herself in a similar situation, she told her then boyfriend, "if you're not going to marry me, because this is what I want. [Then] I can't be with you as much as I love you."
The next day her now husband Barry proposed to her. They've been together for 16 years. Maybe Kelsey should take note?
Tamica was also beefing with her longtime best friend Reagan on the show, who got pregnant and re-engaged all before the ink was dry on her divorce papers. Yeah, that caused some tension. But things seemed to work out in time for the wedding. She revealed on the podcast what we didn't know was happening behind the scenes to make pay her girl dust at first.
We'll see how that holds up though.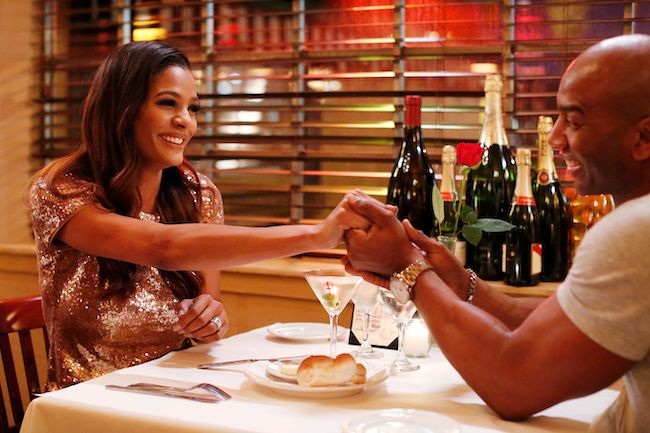 The former Saintsation cheerleader also kept it all the way 100 about her post partum depression that seemingly was at the root of the split between her and her gym owner hubby Barry. She never wanted kids, but changed her mind when she fell head over heels for Barry's baby boy from a previous relationship as soon as they met.
After she had their now 9-year-old daughter, and after initially not wanting to have kids, post partum depression took over. The couple split by the time their daughter was 2.
"I had severe post partum. Didn't even recognize it. Didn't take medicine for it. Didn't leave my house for 10 months after I had the baby and I didn't even realize that's what it was. Barry would walk in and I would literally just look at him. The smell of him. The sight of him. Just him in general. I hated him. Like, I hated my husband. And I culdn't figure out why. I woke up one night and was like "Yeah, I think our marriage is over. I don't want to be married to you. I literally filed for diovrce. I went to move with my mom, and would live my life without Barry."
Barry kept hope alive though.
"But we kept dating because we really are meant to be together obviously, he's my best friend. I think he was subconsciously doing what he was supposed to do, which is let me have my space, and he would still reassure me. We just dated till we got back together. It was very odd (lol). It took like a year and a half and we just never (finished the filing)."
She also explained why couples' therapy also damn near broke them up. They worked through their own issues, are celebrating 12 years of marriage, and Tamica found her stride again in motherhood. On the show, she even explained her cutting back on work to spend more time with the kids.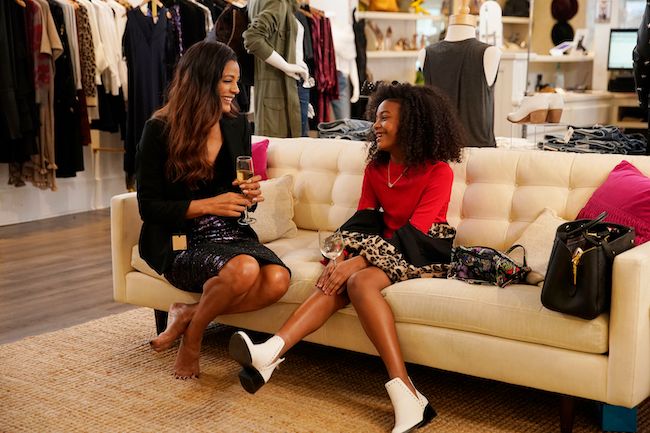 Tamica also talked about whether Bravo should extend the "Housewives" franchise into New Orleans, Natasha gave her which "Housewives" franchise she could def see her in, why she could never go into sportscasting despite being a Saints superfan, and her career transition from professional cheerleading director to tv host.
Whether or not you love Tamica, one thing we can all agree on is that she keeps it real and shows up as herself everyday. As she told us, "I'm not trying to be perfect. I've been this way from day one and I have not changed."
Please don't ever change.
Check out the full interview on the latest episode of ​The YBF Podcast above!
​ ​
​ ​ ​