Bobby Brown's Sister Claims Someone Tried To Run The Singer Down With A Car!
​
Aug 26 | by _YBF
​ ​ ​ ​
Yikes! Bobby Brown's sister, Leolah Brown Muhammad, claims someone tried to run the legendary singer down with a car. And she alludes to it being an ordered hit. More inside...
Bobby Brown's sister, Leolah Brown Muhammad, hopped on social media yesterday to reveal some disturbing news about the New Edition singer.
Leolah claims that Bobby Brown was seriously injured after he was hit by a speeding car! Not only that, she alludes to it being an ordered hit on his life. In her Facebook post, she claims her brother was walking when a car came "straight for him" and hit him in an attempt to "kill him."
"Yes Bobby Brown got hit by a SPEEDING car WHILE WALKING! And NO he was NOT in a car accident!," she explained. "This car CAME STRAIGHT FOR HIM & TRIED TO DAM KILL HIM! Broke his bones! BOTH his legs are messed up! And whoevers saying he was inside of a car IS A DAM LIAR! My brother was WALKING down the street AND A CAR CAME STRAIGHT FOR HIM!!! AND HIT HIM TO KILL HIM!!"
Sis popped off on the media for not covering the alleged accident and even fired shots at Bobby's wife, Alicia Etheredge, suggesting she may have had something to do with the accident.
"THEY REPORT EVERY DAM THING ELSE HE'S EVER DONE IN HIS DAM LIFE! SO WHY DID NOT ANYONE INCLUDING HIS SO CALLED WIFE GO TO THE PRESS WITH THAT ONE!!?? WHY DID YOU NOT WANT THAT TO LEAK OUT!!?? YEAH I KNOW WHY!!! OH YES THE HELL I DO!! AND YOU CAN SAY WHAT YOU WILL!! I CARE NOT! BUT I TELL YOU WHAT I DO CARE ABOUT! MY BROTHER THATS WHAT! AND I HAPPEN TO TRULY LOVE MY BROTHER UNCONDITIONALLY!!! AND BETTER NOT NOTHING!! AND I MEAN NOTHING ELSE HAPPEN TO MY BROTHER!! YOU ALL ARE NOT GOING TO KILL MY WHOLE FAMILY AND KEEP THINKING YOU CAN GET AWAY WITH IT!!! NO NOT THIS ONE!!! NOT ON MY WATCH!! WHO THE HELL DO YOU THINK WE ARE!!! IM CERTAINLY NOT YOUR PUNK!!!"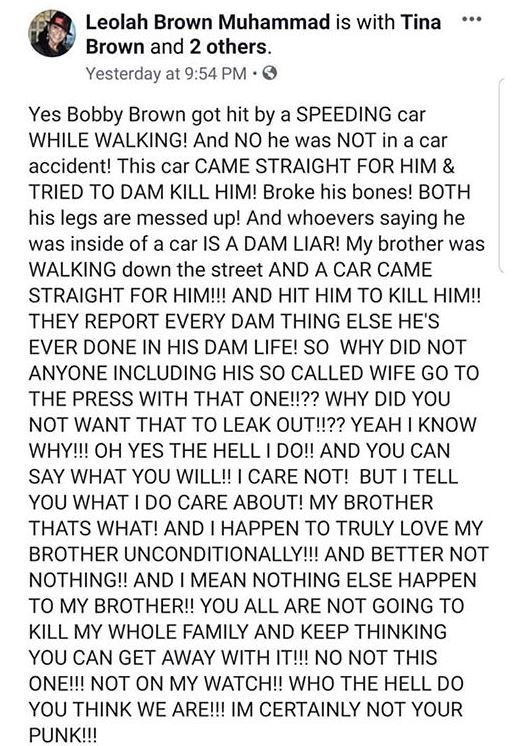 Further details about the alleged accident are unclear at this time.
There are pictures of Bobby in a red t-shirt, khaki shorts and sneakers walking around L.A. yesterday. It's unclear if those were taken before the "accident." The news of this alleged accident comes just one month after the fourth anniversary of the death of his daughter, Bobbi Kristina. He posted an emotional tribute to his daughter on his Instagram:
As of now, no official reports about Bobby Brown being involved in an accident have been released. We'll keep you posted.
Photos: Getty Images/Splash
​ ​
​ ​ ​