THE YBF PODCAST: 'Falling Inn Love' Star Christina Milian's New View On Marriage, The Panty-Dropping Line Boyfriend Matt Pokora Gave Her & 'Love Don't Cost A Thing' Sequel Talk
​
Aug 29 | by Natasha
​ ​ ​ ​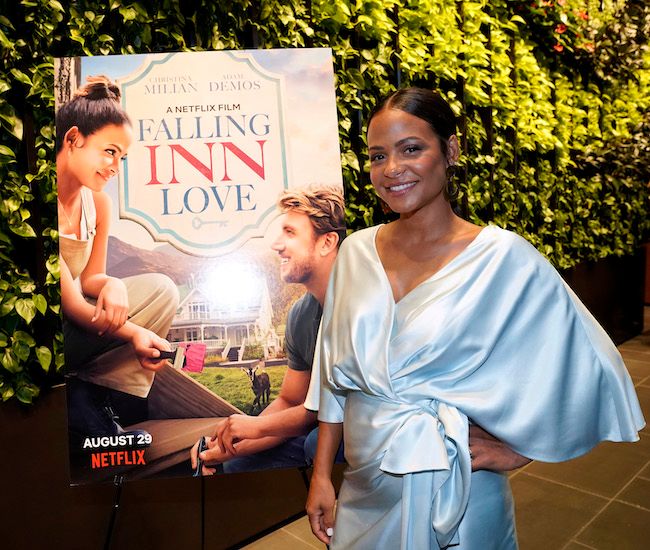 Yes, she has that adorable yet mad sexy thing on lock. And yes, she's just as sweet and bubbly as she comes off. But it's all genuine. We had to chop it up with our fave rom-com princess when she stopped in NYC.
Listen to the new episode of The YBF Podcast with Christina Milian (and her new baby bump) inside!
After popping up on the recent season finale of her bestie Karrueche Tran's show "Claws", Christina Milian's got her own ish to promote. If you're a romantic comedy lover like us (don't be ashamed, live in your truth!), you're going to love - like, LOVE - her new Netflix movie Falling Inn Love.
We love a hustling a-- YBF chick! Right before she hit up the premiere party last night in L.A. (pictured below with her fine co-star Adam Demos), the glowing mom-to-be (again) was in NYC working.
Christina stopped by The YBF podcast to chop it up about her new movie, plus everything else we've been dying to ki-ki with her about. We learned that her real life is basically an actual rom-com.
After dishing to host/YBF Founder Natasha about not being a party planning person and only doing that super cute gender reveal party (above) to make her French pop star boyfriend, Matt Pokora's, first time dad experience special, she gave us the tea on how they met.
She was living her best Hot Girl Summer in 2017 and had sworn off men for the season so she could have her most fun summer ever. Just as summer was coming to an end, she met her new bae...while dancing on tables in France. OF COURSE! He dropped a swoon worthy line, and the rest was history. (Listen to the story at the 4:05 mark!)
As for whether marriage is in the cards, she said she's been there and done that (with ex-husband The Dream). She said:
"Marriage is not on my bucket list. I've done it before. I did it, experienced it. Especially having my first child within a marriage. I don't have the same kind of feelings about marriage. Even back then I actually was like..... Before my ex-husband, I was like 'I'm never getting married' or 'I'm gonna be old when I get married.' And then I was inspired by the actual love that grew within that relationship. I was like 'I could do this.' So I did it, happy I did. Now I almost look at it like, it's so much paper work and so much work. I hate having to plan things, like weddings. I hate having to go change my name..."
We feel her on that.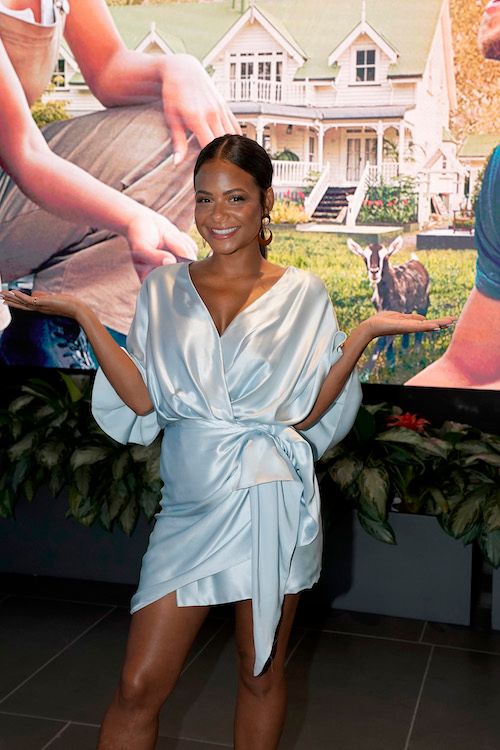 She's basically a seasoned relationship expert now, and has def had her fair share of public relationships, so we had to find out some things. She dishes on her keys to dealing with not being valued and respected, the key to getting over a breakup, her surprising faults in a relationship, how she deals with being judged for her dating life, how she REALLY felt about ex-husband The Dream's in-depth congratulatory message about her new pregnancy, and co-parenting with him and his wife.
Christina got real about being told she's not Latina enough or black enough, the surprising first people she told she's pregnant again, the keys to being a working mother and teaching your kids - who have privilege - about hustle, her daughter Violet's movie debut and whether she supports her being in the industry, the amazing story behind her new food truck Beignet Box, another new Netflix show on the way, and what a Love Don't Cost A Thing sequel should look like.
She also talked about being engrossed in the New Zealand culture while filming her new movie and what she learned from the respect given to the indigenous Māori people.

Falling Inn Love is out on Netflix today!

Photo credit: Erik Voake/Getty for Netflix
​ ​
​ ​ ​