Arrest Warrant Issued For Lakers Baller & Newlywed DeMarcus Cousins After His Child's Mother Releases Audio Of Him Allegedly Threatening To 'Blow Her Head Off'
​
Aug 30 | by Natasha
​ ​ ​ ​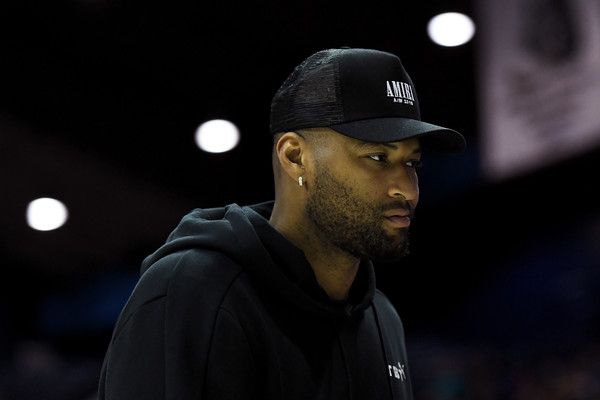 This off season went from bad to good to bad AF again for DeMarcus "Boogie" Cousins. The NBA baller just walked down the aisle to wed his new wife, now he's got a warrant out for his arrest. Deets inside.
A few days ago, DeMarcus Cousins was put on blast by his ex-girlfriend/mother of his 7-year-old son for a horrible argument she says they had over her not letting their kid come to his wedding. She didn't explain exactly why she refused to send the child to the wedding, but we do know DeMarcus sounded beyond pissed, if that is actually him on the other end of the phone. She leaked alleged audio, claiming it's DeMarcus in said audio, of their heated conversation, to TMZ. Based on these alleged threats to "put a bullet in your (expletive) head," we have an idea why the child may not have been allowed to attend.
Regardless of how mad one gets or how unreasonable you feel the parent of your child is being, it's never OK to threaten to kill someone. And based on how easily this came out his mouth, we can't help but wonder if this isn't the first time threats - or worse - had occurred.
The phone conversation was recorded by Cousins' ex-girlfriend and a copy was provided to the Mobile (Alabama) police department.
Hours after the audio was posted by the site, the ex-girlfriend filed a police report with the Mobile, Alabama police department, according to USA Today. The charge: Third-degree harassing communications. She reportedly received a temporary restraining order as well.
The Lakers - Boogie's new home for the 2019-2020 season - say they're "aware" off the issue. The team previously said in a statement Tuesday:
"We are aware of the allegation involving DeMarcus Cousins and, of course, take this claim seriously. We are in the process of gathering information and will reserve further comment at this time."
The 29-year-old was already recovering from a January 2018 Achilles tear, causing him to be out much of last season, when he re-injured himself during spring training earlier this month. He had just signed a 1-year contract with the L.A. Lakers.
He and his now pregnant wife, Morgan Lang, got married last week in Atlanta as well.
DeMarcus also celebrated his 29th birthday about a week before his wedding. Sheesh. The ups and downs of the off season.
Photo: Getty
​ ​
​ ​ ​