Tamron Hall Says She Had To 'Pray To Not Be Broken' After Dramatic TODAY Exit
​
Sep 05 | by _YBF
​ ​ ​ ​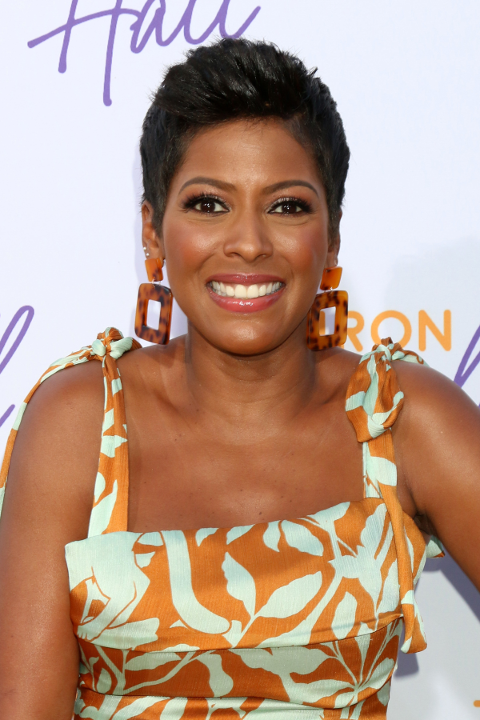 Before she takes over daytime TV with her own show, Tamron Hall opens up about what life was like following her exit from the TODAY show. Find out inside...
Tamron Hall is back like never before.
The TV personality is gearing up for the premiere of her brand new talk show, "Tamron Hall."
The new talk show will include content that's deeply moving to the purely fun, where Tamron's connecting with the people who are shaping our world through meaningful, engaging and entertaining conversations.
But before she makes her grand return to television, the new mom & newlywed chopped it up with Good Housekeepingabout rebuilding her life following her exit from the TODAY show.
The 48-year-old is a true testament to NEVER give up even when it seems your world is crashing down around you. Over two years ago, Tamron was hit with shocking news that FOX's Megyn Kelly would be getting her own show on NBC that would air in the third-hour slot on TODAY, which meant she would be replacing Tamron and Al Roker's designated segment. Tamron spent 10 years at NBC, so imagine one day being told you're going to be replaced by someone from the putside, who is literally the polar opposite of you in every way.
So, what does she do? She left NBC & MSNBC and never looked back, but it wasn't easy. She said she had to pray hard about it after she got the news to keep from going into depression.
"On the outside, it looked like it was all together. 'Look at her, she's walking out, her head up.' My head is never going to be bowed, but I had to pray not to be broken," Tamron explained.
Now, she knows that had to happen in order for her new blessings to come trickling in.
"I don't think I've ever said this out loud, but every 'no' that I received in my life, and there have been many, it's made sense at some point in time," Tamron shared. "Even things I prayed to get and 'Oh my gosh, I want that job,' and I didn't get it, I look back and I say, 'Whew, thank goodness I didn't get that.'"
She realized that job didn't define her.
"We are not the biggest job we've landed. We are not, even with motherhood, I love my son ... [but] even he is not the total sum of my journey ... I'm not Tamron from the Today show. I'm Tamron."
Yasss!! Drop these gems Tamron!
Tamron also opened up about keeping her marriage to music executive husband, Steve Greener and her pregnancy out of the public eye until she was ready to share with the masses.
"It's proof you can keep things private," she joked.
She said her husband fully supports her new endeavor and how important it is to keep a strong foundation in their relationship.
"He wants my show to make it, but he wants our marriage to work and he knows part of that is maintaining this foundation, and him being comfortable with who he is and not pushed into someone he isn't," she shared. 'We're an interracial couple, we're both older parents, he's from the Bronx, I'm from Texas, that alone is a divide."
"We knew we wanted to prepare ourselves for what this exciting journey would bring."
We're huge fans of the longtime TV host and we're SO happy to see her flourishing like never before.
Oh, and check this:
Tamron shared this throwback flick for #ThrowbackThursday. Ha!
She has already started taping:
In case you missed, take a listen to Tamron's new theme song, featuring Fantasia, HERE.
"Tamron Hall" premieres September 9th.
Photo: Kathy Hutchins/Shuttershock.com
​ ​
​ ​ ​