Wendy Williams Confirms Estranged Husband Had A Daughter With Alleged Mistress - 'I'm Not Changing Pampers, I Want To Be Pampered!'
​
Sep 07 | by _YBF
​ ​ ​ ​
Wendy Williams reveals the fact her estranged husband Kevin Hunter Sr. had a baby on her is what caused her to finally end their 22-year marriage. Oh, and she confirmed he had a baby girl with his mistress. More inside...
Talk show queen Wendy Williams spoke candidly about her separation from her estranged husband, Kevin Hunter Sr., during a recent appearance on "The View."
The 55-year-old didn't hold back while talking about her uncoupling, saying she was not in the business of raising someone else's child after being married for 22 years and being with Kevin Sr. for 25 years total. She was referring to the baby her estranged husband made with his alleged mistress, Sharina Hudson. Wendy pulled the plug on their marriage, filing for divorce in April and the split was all due to the fact Kevin Sr. had a baby with another woman.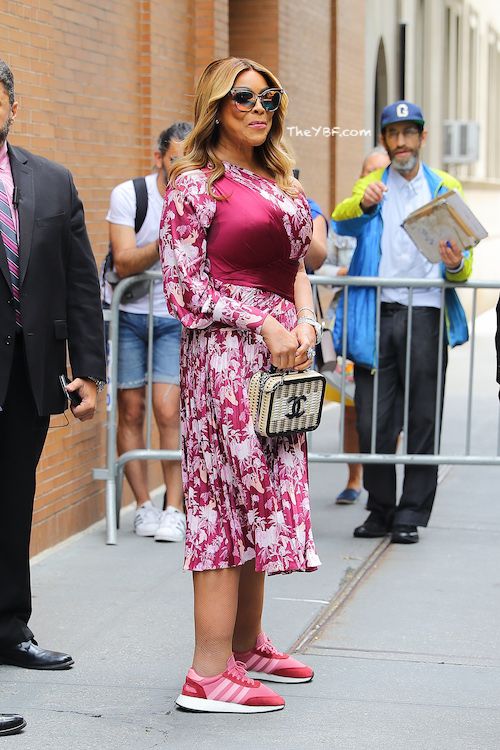 "A baby! I'm not changing pampers. I want to be pampered! Get out of here!," Wendy said while talking about her divorce on "The View." "Infidelity is one thing, a full baby is a whole other topic."
She said she learned from her mother how to take lemons and make lemonade and that she's not going to publicly bash Big Kevin in the media.
"I save that for when I get back to my bachleorette pad," she said. "It's not just about young Kevin. You know, Kevin is not a bad man. Big Kev. He's not a bad man, ya know? You can't just throw away 25 years and then start talking about...talking recklessly about the other person. What does that say about you? I chose him and he chose me."
The talk show host said she's moving on and plans to live her life out to the fullest.
"Now, it's time for me to move on with my life. You do this? Get out," she said.
Wendy also talked about being addicted to cocaine, her stint at the sober house and more.
Peep the clips below:
She also talked about returning for the 11th season of her hit talk show:
In an interview with The New York Times Magazine, the TV host confirmed her estranged husband had a baby girl with his alleged mistress. Kevin Sr. hasn't confirmed or denied the baby news.
"I never thought that I would be in this position. I'm a very forgiving person, but there's one thing that I could never be a part of, and that one thing happened," she said. "Kevin has a daughter."
She said Kevin Sr. made a mistake that she refused to deal with, so she filed for divorce.
"Kevin had a major indiscretion that he will have to deal with for the rest of his life. An indiscretion that I will not deal with," she explained.
Once she realized it was time for her to leave her husband, she made plans to try and keep herself sober.
"I knew what was about to happen, and I was like, Let me go someplace where you're not allowed to have the whole bottle of wine. Cocaine has been off my map for years. I don't take pills. I wasn't doing anything off the wagon," she shared. "My husband was about to have a baby, and I knew that I was about to divorce. I knew that there would be headlines. I had to process it so that once I came out, I came out on top," she continued.
While their relationship is over, she said she still wants to be friends with Kevin Sr.
However, a source exclusively tells us that Wendy is allegedly trying to make a deal with Kevin that would allow him to keep his manager role. But the catch is that Kev would have to agree to not come after her coins. If you remember, a few months ago, Kevin filed for child and spousal support. The nerve, right? Wendy has openly admitted that the two got hitched without a prenup. Well, we can understand the host wanting to finally protect her pockets now that the relationship is a wrap. Maybe drawing up prenup papers pre-marriage isn't so unreasonable after all.
Being that Kevin was the one to forfeit the union by stepping out and taking it a little further by impregnating the side piece, you would think that his claim for alimony would be null and void. However, that is not entirely the case, as her ex can possibly still make a play for her bag in court. Wendy recently told Andy Cohen on his SiriusXM radio show that she wishes her ex of more than two decades well, but we're sure she's not interested in providing for his new family.
Whatever the situation, we hope Wendy is being strategic about her approach and we hope things don't get too messy.
"The Wendy Williams Show" returns on Monday, September 16th.
Photos: Splash/MEGA
​ ​
​ ​ ​