Antonio Brown Cuts Up On Social Media After Inking A New Contract With The Patriots Following Raiders Release
​
Sep 08 | by _YBF
​ ​ ​ ​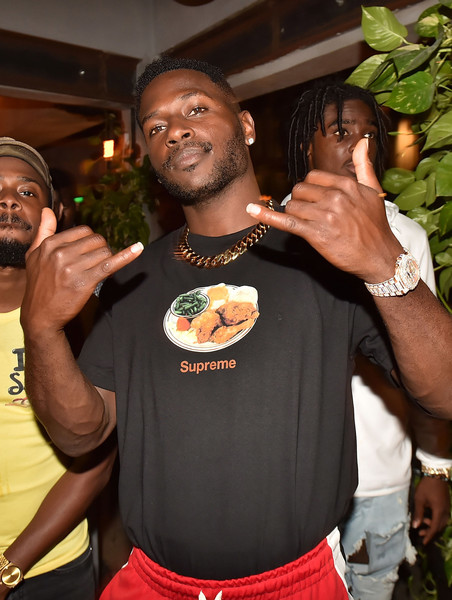 To say Antonio Brown is excited about his new contract with the New England Patriots after the Oakland Raiders released him would be an understatement. And he's showing everyone just how happy he is to be playing for a new team. See his posts, his "freedom" run, deets on his contract and more inside....
24 Hours is long enough for major changes in the NFL.
Early yesterday morning, Antonio Brown hopped on Instagram and asked the Oakland Raiders to release him from the team following some drama that went down during practice with General Manager Mike Mayock. Hours after his post, the Raiders released him and when he found out, this is what ensued:
AB celebrated with a whole "freedom" run at the moment he found out the Raiders had released him.
So here's how we got here: GM Mike Mayock confronted Antonio at practice this week about him posting a $54K fine notice he received from the team after he skipped yet another practice. AB also posted a wire tapped phone conversation he had with head coach Jon Gruden questioning his commitment to the Raiders. Next, AB requested the Raiders release him, they do, and then the Patriots swooped in and signed him hours later.
The Raiders traded 3rd and 5th round picks in the 2019 draft for Brown back in March. He negotiated a new contract with the Raiders where the organization was set to pay him $50.13 million over the next three years with $30.13 million guaranteed, making him the highest-paid receiver in the game. However, he'll never see that guaranteed money after the team voided it due to conduct detrimental to the team. He may have missed out on that money, but the Patriots dug deep in their pockets to recruit him.
AB reportedly signed a one-year deal worth up to $15 million, which includes $9 million signing bonus, $10 million guaranteed and $5 million in incentives. Sheesh! He's now one of the top paid wide receivers in the game:
Since signing to his new team, the Pro Bowl wide receiver has been cutting up on social media:
Yeah, he's happy AF.
AB also liked this tweet on Twitter where a sports fan calls GM Mayock prejudice:
The most stupidest human popsicle on the planet he should never been hired as a GM I hope Antonio Brown when his money in arbitration then everyone would know Mike Mayock is a true prejudice asshole he should be raped in the ass then fire pic.twitter.com/ezRiDdntS9

— Easton one (@Eastonone2) September 8, 2019
Yikes.
It doesn't look like we'll see him hit the field today with his new team since he's reportedly not eligible to play until Week 2 at the earliest. That means, he'll miss the Patriots' opener tonight against his former team, the Pittsburgh Steelers. By the way, he won't have to play against the Raiders none this season since they're not on the Patriots' regular season schedule.
It makes you wonder, was this part of a plan to get off the Raiders? Hmm....
Photo: Getty Images
​ ​
​ ​ ​