Antonio Brown Accused Of Rape By His Former Trainer, The Patriots & Antonio's Rep Respond
​
Sep 11 | by Natasha
​ ​ ​ ​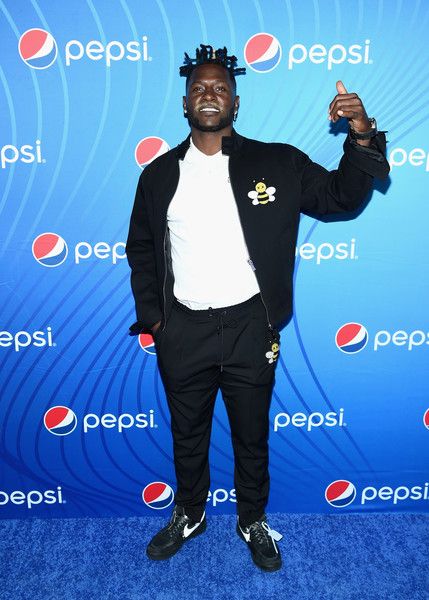 The Antonio Brown saga keeps unfolding. This time, though, his drama is not a laughing matter. The NFLer is being accused of rape by his former trainer, as well as multiple incidents of sexual assault. Details inside.
Patriots baller Antonio Brown's former trainer, Britney Taylor, has filed a civil lawsuit accusing the 31-year-old wide receiver of multiple incidents of rape and sexual assault. She claims she has passed a lie detector test (which may or may not be allowed to be admitted into court since many do not believe they are reliable), reached out to #TimesUp back in January describing these exact allegations without naming names, and also claims she purchased a pregnancy and STD test immediately after the alleged rape. It is unclear if she reported anything to police at the time or if she was administered a rape kit.
Britney and Antonio met in college while both attending Central Michigan. Britney was a gymnast and they met in a Bible study group at the school and became friends. She says they lost touch after school, then reconnected later with Antonio hiring her for physical training in 2017.
ESPN reviewed the suit, and broke down exactly what Britney alleges occurred in 2017 & 2018 - from being kissed by Antonio without her consent to Antonio masturbating near her without her knowing & then ejaculating on her back to forcibly raping her in his Miami home.
In the civil lawsuit, a copy of which was reviewed by ESPN, Brown's former trainer, Britney Taylor, accuses the newly signed New England Patriots receiver of sexually assaulting her on three separate occasions in 2017 and '18. ....

The first alleged incident came in June 2017, with Taylor saying Brown exposed himself and kissed her without consent at one of his Pittsburgh-area homes. A month later, while at Brown's home in his native Miami, Taylor alleges in the lawsuit, Brown masturbated near her without her knowledge and ejaculated on her back, then later bragged about it in a series of text messages. In May 2018, after a night out at a Miami-area club, Taylor says she went back to Brown's home in Miami to use the bathroom and grab some food, and the receiver "forced her down onto a bed, pushed her face into the mattress, and forcibly raped her."
In a statement of her own, Britney says the alleged incidents have caused her to have suicidal thoughts, and deciding to speak out has been a difficult decision:
In the lawsuit, Taylor says she believed their relationship was of a "brother-sister" type and acted accordingly.

The alleged incidents have left Taylor suffering "near-daily panic attacks and suicidal ideations," per the lawsuit. She is seeking in excess of $75,000.

"As a rape victim of Antonio Brown, deciding to speak out has been an incredibly difficult decision," Taylor said in a statement. "I have found strength in my faith, my family, and from the accounts of other survivors of sexual assault."
Antonio, who lives with his longtime girlfriend Chelsie Kyriss and their 3 kids together (as well as multiple children from both of their previous relationships, has responded via his lawyer, calling the incidents "consensual".
Brown's lawyer, Darren Heitner, said in a statement Tuesday night that the receiver and Taylor were involved in a "consensual personal relationship. Any sexual interaction with Mr. Brown was entirely consensual."

In a tweet on Tuesday, Heitner said that Brown "will leave no stone unturned and will aggressively defend himself, including all of his rights in countersuits."
Antonio, who is a father of 5, and Chelsie, have been together on and off since 2014.
Two days ago, before this lawsuit became public, Antonio posted this:
Antonio's new team home, the New England Patriots, have also responded.
"We are aware of the civil lawsuit that was filed earlier today against Antonio Brown, as well as the response by Antonio's representatives," the Patriots said in a statement on Tuesday night. "We take these allegations very seriously. Under no circumstances does this organization condone sexual violence or assault. The league has informed us that they will be investigating. We will have no further comment while that investigation takes place."
So they will not make any further comment - and likely won't make any changes to his status either - until the NFL does their own "investigation".
Welcome to New England, @AB84. pic.twitter.com/04zPKpqGfQ

— New England Patriots (@Patriots) September 10, 2019
It's unclear how much longer the Patriots will be this welcoming.
And once again, O.J. Simpson chimes in with the unnecessary critique about how Antonio Brown's never ending saga is affecting his fantasy football team. He even made sure to reinforce that Antonio's only been "accused" of rape, but "nothing he knows about him" makes him think he could ever do such a thing. Yes, because only men who show rapey characteristics - whatever those are - can be rapists, apparently.
Thank God for Twitter, so we can hear O.J. make it clear Antonio Brown is only accused of rape. https://t.co/y1S2Q6f59J

— Rob Tornoe (@RobTornoe) September 11, 2019
Deep sigh.
Photo: Getty
​ ​
​ ​ ​