Since Antonio Brown Is Done With The NFL, He's Headed Back To School
​
Sep 23 | by _YBF
​ ​ ​ ​
Antonio Brown is done with the National Football League, so he's headed back to school. More inside…
What better time to better himself than now, especially with all this extra time on his hands.
Following the New England Patriot giving him the boot, unemployed wide receiver Antonio Brown said he's DONE with the NFL, so he has decided enrolled in school. Which, isn't a bad thing because since his firing he has been cutting up on social media. So, having something else to occupy his time is a good thing.
Guess what he did? He re-enrolled at his alma mater, Central Michigan University, amid rape and sexual assault allegations. The allegations caused the wide receiver to be cut from the New England Patriots a little over a week after they signed him with a $15 million contract.
The 31-year-old posted a snapshot of his four online classes he's set to take this fall semester. We're not exactly sure how he registered so late for fall classes, but he's in there. He tagged Central Michigan University athletics in a post on his Instagram Stories.
The former Raiders player is set to take Introduction to Management, Technical Writing, religion course Death and Dying and sociology course Racism and Equality.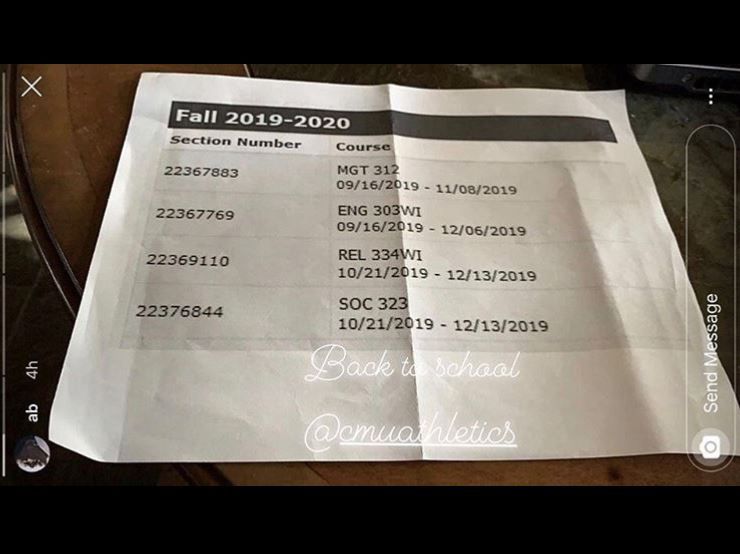 AB played football for Central Michigan before leaving to play in the NFL in 2009. He did not graduate.
The Patriots released the wide receiver last Friday after a second woman (an artist who remains anonymous) made sexual assault allegations against him - although she has not decided to press charges. You'll recall, days after her story was published by Sports Illustrated, AB allegedly sent her threatening text messages - messages that referenced both herself and her children in a group chat. He reportedly included pictures of her children and said she was "broke" and struggling. However, she hasn't requested any money from AB. The woman's lawyer then sent a letter to the NFL about the alleged text messages, demanding they take action against the wide receiver:
Initially, she said she made several unwanted sexual advances towards her during the two days she spent painting a mural at his Pittsburgh-area home in 2017. Now, more deets about her time there has come to the light.
According to reports, the artist claims AB had sex with another woman in front of her while she worked. Wow.
In the letter sent to the NFL from the artist's lawyer, the lawyer dropped new info about her time at AB's home. TMZ reports:
"What is not detailed in the story is that Mr. Brown engaged in other forms of sexual misconduct during the two days that she worked in his home, which included Mr. Brown having sex with another woman while the artist was working in the same room."
While the artist hasn't taken any legal action against AB, he's being sued by his former trainer - Britney Taylor - for sexual assault and rape. She filed a civil complaint in the US District Court in Miami on September 10th, accusing him of two sexual assault incidents in 2017 and rape in 2018. The lawsuit was filed three days after AB forced a trade from the Oakland Raiders to the New England Patriots. It was reported AB rejected to sign a $2 million settlement with Britney before she filed the lawsuit.
AB's attorney has denied all allegations on his behalf.
Photo: Getty
​ ​
​ ​ ​