Apryl Jones & Her Mom Break Down While Talking About How Fizz Saved Apryl's Life + Moniece Responds!
​
Sep 24 | by _YBF
​ ​ ​ ​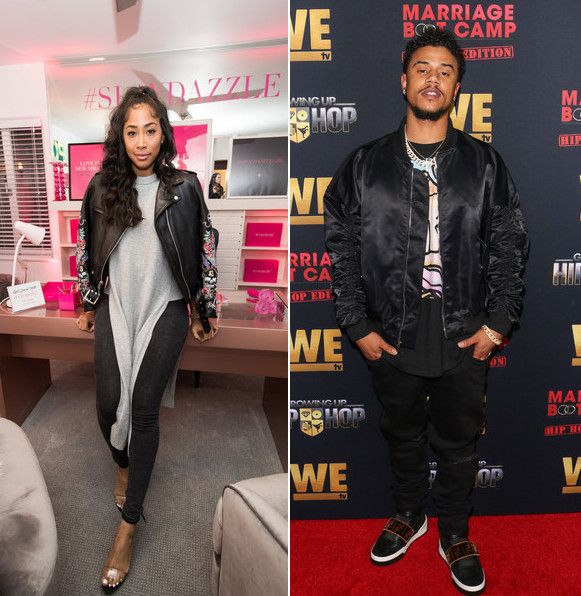 Whew, chile. Apryl Jones and her mom broke down to tears expressing how grateful they are Fizz helped saved Apryl's life during last night's episode of "Love & Hip Hop: Hollywood." Fizz's son's mother Moniece Slaughter has responded. Get it all inside...
Fans were shocked when they learned how close (and we mean close) Apryl Jones got with her kids' father Omarion's B2K bandmate Fizz (real name Dreux Pierre Frédéric). They were all over each other on social media, which sparked a beef between Apryl and Fizz's son's mother Moniece Slaughter.
On the new season of "Love & Hip Hop: Hollywood," Apryl and Moniece had seemingly called a truce and were even considering going on tour together. But we doubt that will happen now.
On last night's episode, Apryl and her mother were brought to tears over a family and friends dinner in Chicago before a B2K show. Both Apryl and her mother expressed how thankful and grateful they both are for Fizz stepping up and "saving" Apryl after Omarion allegedly up and left Apryl suddenly. Apryl explained she was down and out, but Fizz was right by her side to help her get back to herself and he also helped her with her two children, whom she shares with the "Ice Box" singer.
"What she's been through is a lot, you feel me. And the sh*t that has happened it ain't right. It's wrong," Fizz said.
Apryl's stepfather thanked Fizz for helping Apryl since they couldn't because they lived so far away.
"I don't think people really understand. He really has been my saving grace. He has chosen to really just be there. I went through a lot. I was really sick. It wasn't good for me. I was in a really bad space," Apryl shared while wiping away tears.
They both have been adamant that they are JUST friends, but at this point, fans are questioning if they're telling the truth about what's really going on between them. Even their co-stars are.
Day 26 singer Willie Taylor straight up asked them if they were in a relationship and they said they weren't. But, Apryl made it known that they could be open to being together if they decided to take that route.
"I'm Team Apryl & Dreux," Paris chimed in. "What about y'all?"

"What Apryl and Fizz got going on is beautiful. Let's end it with the truth. Like, this is some real love. I don't even think O is going to care. We all know it's true. I think people will respect it more if they just come out with the truth," Paris continued.
Peep the clips below:
Also, on the last episode Apryl sat down with Fizz and was explaining to him why he needs to forget the people telling him to leave her alone. She also shared with her co-star Paris how he saved her life:
After last night's episode aired, Fizz ex-girlfriend/son's mother Moniece Slaughter hopped on Instagram to respond. She said there's more to their "friendship" story and that Fizz was actually an issue between Apryl and Omarion when they were together. She also made claims that Fizz has been neglecting their son since he started hooking up with Apryl.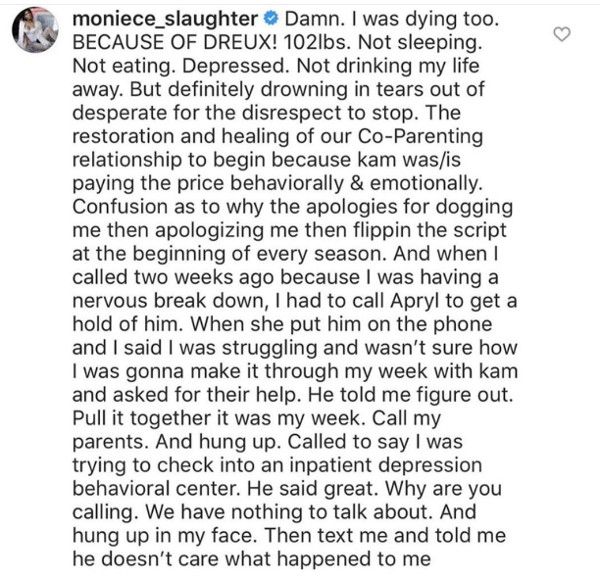 Yikes.
"LAHH: Hollywood" also dragged Fizz on social media after the episode:
Here comes this fake ass thank you to Fizz for saving Apryl...
Meanwhile Moniece ass was over there dying and you was like.....#LHHH pic.twitter.com/D1VB57WA1V

— (@BlackMermaid34) September 24, 2019
So you telling me Fizz out there "saving" Omarion's BM life but treats his own like sh*t .. #LHHH pic.twitter.com/ukW5T1Zq8y

— SpillrealityT (@SpillrealityT) September 24, 2019
Fizz and Apryl are really made for each other. Both of them love blaming their ex partner for everything when they're the messy ones #lhhhollywood #LHHH pic.twitter.com/DylFEb2utg

— I don't know who this man is (@drml_woods) September 24, 2019
Again funny fizz can do all this for you when Moniece (the mother of your child) had a mental breakdown and he was straight ghost #lhhh pic.twitter.com/Tibl1dp0MU

— Reãl RADA AL Rep (@Blaqmajicwoman) September 24, 2019
Chile...
Omarion spoke out about his ex and his bandmate's relationship earlier this year. Find out what he thinks about it HERE.
Photos: Getty
​ ​
​ ​ ​