'Thursday Night Football' Premiere Night Views WAY UP Past Last Year's – Did Jay-Z Have Anything To Do With It?
​
Sep 27 | by _YBF
​ ​ ​ ​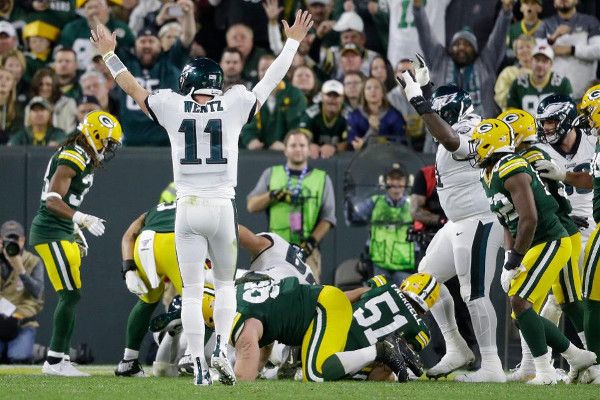 "Thursday Night Football" saw a surge in viewership and folks are wondering if Jay-Z's new partnership with the league influenced on the ratings. More inside…
"Thursday Night Football" saw a surge in viewership last night as the Philadelphia Eagles went up against the Green Bay Packers. Yes, it was a good matchup. But, the viewership was through the roof, and folks can't help but wonder if Jay-Z's recent partnership with the NFL had anything to do with it.
The Eagles' 34-27 win over the Packers drew in 17.7 million viewers FOX and NFL Network, which was up 22% over last year's inaugural cycle opener. According to Deadline, the audience total reached 18.6 million when Amazon Prime and other digital platforms are factored in – that's 23% better than the total platform result of that 2018-2019 TNF season opener.
Deadline reports:
The first round of ratings have last night's hard hitting match-up actually rising 18% from the Los Angeles Rams' 38-31 winning over the Minnesota Viking on September 27, 2018.

Those early metrics saw last season's Super Bowl contending Rams win go on to get 14.5 million viewers on Fox and the NFL Network in the final TNF numbers. The successor to previous seasons of less than stellar ratings, that was a sweet win of a different sort for the five-year and $3 billion bet that the Murdochs put on NFL action early last year for what was then being bandied about as New Fox.

In fact, last night's TNF was the best opener the late week franchise has had since 2015 in metered market returns.
Hmm…why could this be? Nothing has change this season outside of Hov's new controversial partnership. There were no pre-show concerts or anything like that to bring in new viewers. So, did black people feel like watching again after Hov said we've "moved past protesting"?
Things that made you say hmmm….
Photo: AP Photo
​ ​
​ ​ ​