'Dirty' Raiders Baller Vontaze Burfict Handed History Making Suspension + Antonio Brown Pops Back At Browns QB Baker Mayfield
​
Sep 30 | by _YBF
​ ​ ​ ​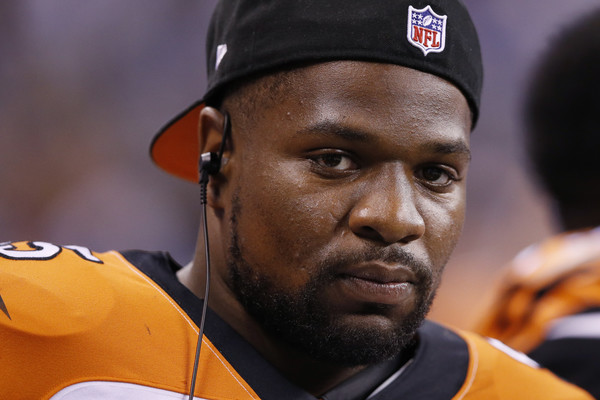 Oakland Raiders player Vontaze Burfict has been suspended by the NFL for the rest of the season and his suspension goes down in the NFL history books. Find out what he did, plus what former NFL star Antonio Brown said to Cleveland Browns Baker Mayfield inside….
The NFL just wrapped up Week 4 of the 2019-20 season and the league is handing out history-making suspensions. Oakland Raiders linebacker Vontaze Burfict has been suspended for the rest of the season, following an insanely dangerous play on Sunday.
Raiders' LB Vontaze Burfict's year-long suspension now official, as @mortreport said. pic.twitter.com/ENNsIe5Vj1

— Adam Schefter (@AdamSchefter) September 30, 2019
Vontaze – who reportedly has a history of unnecessary roughness penalties – was suspended WITHOUT pay for a helmet-to-helmet hit on Colts tight end Jack Doyle during Sunday's game against the Indianapolis Colts.
Check out the dangerous hit below:
Vontaze Burfict was ejected for this hit on Jack Doyle pic.twitter.com/vFply5QOKN

— NFL Stats (@NFL_Stats) September 29, 2019
He was ejected from Oakland's 31-24 win over the Colts during the 2nd quarter. He reportedly walked off the field with a smirk while blowing kisses at the stands.
Vontaze - who was released after seven seasons before signing a one-year, $2 million contract with the Raiders in March – has now reportedly been suspended four times, which include three time for on-field behavior. His minimum 12-game suspension would be the longest in NFL history for on-the-field transgressions. Sheesh! And it's affecting his bag too.
He has been suspended got a total of 22 games, costing him $4,622,182 in salary and been fined nine other times totaling $411,064. Add all of that up and he has lost out on $5 million for his on-field actions. Damn homie.
NFL Vice President of Football Operations Jon Runyan announced the history-making suspension today: https://www.si.com/nfl/2019/09/30/oakland-raiders-vontaze-burfict-suspen...
"There were no mitiating circumstances on this play," Runyan wrote in a letter to Burfict. "Your contact was unnecessary, flagrant and should have been avoided."
Like we said, Vontaze has a history of questionable behavior on the field and has been dubbed a "dirty player" by many sports analysts and football fans. In 2016, Vontaze nabbed a three-game suspension for multiple violations of player safety rules. In 2017, the linebacker was suspended five-games for a hit to a defenseless player. He appealed it and the suspension was lowered to three-games. In 2018, he was suspended for four-games for violation of the NFL's performance-enhancing substance policy
It's reported Vontaze will appeal his current suspension. Sheesh.
In other NFL news...
Fomer NFL star Antonio Brown - who announced he was done with the NFL amid rape/sexual assault allegations - popped back at Cleveland Browns quarterback Baker Mayfield. The Browns QB put up a picture of himself during a post-game interview during his college days at Oklahoma. He captioned, "Just some undersized Walk On... Keep that same energy."
A follower hooped in his comments and responded, "Win football games. That speaks louder than these AB'ish style posts" Oop!
Baker responded, "You're right. Let me call out my teammates and throw a fit about my helmet then go freeze my feet off."
The SHADE of it all.
AB must have gotten wind of the comment because he hopped on Twitter Saturday morning arguing that Baltimore Ravens QB Lamar Jackson should have been drafted before Baker, who was the No. 1 overall pick in the 2018 draft. Oh, and he added some pettiness to the post. He attached a link to a new article about Baker being arrested for public intoxication and disorderly conduct.
Should of never been drafted before Lamar Jackson what a big scam https://t.co/4Egf0Z05G2

— AB (@AB84) September 28, 2019
Now that AB is no longer playing in the NFL, he has been using the extra time on his hands to cut up on social media and he has re-enrolled in his alma mater, Central Michigan University. The former Raiders player is set to take Introduction to Management, Technical Writing, religion course Death and Dying and sociology course Racism and Equality.
Yesterday, he sought out proofreaders for a paper he had to write:
My English paper do by tonight 12am need a prof reader make sure As and Bs #Eng303

— AB (@AB84) September 29, 2019
We all saw the grammar in those alleged text messages...
Photo: Getty
​ ​
​ ​ ​