R. Kelly Reportedly Begs Judge For Bond, Says 'It's Not Right' That He Hasn't Been Able To See His Two Girlfriends
​
Oct 01 | by _YBF
​ ​ ​ ​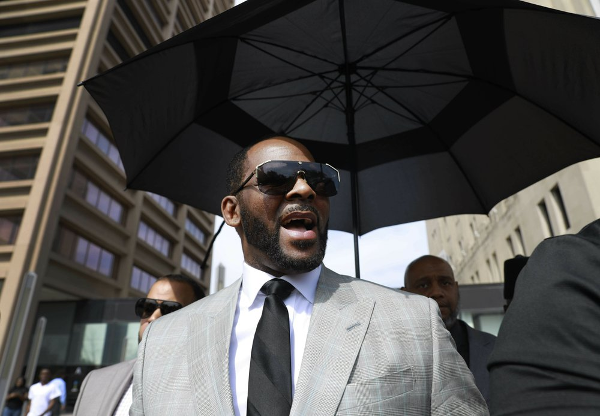 R. Kelly is trying to get a "Get Out Of Jail Free" card using his "health" and the fact that he hasn't been able to see his two girlfriends. Details inside…
Um, sir...
R. Kelly is looking to be released on bond after he was snatched up in July on federal sex crimes charges. The "I Believe I Can Fly" singer has been sitting behind bars in Chicago's downtown Metropolitan Correctional Center after he was arrested by Homeland Security agents and NYPD detectives while walking his dog.
As you know, he's facing federal sex charges in Chicago, and he was also brought up on charges like kidnapping, racketeering, and sexual exploitation of a child in New York. He pleaded not guilty to all of the charges in August.
Since he feels he's innocent, he's looking to be released from the big house and he's using every excuse possible to do so. The Grammy Award winner's attorney filed a new motion arguing for the release of the singer via bond. He has been trying to get out on bond since he was thrown in jail a few months ago but hasn't had any luck.
This time, his attorneys argue he isn't a flight risk and accuse prosecutors of failing to provide evidence to back up this claim. Also, his reportedly has an issue with prosecutors not providing the name of the alleged victims.
In the newly filed paperwork, his lawyer states:
"Mr. Kelly possesses almost no financial resources, and no evidence was presented to the Court to the contrary. Indeed, there is nothing in the record to support such an inference. Likewise, Mr. Kelly is not a frequent international traveler. His passport is presently in the custody of authorities in Cook County, Illinois in connection with Illinois State court proceedings. That passport was issued approximately eight years ago and does not contain a single stamp for travel."
The 52-year-old singer's lawyer argues despite years of Kelly "being investigated, television shows dragging him through the mud, and the filing of serious charges earlier this year in Illinois State court."
"Mr. Kelly is in his 50's, does not have any criminal history, has never missed a court date, could not hide or evade surveillance given his fame, now has no passport, has posted a substantial bond in State court, has voluntarily turned himself in on all charges, and made no attempt to flee in the face of imminent Federal charges, and is presumed innocent."
The R&B crooner is also upset he hasn't been able to see his "two lady friends," Joycelyn Savage and Azriel Clary.
"His visits are severely restricted; presently, he is only allowed one unrelated person to visit. In other words, although he lives and has lived with two lady friends, only one of them is allowed to be on his visiting list, and after 90 days he is required to switch. No other friends or professional colleagues are allowed to visit. That is not right."
Not only that, Kelly claims he needs to get out to take care of some health issues he's currently battling. He claims he's not receiving adequate medical care.
He also claims to have a "number of health issues which need to be addressed and for which he is not presently receiving adequate medical care. This includes numbness in his hand, anxiety, and an untreated hernia. His conditions of confinement, even after he was moved out of the special housing unit, remain stifling."
The judge hasn't ruled on the motion yet. Hmm…do you think the judge is here for Kelly's sad song or nah?
EXTRAS:
1. New Orleans Saints linebacker Demario Davis says he was fined for wearing a "Man of God" headband during last week's game against the Seattle Seahawks. Wow, really? STORY
2. Bruno Mars is being sued for $1M by a promoter who says he and his manager backed out of a contract to bring his 24 Karat Magic tour to Springfield, Missouri for a concert date. STORY
Photo: AP Photo
​ ​
​ ​ ​