UPDATE: Middle School Girl Who Said White Boys Cut Her Dreads Apparently Lied
​
Oct 01 | by _YBF
​ ​ ​ ​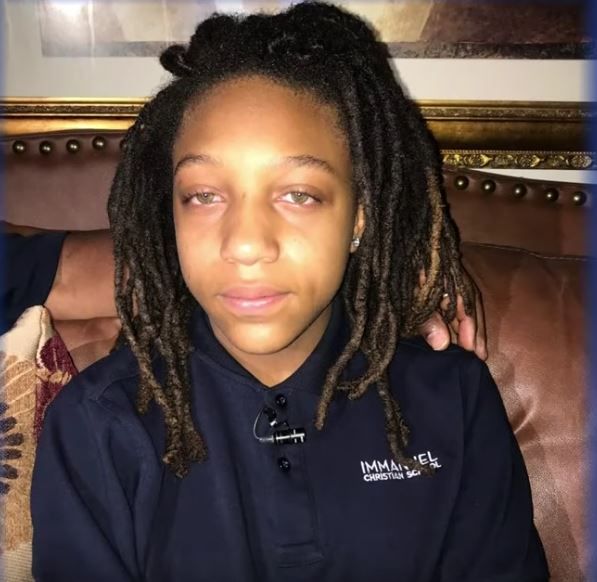 The 12-year-old Virginia student who made claims that three white boys held her down and CUT her dreads apparently lied. Read her family's statement inside…
We def didn't see this coming.
Amari Allen - a 12-year-old Virginia student – made headlines when she spoke out with claims that three sixth-grade white boys reportedly pinned her down and cut her dreadlocks off. Apparently, she lied. Her family issued a statement claiming the allegations were not true.
Following an investigation by the Fairfax County Police Department, Stephen Danish - the head of Immanuel Christian School - also confirmed the allegations were false.
"While we are relieved to hear the truth and bring the events of the past few days to a close, we also feel tremendous pain for the victims and the hurt on both sides of this conflict," he said. "We recognize that we now enter what will be a long season of healing."
In the statement, Amari's family apologized to the boys and said they are prepared for any consequences.
"To the administrators and families of Immanuel Christian School, we are sorry for the damage this incident has done to trust within the school family and the undue scorn it has brought to the school," the family said. "We understand there will be consequences, and we're prepared to take responsibility for them."
Statement of apology from the family of Amari Allen who now admits she made a false assault allegation against 3 white boys in her class. @nbcwashington pic.twitter.com/JRQOsicfva

— Big Boss (@escapedmatrix) September 30, 2019
"To the broader community, who rallied in such passionate support for our daughter, we apologize for betraying your trust."
Amari made claims that the alleged attack happened during recess as she was about to go down a slide. She said one of the boys grabbed her and put his hand over her mouth. Another boy grabbed both of her arms and the third boy cut off some of her hair. The school bell rang, and the boys ran away laughing.
A few days after the incident, her grandmother noticed long portions of her hair was missing while styling her hair. When her grandmother asked her about it, Amari broke down in tears and shared what happened. That's when the family called Fairfax County Police.
"They said my hair was nappy and I was ugly," the 12-year-old told News4 after the alleged attack. "They put their hands over my mouth. They put my hands behind my back. And they started cutting my hair and saying it was ugly."
It's unclear why she lied about the incident, and we hoe she wasn't coerced into saying she did. Amari does maintain that she was bullied previousy by the boys.
Photo: YouTube Screenshot
​ ​
​ ​ ​