Mathew Knowles Reveals He's Battling Breast Cancer, Encourages Men To Get Examined
​
Oct 02 | by _YBF
​ ​ ​ ​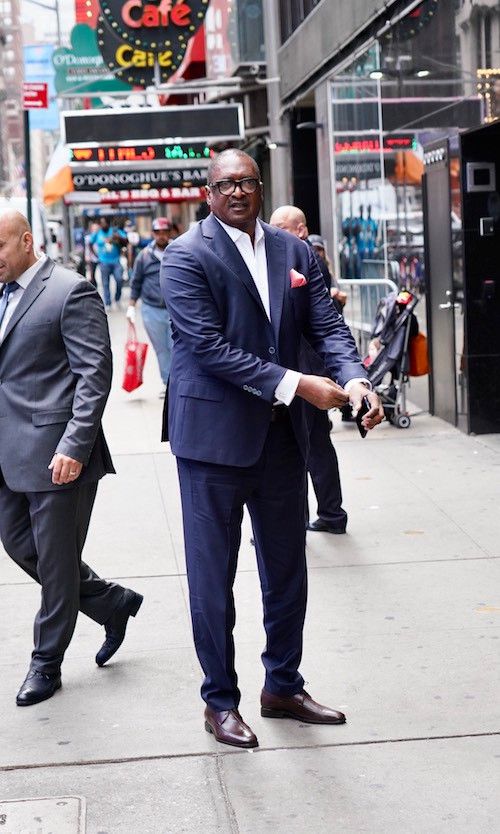 Mathew Knowles reveals he has been diagnosed with breast cancer and is encouraging men to get checked for it. See the clip inside…
Mathew Knowles opens up about his health during an interview with "Good Morning America's" Michael Strahan. The 67-year-old music executive – who is the father of singers Beyonce & Solange - shares he has been battling stage IA breast cancer and being that it's Breast Cancer Awareness month, he felt this was the perfect time to share his diagnosis with the world.
In the interview, he shares his story about coming to terms with his diagnosis, thoughts on the stigmas attached to male breast cancer and his hopes that his account will inspire more men to speak out. Mathew shared he found out he had cancer after noticing droplets of blood on his white t-shirts and on his bed sheets.
Breast cancer runs in his family. His mother's sister died of breast cancer, his mother's sister's two and only daughters died of breast cancer and his sister-in-law died in March of breast cancer. Also, his mother-in-law had breast cancer.
In July, he underwent surgery and that's when he received his BRCA results, a genetic test used to determine a person's chance of developing breast cancer. He said he found out he had a mutation on his BRCA2.
"Now what does having a mutation on BRCA2 mean for a man? You have a higher risk of getting breast cancer, prostate cancer, pancreatic cancer or melanoma," he shared. "For women, it's breast cancer and ovarian cancer [along with pancreatic cancer and melanoma.]"
He shared he has another surgery coming down the pipeline to remove his second breast.
"I am going to get the second breast removed in January, because I want to do anything I can to reduce the risk. We use the words "cancer-free," but medically there's no such thing as "cancer-free." There's always a risk. My risk of a recurrence of breast cancer is less than 5%, and the removal of the other breast reduces it down to about 2%.
"My kids have a 50% [chance of inheriting the BRCA gene mutation.] That's male or female. We used to think this was only an issue for women, but this is male or female.
Mathew said he hopes his story will help raise awareness about men battling breast cancer and encourage other men to get examined.
"I want to continue the dialogue on awareness and early detection -- male or female. The key to this is early detection," he said. "Breast cancer has been prevalent in our family. I want men and women to be aware -- if you detect the cancer early you can have a low mortality rate and live a normal life. If you find breast cancer, stage 1 or stage 2, you have a really good shot at a normal life."
There seems to be a stigma attached to men having breast cancer and he wants to change that.
"Men want to keep it hidden, because we feel embarrassed -- and there's no reason for that."
Check out his full interview below:
Prayers up that his next surgery is successful.
Photo: MEGA
​ ​
​ ​ ​