Black Media Mogul Byron Allen Drops $290 Million To Buy 11 TV Stations + Cory Booker & Kamala Harris Call Out Comcast In Support Of Allen's $20B Lawsuit
​
Oct 05 | by _YBF
​ ​ ​ ​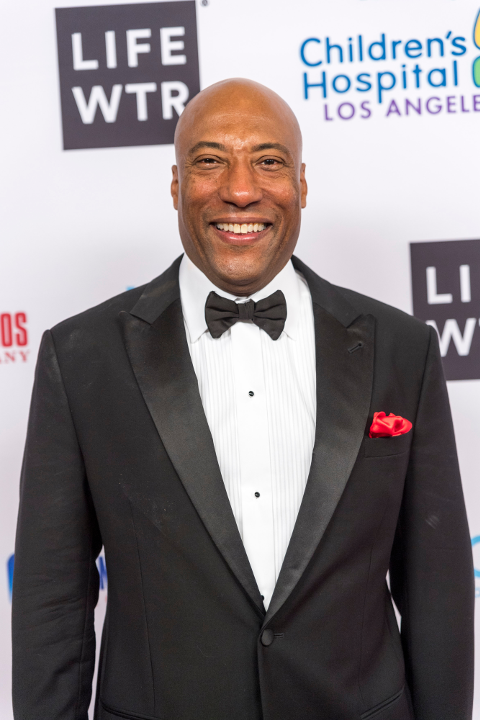 Black media mogul Byron Allen expands his empire even more with his latest purchase of 11 television stations for a cool $290 million. Deets on his media move, plus deets on presidential hopefuls Cory Booker & Kamala Harris speaking out about Allen's $20 billion lawsuit against Comcast inside…
Byron Allen is all about his business.
The media mogul recently coughed up $290 million to purchase 11 small-market television stations from USA Television. The deal adds to his already impressive portfolio, which would bring his investments this year in small- and mid-sized market TV stations to $455 million.
"I have known Byron Allen for decades and we are delighted that these stations will now be part of his dynamic company, and that Heartland management will continue to guide them," said USA Television CEO Robert S. Prather, Jr. "These stations are dedicated to their local communities and this transaction will enable them to become even stronger on both their broadcast and digital platforms."
Variety reports the USA Television station deal includes stations in Fort Wayne, Ind. (Fox's WFFT), Eugene, Ore (ABC's KEZI), Chico-Redding in California (NBC's KNVN), Rochester, Minn. (CBS' KIMT) and Terre Haute, Ind. (CBS' WTHI). The largest of the stations is in market No. 79, Huntsville/Decatur/Florence in Alabama.
Back in July, Byron's Allen Media copped four small-market TV stations from Bayou City Broadcasting for $165 million. Byron – CEO of Entertainment Studios – said he is looking add network affiliates to his portfolio which would make him an even bigger player with MVPDs (Multichannel Video Programming Distributors) as Entertainment Studios will now have local TV stations to leverage as it seeks carriage deals with MVPDs.
According to Variety, Allen Media is fast becoming one of the nation's largest African American owners of local TV stations.
While he continues to make boss moves in the media, he's also still fighting in a mega lawsuit against Comcast.
Byron and Comcast have been battling in court for years after he filed a $20 billion lawsuit against them in 2015. He made claims that the company refused to carry his channels because of his race. It has been considered as the most important civil rights case of our time.
If Comcast wins the November 13th Supreme Court Case, it will make it practically impossible to prove racial discrimination in any case.
"Comcast/NBCUniversal teaming up with Donald Trump's Department of Justice to eviscerate a civil rights statute in the U.S. Supreme Court is shameful, evil and the epitome of American institutionalized racism," Byron Allen told CultureBanx back in August.
Earlier this summer, the DOJ filed an amicus brief which stated that Allen and his team will have to prove that race is the only factor in refusal to work with a business, according to Deadline. The law in dispute is the Civil Rights Act of 1866, which gave Black people equal rights in contracts after the Civil War. If the Supreme Court rules in Comcast's favor, black people would have to prove that race was the sole factor in why a company did not sign a contract, which is problematic, particularly since systemic racism is not necessarily apparent.
Civil rights groups have called for a boycott of Comcast since they are trying to change the civil rights law at the Supreme Court.
Hours before the deadline for amicus briefs were to be filed in the Supreme Court, the Congressional Black Caucus weighed in on the lawsuit. Presidential hopefuls Sen. Cory Booker and Sen. Kamala Harris lent their voices in support of Allen.
"As members of Congress, amici have a strong interest in ensuring that the laws Congress has passed are interpreted in a manner that is consistent with their text, history, and Congress's plan in passing them," says the brief (read it here) that was filed Monday along with a flood of similar documents from the NAACP, the National Urban League, the National Action Network, ACLU, the Mexican American Legal Defense and Educational Fund, the National Women's Law Center and over a dozen more organizations.

"The statute at issue in this case—42 U.S.C. § 1981—was passed immediately after the Civil War as part of a broader effort to ensure that the newly freed slaves enjoyed the same rights as other citizens," the Senators and Congressional Representatives state. "This Court should not rewrite Section 1981 and disturb the vital protections that Congress passed that statute to provide."
This is a VERY important case that's about to go down that could affect us all. Let's keep our fingers crossed Comcast doesn't prevail.
Photos: Eugene Powers / Kathy Hutchins /Shutterstock.com
​ ​
​ ​ ​