Domestic Violence Charges Dropped Against Stacey Dash, Her Husband Says He Never Wanted Her Arrested
​
Oct 04 | by Natasha
​ ​ ​ ​
Stacey Dash is probably thanking her lucky stars...and husband...for her domestic violence charges being dropped today. Details inside.
Your favorite judgmental Judy, 52-year-old Stacey Dash, was arrested a few days ago after allegedly assaulting her own husband, Jeffrey Marty, in her Pasco County, Florida home. Their reported scuffle led to her calling the police, but she was the one arrested after police arrived and saw visible injuries on Jeffrey.
Stacey says Jeffrey tried to choke her first. She maintains she was defending herself against him, which is why she slapped and scratched him. She also alleges his 15-year-old daughter stepped in and attacked her as well. She was held on $500 bail.
The Clueless star reportedly asked for a public defendant (we guess her Fox & Friends homies didn't come through for her), and the judge told her to prove she couldn't afford a private attorney.
No word on how that ended up, but we do know she won't need either...for now. Her charges have been dropped.
NBC News reports prosecutors in Pasco County dropped the case today, one day after she pleaded not guilty to a domestic battery charge.
Stacey's 4th husband whom she was arrested for committing domestic violence against is now defending her. He tweeted:
Today, the State Attorney made the right call by declining to file charges against my wife, @staceydash.

She was arrested over my objection at the time, but due to the pending investigation, I waited to comment until now.

We both look forward to getting this behind us.

— Jeffrey Marty (@Jeffrey_Marty) October 3, 2019
He has this as his pinned Tweet too:
Love my wife. pic.twitter.com/SLPXv4X6Si

— Jeffrey Marty (@Jeffrey_Marty) April 21, 2019
As for the story that she marked "white" as her race on the police report, it's true. Kinda.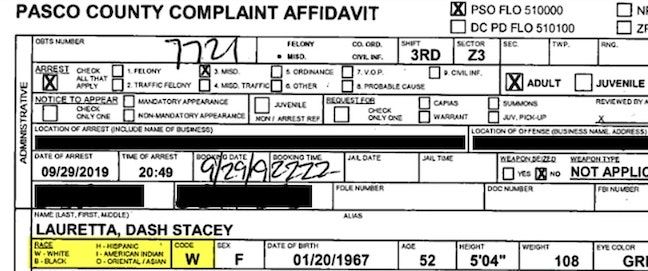 TMZ reports it was actually the arresting officer who filled out the report incorrectly. He first assumed she was Hispanic (um, ok), but since the computer system does not have Hispanic as an option, the field was marked W for white.
Stacey was not asked and didn't state her race.
We guess....
Photos: Pasco County Police
​ ​
​ ​ ​