Someone Filed A Complaint, So That Hug Judge Tammy Kemp Gave Murderer Amber Guyger Is Now Being Investigated + Jurors & Botham's Brother Speak Out
​
Oct 04 | by _YBF
​ ​ ​ ​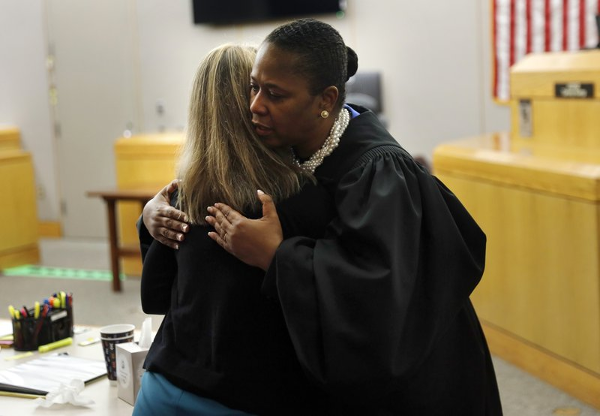 Judge Tammy Kemp shocked us all when she gave ex-Dallas cop Amber Guyger a hug and a bible after she was sentenced to 10-years for killing accountant Botham Jean. Now, her actions are being investigated. Also, two jurors from the murder trial and Botham's teenage brother are speaking out. More inside…
Most of us were shocked to see Judge Tammy Kemp give a warm embrace to ex-Dallas cop Amber Guyger after she was sentenced to 10-years for killing 26-year-old accountant Botham Jean in his own apartment. Judges don't usually hug or give Bibles to convicted murderers in the courtroom before they're hauled off to prison, so seeing it happen during this high-profile case def took folks by surprise.
Now, Judge Kemp is coming under fire for her actions. People on social media were quick to question if Judge Kemp would have extended the same amount of support to a person of color who was just convicted of murder.
Not only that, a formal complaint has been filed against her to investigate.
.@FFRF is filing a judicial complaint about this unconstitutional proselytizing. We need more compassion in our criminal justice system, but here, compassion crossed the line into coercion. Judges cannot impose their personal religion on others. https://t.co/z3yziEqULv

— Andrew L. Seidel (@AndrewLSeidel) October 3, 2019
According to reports, The Freedom From Religion Foundation has filed a complaint against Judge Kemp with the Texas State Commission on Judicial Conduct, which is the agency that investigates allegations of judicial misconduct. The secular Wisconsin-based group said Judge Kemp went too far and that compassion crossed the line into coercion. They took issue with Jude Kemp imposing her personal religion on others.
"Delivering Bibles and personally witnessing as a judge is an egregious abuse of power," the foundation wrote in a letter to Texas officials. Judge Kemp "transmitted her personal religious beliefs as a state official in an official proceeding of the gravest nature."
Here it is.
Amber Guyger judge's proselytization an abuse of power, FFRF charges: https://t.co/YxC8OLrK9O pic.twitter.com/pY6lrw7VSC

— Andrew L. Seidel (@AndrewLSeidel) October 3, 2019
The FFRF says Judge Kemp's actions were "inappropriate and unconstitutional." The topic of forgiveness, as well as the judge & baliff's rare actions, have been a major topic of discussion around the internets ever since the sentencing came down.
After Amber Guyger was sentenced and the jury was dismissed, Judge Kemp gave her a Bible scripture to read and even gave her one of her own Bibles.
"You can have mine. I have three or four more at home," Judge Kemp reportedly said to Amber.. "This is your job for the next month. Right here, John 3:16. He has a purpose for you."
Judge Kemp got off the bench, hugged Amber for approximately 10 seconds while patting her back. Very odd.
Also, victim Botham Jean's mother and brother also gave Amber hugs. Botham's father reportedly said he wanted to become "friends" with her. Apparently, they're devout Christians and feel forgiveness is healing for them.
"I'm not really surprised because we know how we raised him… The Holy Spirit was working," Bertram said. "I'd like to become your friend at some point… I think I have the ability to do it and I would like to be a friend despite my loss. That's why we are Christians."

"Forgiveness for us as Christians is healing for us, but like my husband said, there are consequences," she said. "I will leave my forgiveness to Amber to myself."
Check it:
Two os the people who sat on the jury during Amber Guyger's murder trial told ABC News that coming to the decision was "one of the hardest things" they've ever had to do. And now, they're speaking out.
.@ABC NEWS EXCLUSIVE: Jurors in former Dallas police officer Amber Guyger case tell @marcusmoore about their decision. "There was a lot of crying." https://t.co/BN3E0ctSa9 pic.twitter.com/fSUjc0YXhy

— Good Morning America (@GMA) October 4, 2019
During an interview with "Good Morning America," Juror 21 and 34 (a white man & black woman), as identified by the court, revealed how they came to decide Amber's fate of only 10-years behind bars. They said it was a "mistake" and they believe Botham would have forgiven her.
"There was a few of us crying, and I really started crying, and I was listening to some people say they agreed with 28," Juror 21 (white man) said. "I asked for a lighter sentence."
Prosecutors argued Amber should spend 28 years in prison. The jurors felt that was too long.
"I'm a be honest and true," Juror 34 (black woman) said, "I was like, 'I can't give her 28 years.'"

"I don't think Botham would want to take harsh vengeance," Juror 21 said. "I didn't feel like I had any right to speak for him, and he isn't there to talk for himself, but listening to how people talked about him, I felt like he would forgive her."
Peep their interview above.
Botham Jean's 18-year-old brother, Brandt Jean, also spoke out for the first time since the sentencing. He explained why he decided to give her a hug after the sentencing.
"I knew that I just told her that I forgave her and with usual instances the words only, they mean something, but I felt like that wasn't enough," Brandt said. "That was just my gesture, my decision of letting her know that I truly forgive her."

"We don't know what's going to happen [in the future]," he said. "I just felt like I had to get that point across to her."
Watch his "GMA" interview below:
Thoughts?
Photo: AP
​ ​
​ ​ ​