Wendy Williams Pops Off After Tyrese Spills Tea That Her Estranged Husband Banned Him From Her Show For Flirting With Her!
​
Oct 23 | by _YBF
​ ​ ​ ​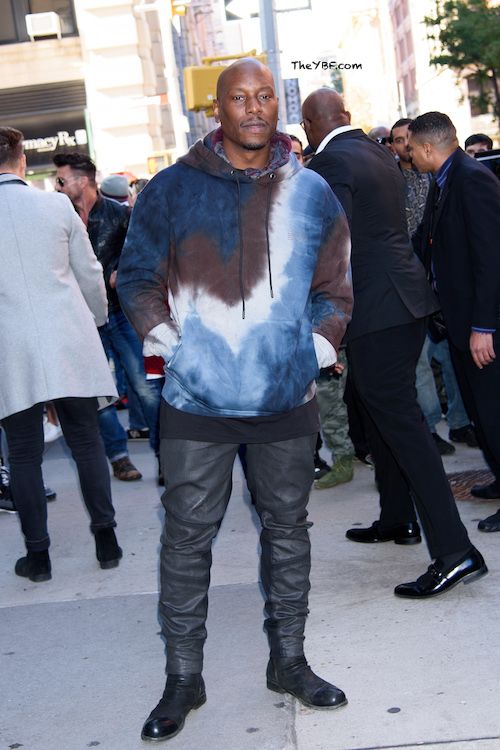 Tyrese stopped by Wendy Williams' daytime talk show and shared some tea about how her estranged husband Kevin Hunter was moving behind-the-scenes. Get the story inside…
So it seems Wendy Williams' estranged husband/former manager Kevin Hunter Sr. was up to no good behind-the-scenes.
Tyrese is currently on the promo trail for his new movie Black & Blue (above, making his NYC rounds), so he stopped to chop it up with Wendy Williams on her purple couch. He talked about his new wife Samantha Lee Gibson, his daughter Shayla, co-parenting with his ex-wife Norma, child support, the passing of friend/director John Singleton, and his beef with his Fast & Furious co-star Dwayne "The Rock" Johnson. More on that in minute.
Soon as Tyrese sat down, Wendy started talking about how they have had "one of the best worst relationships ever," noting how previously they never saw eye to eye. Time has gone by and they have seemingly matured since their quarrel sparked, but it seems Wendy's estranged husband may have been the culprit – or at least, part of the problem.
. @Tyrese hits the couch and talks family life, the passing of his good friend John Singleton and tells us about his new movie, "Black & Blue". pic.twitter.com/4AVikbNv1n

— Wendy Williams (@WendyWilliams) October 23, 2019
After the interview, Wendy learned the singer-turned-actor hadn't appeared on the show in years because he was allegedly BANNED by Kevin Sr.! Apparently, Kevin felt Tyrese was flirting a little too much with Wendy, so he banned him from coming on the show behind Wendy's back.
"I'm like Tyrese – he hasn't been here in 3 or 4 years. I'm like, 'Where have you been?' He goes, 'Your husband banned me because he thought I was flirting with you. Are you serious Kevin? Like, are you serious? Get out of here with that!
Then she added, "Who are YOU flirting with?!"
Bloop! We wonder what else Kevin Sr. was up to behind Wendy's back. Hmph.
Check it:
Back to the interview...
Wendy asked Tyrese about his on-going custody war with his ex-wife Norma over their daughter Shayla, whom they welcomed in 2007. According to the Fast & Furious actor, he and Norma were married for less than a year. The daytime talk show queen then asked Ty how much he pays in child support, however, he didn't want to get into that too much.
"I don't wanna get into that. It's a lot," he responded.
So, is he and Norma still fighting?
"Here's the thing, he responded. "The general way to speak on it, I can't go into too many particulars. When you have a child and then there's a situation where there might be conflict, you have your approach to raising a child and they have theirs and sometimes you're far from being on the same page. I was married to this woman 12 years ago, we were married for less than a year."

"Sometimes you get married, sometimes marriages last as long as yours did and then it gets to a place, sometimes it happens faster," he continued. "No one wakes up everyday going where is pain, where is trauma, where is conflict and I wanna stay in it. You could be with someone for a really long time, and then when you finally get married you realize that it was not the right thing to do. I was with her for at least eight years."
"It would just seem to me 50/50 custody would be the right thing," Wendy chimed in before moving the conversation to another Hot Topic: His "beef" with his Fast & Furious co-star Dwayne "The Rock" Johnson.
"You don't want to talk about The Rock?" Wendy asked. "I do not. If you want to know how I feel about that man, it's all over the Internet," he said, "Have fun!
When asked how they got along filming Fast & Furious 9, he responded, "He's not in 9! So anyway!"
There's that. Peep his full interview below:
Black & Blue hits theaters this Friday.
Photos: Splash/Instar
​ ​
​ ​ ​