Kanye West Says God DELIVERT Him From Sex & Porn Addiction, Hits Fashion Gala With Sexy-Dressed Kim After Spat Over Her Look + Ye's Not Looking For Black Twitter's Validation
​
Oct 25 | by _YBF
​ ​ ​ ​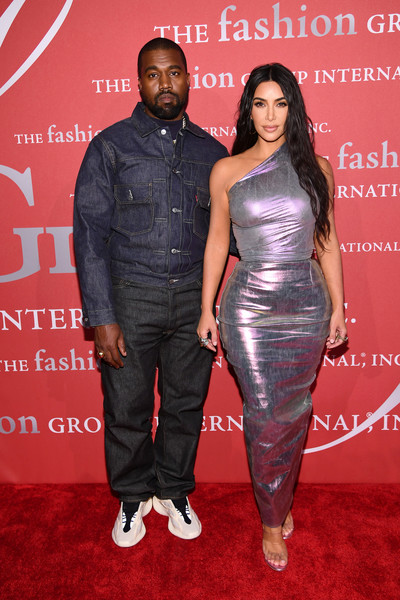 Kanye West had a busy night last night as he was gearing up to drop his new album, Jesus Is King. Find out what he was up to with his wife Kim Kardashian West, plus what he said about God delivering him from porn addiction, his response to backlash he received about his wife's sexy attire, asking everyone who worked on Jesus Is King to abstain from premarital sex, and not giving a **** what Black Twitter thinks.
Kanye West was BUSY last night.
Before popping up on "Jimmy Kimmel Live!," Ye and his wife Kim Kardashian West made their way to the 2019 FGI Night Of Stars Gala at Cipriani Wall Street in NYC. The couple mixed and mingled throughout the night, rubbing elbows with Martha Stewart.
"They seemed to really enjoy her," an eyewitness told Us Weekly. "Kanye and Kim had huge smiles on their faces. Martha then took a photo with them."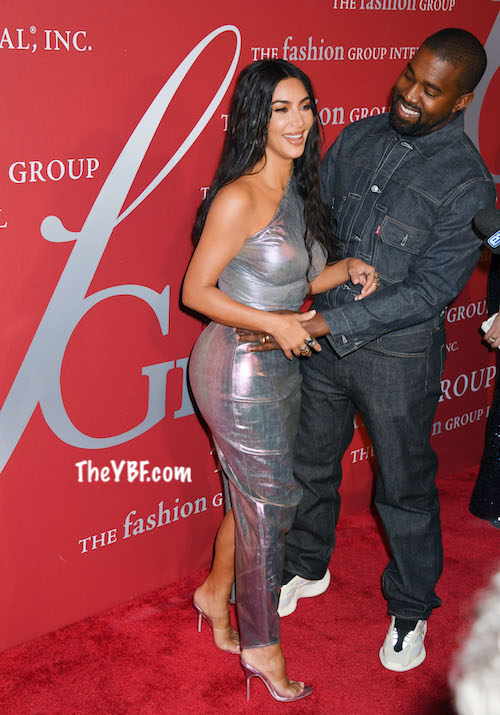 Before the release of his much-delayed religious album, Jesus Is King, Ye sat down for a lengthy interview with Beats 1's Zane Lowe on Apple Music where he responded to the backlash he received for comments he made about his wife's "too sexy" appearance. Here's some backstory…
On the October 13th episode of "Keeping Up With The Kardashians," Kanye & Kim got into a heated discussion about Kim's Met Gala corset dress – which took 8-months to make.
"I went through this transition where being a rapper, looking at all these girls and looking at my wife, like, 'Oh my girl needs to be just like the other girls showing their body off,'" he said. "I didn't realize that that was affecting my soul and my spirit as someone who is married and the father of now … about to be four kids," he told Kim. "A corset is a form of underwear. It's hot. It's like, it's hot for who though?"
"The night before [the Met Gala] you're going to come in here and say you're not into the corset look? You're giving me really bad anxiety, Kim responded. "I don't need any more negative energy."
"You are my wife and it affects me when pictures are too sexy," the rapper said to his wife.
The "KUWTK" star popped back with the perfect response (we can't believe we're saying this):
"You built me up to be this sexy person and confidence and all this, and just because you're on a journey and transformation doesn't mean I'm in the same spot with you," she said.
Ye wasn't feeling her response, so he got up and stormed out of the room.
Watch it go down below:
Kanye West tells Kim K that he gets affected when her pictures are "too sexy" pic.twitter.com/WjQ43VRwWY

— DatPiff (@DatPiff) October 14, 2019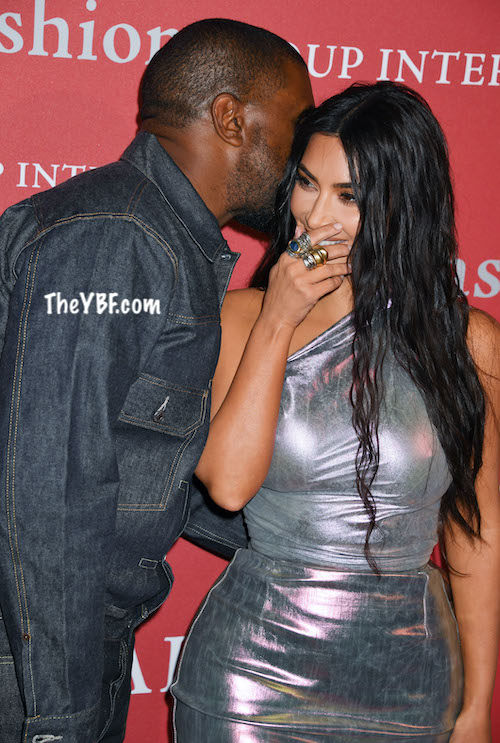 The fact he's telling her to NOT dress sexy despite that being the main reason he married and EMPHASIZED it more once he did is …interesting. You'll recall how he had Kim overly sexualized in his videos and spreads of his. And he also had her throw out her entire wardrobe and bought every piece of clothing for her. Needless to say, folks were going in on Kanye and now he's responding.
"I suffer and I appreciate the suffering because we can feel a little bit of what Jesus experienced, but I suffer on social media," Kanye explained [at the 43:10-minute mark]. "There are other married men that I know are happy to hear me say 'Oh, I'm suffering.'"

"Social media prompts women, in particular, to put out content that they wouldn't in the past," he continued. "When I was younger and I wanted to see something like that I had to pay someone who was older … Now I have friends who have kids who are just out of grammar schoo, high school and it's readily available."
Isn't this what he made his wife do?
He talked about how he thought he was influencing the culture, but it was really the culture influencing him - his words.
"I thought I was the god of culture but really culture was my god . . . What is a culture today? What are some of the major things that it includes and all of the major points of what might make the culture?" he said. "Taking a knee at a football game, wearing expensive clothes, rapping about—just rap, period—making money from rap, making money from basketball, buying jewelry. Using social media is a very major part of the culture. To be down with or part of the culture, you have to use social media. None of these things that you need to be involved in order to be down with the culture are owned by black people. So who designed the culture?"
He said social media is like the modern-day cigarette.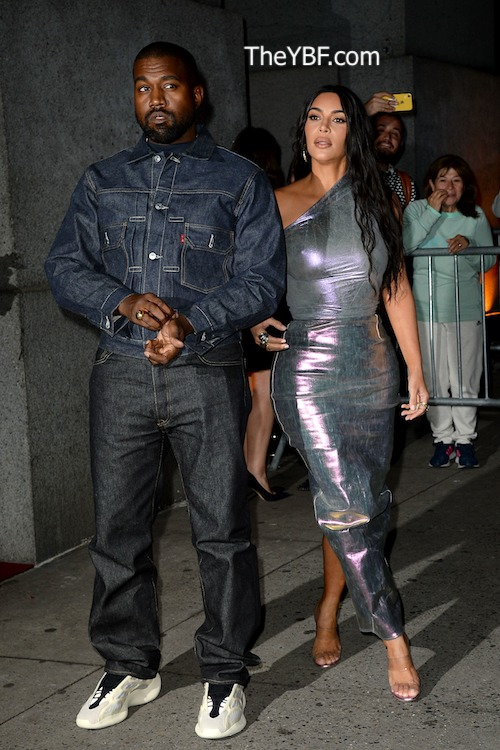 The "God Is" rapper got real about his struggles with porn addiction and how it started at a very early age.
"Playboy was my gateway into full-blown pornography addiction. My dad had a Playboy left out at age 5, and it's affected almost every choice I made for the rest of my life," he shared. From age 5 to now, having to kick the habit. And it just presents itself in the open, like it's OK. And I stand up and say, you know, it's not OK."
"That Playboy that I found when I was 5 years old was written all over the moment that I was at the MTV Awards with the Timberlands, the Balmain jeans -- before people were rocking Balmain jeans and the Hennessy bottle," West said [at the 29-minute mark].

"My mom had passed a year before, and I said, 'Some people drown themselves in drugs. And I drown myself in my addiction.' Sex. That's what fed the ego, too. Money, clothes, cars, accolades, social media, paparazzi photos, going to Paris fashion week, all of that."
As he continues on his spiritual journey, he wanted everyone who worked on his Jesus Is King album to abstain from premarital sex, which is one of the ten commandments, and to fast.
"There were times where I was asking people to fast during the album. There were times when I was asking people not to have premarital sex while they were working on the album," he said. "There's times when I went to people who were working on other projects to just focus on this [his album]."
Hmm...if you were on Yeezy's team would follow suit?
The Chi-town rapper said he's living for God and plans on spreading the gospel just like he did with the sinful things he used to partake in.
"Now that I'm in service to Christ, my job is to spread the gospel, to let people know what Jesus has done for me. I've spread a lot of things," he said in the interview. "There was a time I was letting you know what high fashion had done for me, I was letting you know what the Hennessy had done for me, but now I'm letting you know what Jesus has done for me, and in that I'm no longer a slave, I'm a son now, a son of God. I'm free."

"The most space that I had to think is when I went to the hospital. One of the things that happened when I went to the hospital is I started reading the Bible and I started writing and copying out Bible verses and a person came to my house that wasn't a Christian and told me come over, and 30 minutes later I was in handcuffs headed to the hospital. Now this person very well may have saved my life because when you're in an episode you could jump off the side of a balcony you can stab your eye out you can do a lot of things when you're ramped up like that, but one of the things that people do now is they try to discriminate against my mind and my thoughts because of that moment."
He gives all credit to the Lord for his transition:
"With God, I've been able to beat things that had a full control of me," he said.
Oh, and he wouldn't be Ye if he didn't stroke his own ego heavy:
"I am unquestionably, undoubtedly the greatest human artist of all time. It's just a fact."
He sounds like his homie Trump.
At one point, he talked about becoming president of the United States.
"Every one of these guys that are founders now have to look me eye-to-eye. Every founder on the planet. There will be a time when I will be president of the United States. And I will remember, I will forgive, but I will remember every founder who didn't have the capacity to understand culturally what we were doing."
When asked if he's running in 2024, he said he's working on some things.
Peep his full interview below:
In another interview...
"I'm not looking for your validation I'm only looking for God's validation I don't care about what black Twitter got to say..." @kanyewest x @BigBoy interview here https://t.co/rJNPLJPpXe #JesusIsKing @BBNcrew pic.twitter.com/iLcEmfizc4

— REAL 92.3 LA (@Real923LA) October 25, 2019
Kanye West continued his "I'm now a Christian or whatever will get me the most followers and profit" tour with Power 92.3's Big Boy where he talked about mental health, finding God, his new album and more. They got on the topic about validation and the rapper made it clear he doesn't care what Black Twitter thinks about what he's doing. When asked about if he cares what White Twitter thinks, he's mood changed totally. Peep the clip above.
Below are few more clips from their interview:
"Waaaake UP Mr.West wake up culture everybody think they so woke...Hip Hop ain't ever been about following rules" @kanyewest x @BigBoy interview at 7:20am @BBNcrew tune in! #JesusIsKing pic.twitter.com/A8oEbQbDuK

— REAL 92.3 LA (@Real923LA) October 25, 2019
Big Boy: Are you afraid of losing your audience Ye? @BigBoy

Kanye: I told you I'm only afraid of GOD, I'm afraid of my daddy, God. @kanyewest

Full interview @ 7:20am @BBNcrew tune in!#JesusIsKing pic.twitter.com/KPn9nczPdk

— REAL 92.3 LA (@Real923LA) October 25, 2019
"I rather deal with somebody that call me an N-word to my face" @kanyewest on slavery his support for Trump & finding freedom. Tune in at 7:30am @BBNcrew @BigBoy #JesusIsKing pic.twitter.com/rEJlFJttDB

— REAL 92.3 LA (@Real923LA) October 25, 2019
"Last year y'all try to tell me who I'm suppose to vote for because I'm black now this year white liberals are trying to tell me who to vote for because I'm Christian" @kanyewest interview at 7:30am @BBNcrew @BigBoy #JesusIsKing full article here https://t.co/LrvT9FuSZW pic.twitter.com/uoWbngg6HH

— REAL 92.3 LA (@Real923LA) October 25, 2019
Check out the full interview below with the man who calls himself "the most taented human alive":
EXTRAS:
1. Felicity Huffman was released from prison today, three days earlier than her 14-day sentence. STORY
Photos: Getty/Instar
​ ​
​ ​ ​