SHOCKED & SADDENED: R.I.P. John Witherspoon, A Hollywood Legend
​
Oct 30 | by Natasha
​ ​ ​ ​
Father, husband and comedic acting legend John Witherspoon has passed away at age 77. We're shocked and saddened by the unfortunate news, and we're so fortunate to have been a witness to his impact while he was here. Full story inside.
In unfortunate news, Hollywood legend John Witherspoon died in his Sherman Oaks home last night. The Friday star's family shared in a statement:
"It is with deepest sorrow that we can confirm our beloved husband and father, John Witherspoon, one of the hardest working men in show business, died today at his home in Sherman Oaks at the age of 77.

He is survived by his wife Angela, and his sons JD, Alexander, and a large family. We are all in shock, please give us a minute for a moment in privacy and we will celebrate his life and his work together. John used to say 'I'm no big deal', but he was huge deal to us."
He was a huge deal to all of us, too. Not many black actors have successful careers spanning 30+ years that have a direct impact on the culture throughout most of our whole lives - from representing fatherhood through comedy (Friday franchise) to being the voice of the grandfather we all have ("Boondocks"' Gramps).
His son, J.D. Witherspoon, who is also a comedian and actor, posted the most heartfelt tribute saying:
Back in May, John was seen arriving to FOX 29 Studios during his stand up comedy tour in Philadelphia, PA: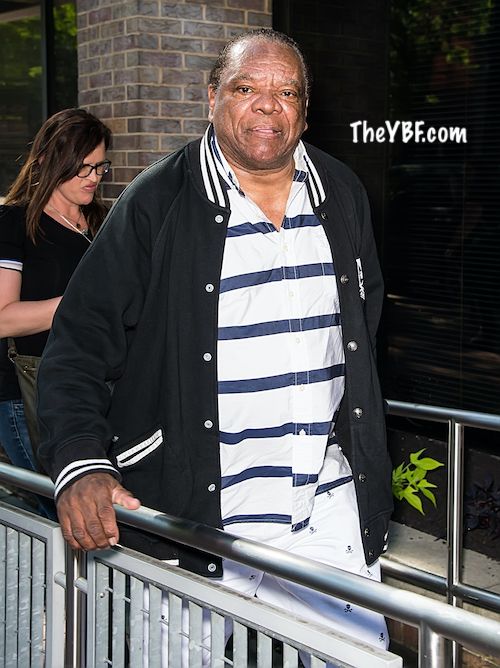 A month prior, he appeared on Netflix's Strong Black Lead's podcast to give an in depth look into his career. It was every bit eye-opening and inspirational, and we're so happy he got to tell his story beyond "Bang! Bang! Bang!" while he was here.
Tony Rock, his Friday co-stars Mike Epps & Ice Cube, and more have been pouring out their hearts about John. And Tom Arnold even gave us insight into the man and writer he was that we many of us didn't already know:
I'm devastated over the passing of John Witherspoon. Life won't be as funny without him. pic.twitter.com/gtmiZiEppP

— Ice Cube (@icecube) October 30, 2019
Condolences to your family. I'll cherish the times I spent with him as his opening act many years ago. He would say 'Young fella do some extra time tonight. I don't feel like working'. Next night he'd say 'I'm cutting your time tonight. I feel good'. Rest Peacefully Sir John. #BANGBANGBANG
Played A better Role as a Pops in Than allot of Dads

hahadavis Verified RIP THE ORIGINAL POPS breshawebb Verified My heart just stopped. Im sooo sorry j! My prayers are with you and your fam right now. Your dad was a fuckin legend. Wow georgelopez Verified Well Said JD , god bless you and your family . kenjeong Verified Sending all my love, thoughts, and prayers to you and your family. Much love.
comedianlilrel Verified You're in my prayers man!!! kevonstage Verified Terribly sorry for your loss bro. lalamilan Verified Sending you love and condolences youtube Verified We're so sorry for your loss, J.D.
thetomarnold Verified I loved your dad. I working with him. I loved just hanging with him. I loved being at the airport with him or at a fancy charity event with him. I even went to a high roller children's charity night in his house. We ended up going through his closet. There was some very valuable art in his closet. "I had to take it off the walls. Too many at risk kids in the house tonight. Can't trust them. I used to be one" John Witherspoon was an idea man. He was as smart as he was funny. He always tried to make to make things better. Funnier. John made everyone around him better. He was an uncredited writer on every project he did & because I worshiped him, I'd say "Spoon, the writers me to do this but I'm going to THIS. What do you think?" Your dad deserved Producer credit for the way he'd arch his entire forehead & say "I like it Tom but maybe cut it in half or two thirds" John Witherspoon was a comedy legend I was blessed to know as a human being. He was an old school blue color hard working comic/actor/dad/husband/friend. John Witherspoon was a fucking MAN. I'm so sorry for your loss buddy.
R.I.P. Mr. Witherspoon. Our thoughts and condolences go out to all of his loved ones who graciously shared him with us through the years. #ForeverPops
Photo credit: Shamayim/Netflix, Backgrid
​ ​
​ ​ ​