THE YBF PODCAST: Scary Good Hot Topics! Kanye's Hypocrisy, Lizzo's Body Shamers, Colorism On 'BBW', The Best Ish You're Not Watching
​
Nov 01 | by Natasha
​ ​ ​ ​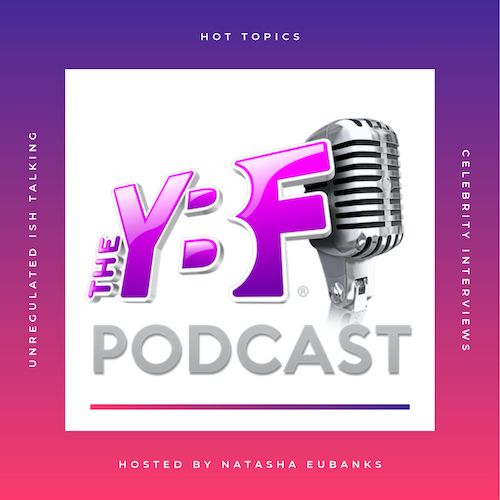 Scary good hot topics. Listen to the latest episode of The YBF Podcast inside!
Kanye West basically created a church-for-profit-and publicity cult (as his daughter he said he banned from wearing makeup dressed as a lipstick wearing devil for Halloween). And folks are falling for the con-to-promote-my-new-album that he pulls before EVERY single album drop. The hypocrisy doesn't jump out for everyone, apparently, but Natasha's calling it ALL out. She and her guest co-host talk HBCUs getting infiltrated by 'Ye to Rihanna possibly getting back with Drake to Queen Lizzo catching hell from body shamers and clout chasers to the "Basketball Wives" colorism drama. Plus, Natasha dishes on what went down inside the DOLEMITE NYC premiere (Thanks for the invite Netflix!). Natasha lets umpteen years of ish off her chest to read body shamers for filth and to speak on the ignorant policing of black women's and girls' bodies.
YBF Correspondent James Terrell joins Natasha at Samsung 837's podcast studio - the massive hi-tech playground in New York's meatpacking district where culture & technology collide - to talk hot topics AND Halloween shenanigans. James can't relate about all the Halloween foolery because Jesus is really his King, but Natasha loves Halloween (and Jesus). So they get into the ridiculous Halloween shenanigans that go down in NYC.
Natasha introduces a new segment called: "Sh*t you should be watching, but you're not!" She's got the PERFECT Halloween flick for the folks who never get scared (you.will.be.TRIGGERED!) and a bomb show black folks for sure overlooked, but shouldn't have. James also dishes on Tyler Perry's new....offerings. Everybody aint feelin' them.
Let's get into it. Happy Halloween, Fab Ones!
Like, Comment & Subscribe to The YBF Podcast everywhere you get your podcasts!
Follow us on Instagram (@theybf_daily + @theybfpodcast)! Comment/DM us to SPEAK ON IT about any hot topic happening anywhere! We read our faves on the podcast!
​ ​
​ ​ ​