Former 'The Chi' Star Jason Mitchell Says He's Back, Denies Sexual Misconduct Allegations & Smirks Through Explaining His Side
​
Nov 04 | by _YBF
​ ​ ​ ​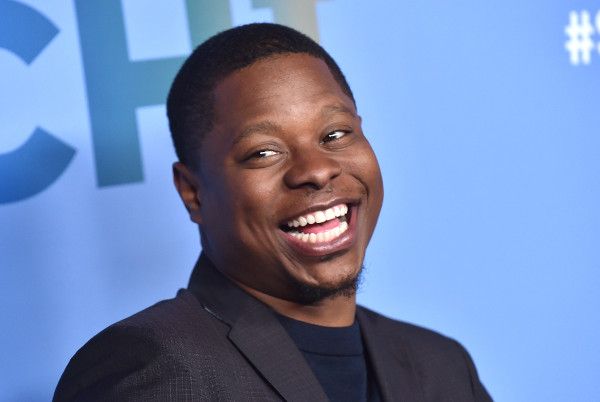 Former "The Chi" star Jason Mitchell does his first interview since he was brought up on sexual misconduct allegations and everyone dropped him. Hear his side inside…
After portraying late rapper Eazy-E in the blockbuster film Straight Outta Compton, Jason Mitchell's career started to skyrocket. He landed the lead role in Lena Waithe's "The Chi" and folks were dubbing him the next big thing. Well, that all changed when sexual misconduct allegations were made against him.
Jason's career quickly took a hit. He was fired from "The Chi" after co-star Tiffany Boone accused him of multiple instances of harrassment and abuse, his agents & UTA dropped him, and he lost his job on Netflix's upcoming movie Desperados. Life hit him fast.
Now, he's speaking out to share HIS side of the story.
Over the weekend, the 32-year-old actor took to Instagram to announce he's "back" and that he would be hitting up Power 106's "The Breakfast Club" for his very first interview following the misconduct allegations. He thanked his fans and supporters for holding him down amid the allegations and promised he was still pushing through for the culture.
Today, he appeared on "The Breakfast Club" to breakdown his version of events following the backlash. He said going through this situation made him feel like the "Lion King."
"I just feel like I've been through so much lately, it all has given me a reason to smile," he shared.
Interesting.
Over the last few months, Jason has apparently has been going through it, according to him. He revealed he recently became a single father and now has custody of his two daughters. When asked about the misconduct allegations made against him, he said he's not even entirely sure what they are. Oh?
"Well to be honest I am not 100% sure what the allegations themselves were. But I can tell you what happened," he responded.
In a nutshell, he explained he went out with one of his Desperados co-stars and she got drunk. He didn't want to leave her, so he allegedly took her back to her spot in Mexico City, where they were filming. The next day, he said there was a problem. He said he was told there was a "situation" and ultimately they ended up letting him go - not fully explaining what exactly was said about him. Jason said they paid him in full, so he didn't press the issue. He then issued an apology to anyone who he may have made feel any type of way towards him.
"With that being said, I am one of the most loving sweet people in the world. But, if I did do anything, say anything, make anyone feel any kind of way, you have my deepest apologies. Like honestly...my deepest apologies because that was never my intention to make anyone feel any sort of way. I definitely never put my hands on somebody or anything like that," he said.
He was then asked his "situation" with his "The Chi" co-star/on-screen girlfriend Tiffany Boone.
"Well it's crazy because it was actually no situation with Tiffany Boone," he said.
Really?
Then, he said, "Shout out to Tiffany Boone"
Bruh.
You'll recall, before Tiffany decided to chuck the deuces to "The Chi" she reportedly had her actor boyfriend, Marque Richardson from "Dear White People" (pictured above), to come on the set with her any time she shot scenes with Jason. The Straight Outta Compton actor claims he was unaware that her boyfriend was there because of him because it wasn't uncommon to have family and friends come to the set. In fact, he said he's cool with Tiffany's boyfriend and the last time they ran into one another there wasn't any issues.
Jason then when on to explain what happened between him and "The Chi" showrunner Ayanna Floyd Davis. He shared the actual reason he was let go from the show was because Disney (who bought Showtime) saw what was going on with Desperados and they took action.
An argument between Jason and Ayanna went down, just after one of his real life friends was shot and killed.
She approached him after a scene asked if he was OK because she didn't want him to "go home and self medicate." He didn't say anything because he didn't want to let the "n*gga" come out of him and he ended up taking it to Lena Waithe and she took it to Human Resources. THEN, Ayanna supposedly confronted him about going to HR and they got into a heated discussion. Ayanna allegedly went back to HR to report their conversation and then Ayanna was fired because she wasn't suppose to confront Jason about the situation.
"It was just painful to watch - to see Lena try to save her brand because of me," he said.

"To be honest, and I really hate to this because I am all for the #MeToo movement. I have two beautiful daughters who I would like to be in the business. But i feel like for this situation, I feel like Ayanna tried to use this for a really, really ugly weapon."
Jason said Tiffany Boone left the show because she got a better job. He said it's completely ridiculous that reports said Tiffany left the show because of him (despite the fact she herself said so in a statement). He said she's the epitome of a black woman and if you try her, she would get you together on the spot. While he has much respect for Tiffany, they "have never really been the best of friends." He said they have their "different views on things" and they're "both people who are very opinionated and we could go back and forth all day."
"Our spirits don't jam. We are just two bullheaded people," he said.
Jason claims Tiffany NEVER went to HR, they never had any sit downs, and he thinks all of this "came from Ayanna."
He said "being from New Orleans, we are the most loving kind people. We addressed the world with hug, kisses and love." Charlamagne then interjected about Birdman's behavior at "The Breakfast Club." Oop!
Looking back, he said he wished he would have just walked out during his "heated discussion" with Ayanna instead of reacting. He said during the argument he might could have "intimidated her."
Envy asked Jason isn't he suing the pants off everyone (networks included) if he didn't do anything wrong.
"Well at the end of the day...I do have to take my L and say you know what, I made myself subject to these situations. Had I not went anywhere with this lady and to drop her off home, I wouldn't be in this situation. Had I not responded to anything that went on with Ayanna, I wouldn't be in this situation."
By the way, when Ayanna confronted Jason about going to HR, she was let go.
Jason said he has to learn to "control his inner n*gga... but also not put himself in those n*gga moments," referring to incident that went down in Boston when a woman smacked him in the face.
Jason opened up about a situation where he ended up cursing out Delta Airlines staff because he paid $7,800 for a flight and they told him to go sit somewhere else. He went from Chicago to Vegas for a boxing flight.
He admitted to having anger management issues, which likely was a result from "growing up in a very violent city [New Orleans]" and that's all he knows.
"I feel like Black men especially when trauma happens to us, we don't think it's okay to go to therapy or go to hug each other," he shared.
Talking about his past, he said his father killed himself when he was 15 years old and his best friend was killed when he was 22, right when he started acting. He went to mental health counseling to help cope and he said, "It was a lot of tears at the beginning."
Now, he feels like chasing his dreams, "tore my family apart." He said UTA dropped him because they were following what ever one else was doing.
While Lena said she would never work with Jason again, he claims they are "actually real good friends."
He said it's been a minute since the last time they spoke, but she definitely called to ask him if he was okay when the sexual misconduct drama popped off.
When asked how he felt about Lena saying she would never work with him again, he responded,
"It hurt his soul a little bit," he responded.
Peep his full interview below:
Photo: DFree / Shutterstock.com
​ ​
​ ​ ​