Kenya Moore Says There's No Prenup, Split From Marc Daly Was 'Mutual' & There's Hope For A Reconciliation + NeNe Leakes Is DEAD To Her!
​
Nov 04 | by _YBF
​ ​ ​ ​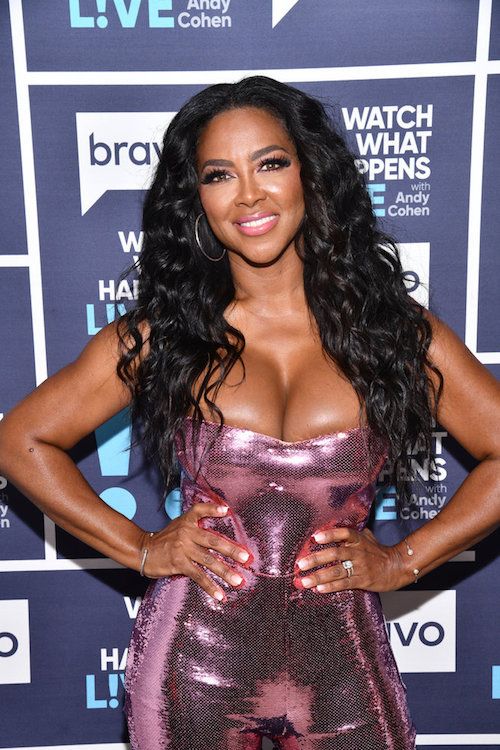 Kenya Moore stepped into the clubhouse on "Watch What Happens Live" after the Season 12 premiere of "Real Housewives of Atlanta." Find out what she said inside…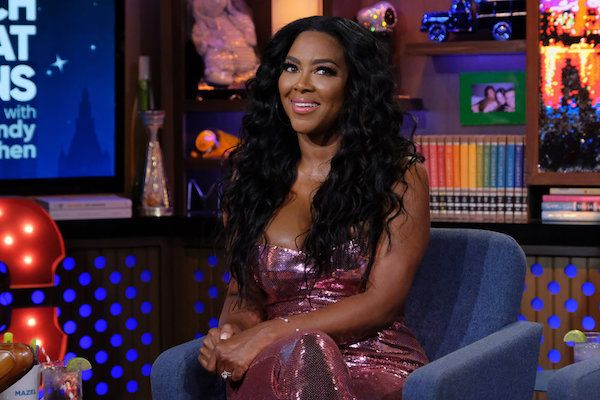 "Real Housewives of Atlanta" is back! And so is Kenya Moore, who sat out Season 11.
After the first episode of Season 12 premiered, Kenya Moore stopped to chop it up with Andy Cohen in the clubhouse on "Watch What Happens Live" and sis did not disappoint.
Everyone wants to know what's really good with Kenya and her estranged husband Marc Daly after she announced they were splitting after two years of marriage. On the show, she confirmed they haven't officially filed for divorce and said the uncoupling was mutual.
"I believe it was mutual," she said about her breakup. "And…is there hope? There's always hope. We haven't filed yet. There's always hope."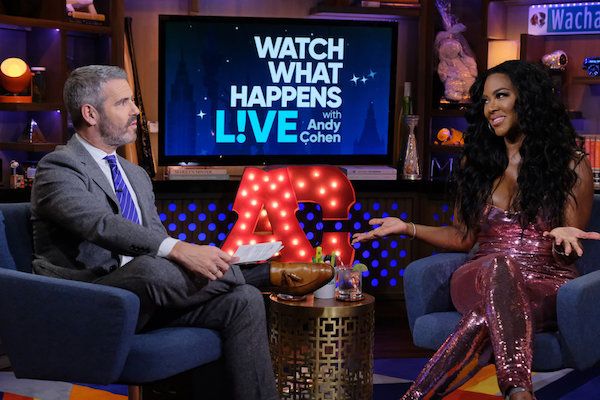 The former Miss USA queen and her hubby tied the knot in 2017 and welcomed their adorable daughter Brooklyn Doris Daly last year. The couple announced they were calling it quits in September and fans got an inside look at the aftermath on "RHOA" last night.
"[Our issues] haven't been worked through and I think that's always what I was asking for and just never happened," she added.
Check it:
Kenya decided her family was more important to her so that's why she didn't sign on for Season 11 of "RHOA."
"I already made that choice and it didn't work out so well for me," she explained. "I chose my marriage and my relationship over my career. I feel like I wanted my family, I wanted to have a healthy pregnancy, and ultimately I chose my family."
Peep the clip:
Kenya then revealed she and Marc Daly did NOT sign a prenup and she made that decision because she felt like they're both successful and they didn't need it.
"No prenup. No. Listen, we're both successful. I owned my home outright prior to marriage. And for, you know, what I know not being a lawyer, I think that's protected. That's my biggest asset," she said. "And, you know, Marc's successful, so I just didn't think that, you know, things would ever get to a point where he would come after money. And so he hasn't yet."
Check it:
While Kenya and Marc aren't together, they seemingly have the co-parenting thing on lock. Over the weekend, they celebrated baby Brooklyn's first birthday together.
"We had her birthday party today. We co-parented successfully during that," she said. "Hopefully it'll continued the same way."
Kenya shared a family photo-op on Instagram with the caption, "Happy Birthday @thebrooklyndaly your mommy and daddy love you beyond any words. You are light of my life, my whole world and my future. God blessed my existence with you and daddy. Thank you for choosing us to be your parents. #Godisgood #1yearold #miraclebaby #babybrooklyn #love #family"
Well, good for them.
While Kenya is holding out hope that she and Marc could possibly reconcile, she doesn't feel that way about her her co-star NeNe Leakes. A few weeks ago, rumors circulated that Kenya and NeNe got into a heated argument over the fact that Marc allegedly went behind Kenya's back and made contact with Nene and NeNe's husband, Gregg Leakes.
While on a "RHOA" cast trip to Greece, the "RHOA" OGs got into an intense argument after Kenya confronted Nene about her "secret friendship" with her estranged husband. And it's rumored NeNe SPIT at Kenya. On the show last night, Kenya confirmed NeNe did indeed tried to spit on her. Kenya's words, not ours. A fan called in and asked Kenya if she could ever make amends with NeNe and here's what she said:
"The answer about NeNe is absolutely not. I think she's pretty much dead to me. When someone tries to spit on you, I think they'll not ever be friends with you. That's pretty much done," she explained.
Sheesh. We'll have to wait and see the footage to see if NeNe did try to spit on Kenya. All we can say is this season is going to be a doozy!
Speaking of NeNe, she didn't appear in this premiere episode, and folks noticed. NeNe retweeted everyone who was asking, and also told Wendy Williams that Bravo can never erase her despite them possibly trying to, according to her.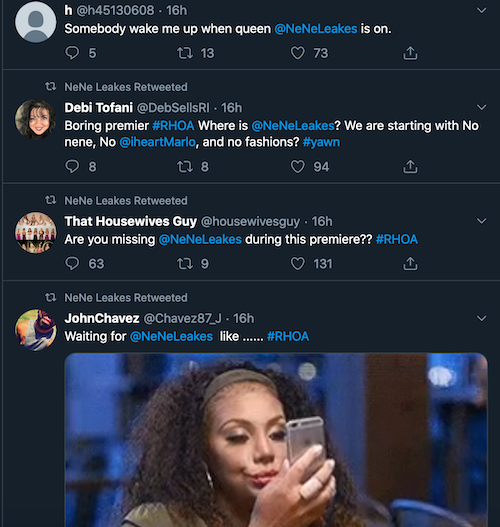 I can retweet comments alllllll nite! That's how many i have asking me where I'm i. All i can say is, Thank you Thank you Thank you Thank you for all the love and support #day1 #hbic #OG #therealone #the1 #lifeneneofnene

— NeNe Leakes (@NeNeLeakes) November 4, 2019
The next episode of "RHOA" airs next Sunday at 8/7c on BRAVO.
Photo: NBC/BRAVO
​ ​
​ ​ ​