Kenya Moore Reveals Kandi Burruss Is The 'RHOA' HBIC & Gets The Biggest Check, Shades NeNe Leakes
​
Nov 05 | by _YBF
​ ​ ​ ​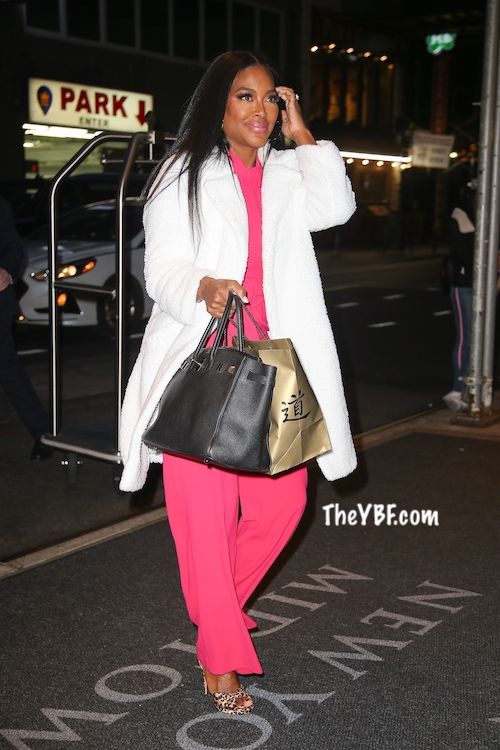 Kenya Moore says she's not after her 'RHOA" co-star NeNe Leakes' check because she's not even the top earner. Get into the former Miss USA's shade-filled daytime TV interview inside…
With the premiere of Season 12 of the "Real Housewives of Atlanta" airing over the weekend, Kenya Moore - pictured today in NYC above and yesterday below - has been heavy on the promo trail (above in NYC). The new mom sat out Season 11 to dedicate her time to her family. Now, she's back. And with a vengeance.
As the world knows, the former Miss USA and the self-proclaimed HBIC NeNe Leakes do not get along and Kenya made sure to make that very clear. She appeared on the "Wendy Williams Show" to dish on her beef with NeNe and to fire shots, of course.
While talking about her strained marriage with her estranged husband Marc Daly, Wendy chimed in with negative comments NeNe has allegedly made about Kenya not being legally married.
"I'm hopeful. I got married – legally married …" Kenya said.

"That's not what NeNe says," Wendy chimed in.

"I don't know what NeNe says. She needs to worry about her own marriage. I am legally married, OK. Be clear. I have receipts. Don't talk about my marriage," Kenya said.
The 48- year-old said she had a "legal ceremony" - not a civil ceremony - in St. Lucia.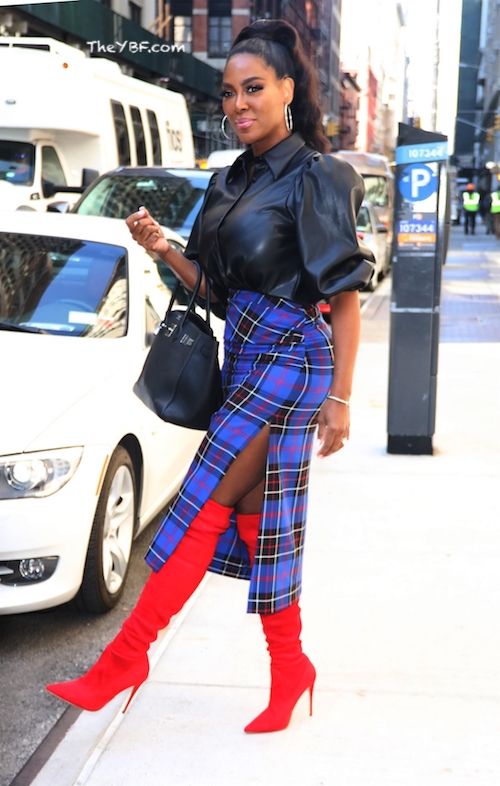 Wendy – who became good friends with NeNe over the summer – asked Kenya why she doesn't like her. Kenya said she doesn't feel NeNe is genuine and doesn't want to be around someone like that.
"When I had a high-risk pregnancy, that I wanted my entire life, she never once called me," Kenya shared. "When I did show up, she never checked on my child. She never said, 'Is everything okay?' when she learned I wasn't going to be on the show. She never said, 'Are you okay girl, do you need anything?' And then when she did see me eight months pregnant, she called me a monster and said that my child was a buffalo and she was hurling insults."
Kenya said when NeNe saw her while she was 8-months pregnant she started hurling insults, calling her "monster," said she called her "child a buffalo."
Ms. Twirl confirmed NeNe did in fact try to spit on her and we'll see it on the show.
"She tried to act like she was going to spit on me," Moore recalled, claiming that Leakes was "hawking up" her saliva. "You will see that on the show."

"But you're after the paycheck," Wendy said.
Kenya then revealed it's Kandi Burruss who is the REAL HBIC of "RHOA" as she brings in the most coins.
"Kandi makes the most money, so if I was coming for anybody's purse and bag, it would be Kandi's," Kenya responded. "Kandi is the real HBIC on that show. I'm just a player. I have a nice coin. I love the little bag I take home at night and it feeds my child very well. So I'm not coming for anybody's money."
After the premiere of Season 12, Kenya told Andy Cohen on "WWHL" that NeNe is DEAD to her. Sheesh.
Peep her full interview below:
"RHOA" airs every Sunday at 8/7c on BRAVO.
Photos: Backgrid/Instar
​ ​
​ ​ ​