Antonio Brown BLASTS The NFL & Said He's Never Coming Back (Again), Then Has Another Change Of Heart 6 Hours Later
​
Nov 08 | by _YBF
​ ​ ​ ​
Antonio Brown is doing the absolute most on social media, blasting the NFL, saying he's never going to play in the league (again) only to come back and say he's just frustrated with everything going on. See him backtrack and more inside...
Back in September, embattled NFL player Antonio Brown went on a Twitter to announce he will no longer play in the NFL, following the New England Patriots giving him the boot. He even re-enrolled at his alma mater, Central Michigan University, amid rape and sexual assault allegations. The allegations caused the wide receiver to be cut from the New England Patriots a little over a week after they signed him with a $15 million contract.
Apparently, that was all for show because the 31-year-old athlete scheduled a meeting with NFL investigators that was set to go down next week. However, AB didn't even make it to the meeting before going off about the NFL on Twitter.
According to reports, AB was scheduled to meet with the NFL next week concerning accusations of sexually assaulting several women. He wanted to talk to the league to share HIS side.
Hours after it was revealed he was meeting with the NFL, AB hopped on Twitter to air out his frustrations with the league.
"Imagine conforming to a system giving it a 100 percent to see them treat me like this is unfairly!," AB tweeted then deleted. "Making money off my sweat and blood F*ck the @nfl I'll never play in that sh*t treat black people the worse! Clear my name and go f*ck your self."
Literally hours later, AB hopped back on Twitter to backtrack his earlier comments.
"I'm just very frustrated right now with the false allegations and slander to my name," AB tweeted. "I love football and I miss it. I just want to play and I'm very emotional about that. I'm determined to make my way back to the NFL asap"
Peep his tweets below:
According to ESPN, there are still teams interested in signing him pending the results of the league's wide-ranging investigation. It's reported the Seattle Seahawks could be interested and sources say Seahawks quarterback Russell Wilson has been pushing for the team to sign AB.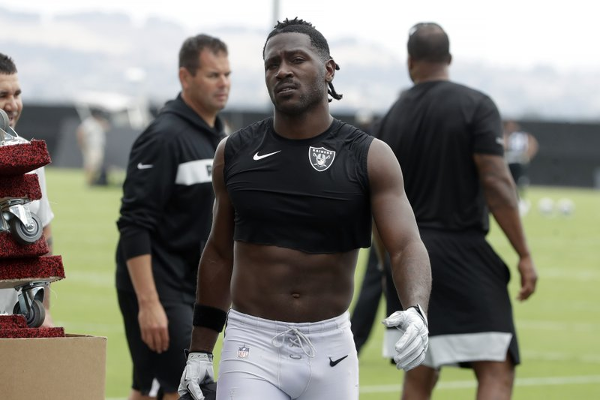 As of now, the NFL has yet to meet with AB, and according to sources, the NFL is waiting to do so until they have finished the majority of its investigation.
The NFL started an investigation under its personal conduct policy after AB's former trainer, Britney Taylor, filed a lawsuit against him that alleges she was sexually assaulted on multiple occasions by the free agent. Not only that, AB was accused of sexual misconduct at him home by an artist who was painting a mural there in 2017. He lost deals with NIKE and Xenith following the rape and sexual misconduct allegations.
You'll recall, AB was released from the Patriots in Week 3 after just playing in one game. Before that, he was released by the Oakland Raiders before the season even started after he requested to be released on social media.
Photo: Getty/AP
​ ​
​ ​ ​