BOO'D OFF! Drake Was The Surprise Performer At Camp Flog Gnaw Carnival, But The Crowd Wanted Frank Ocean. Disrespect Ensued.
​
Nov 11 | by Natasha
​ ​ ​ ​
Damn homie. Tyler The Creator's Camp Flog Gnaw Carnival was blessed with Champagne Papi last night, but the crowd basically said Nah. We don't want it. The utter disrespect that caused Drake to cut his set short and walk off stage inside.
UPDATE: Tyler has posted about his disappointment in his fans in a lengthy Twitter rant condemning what they did. He also changed his bio: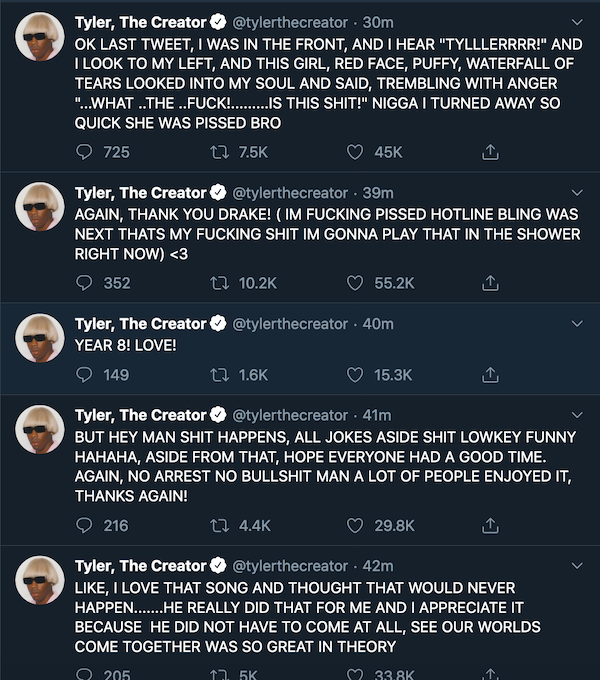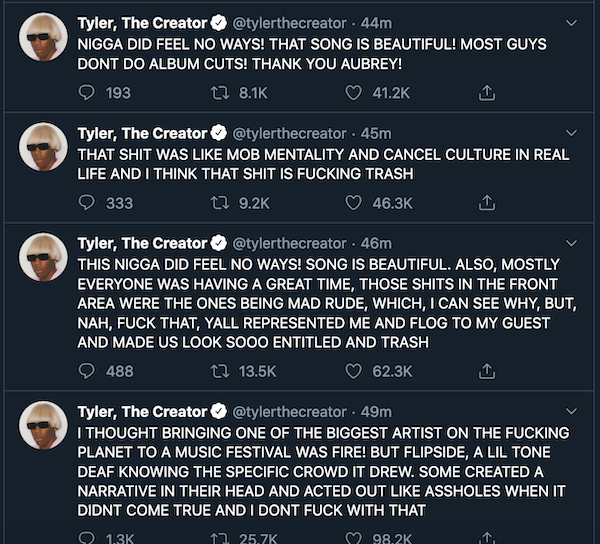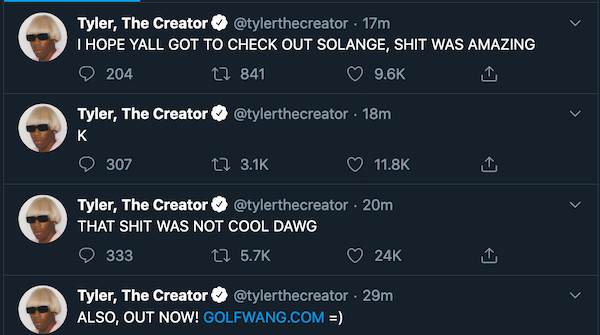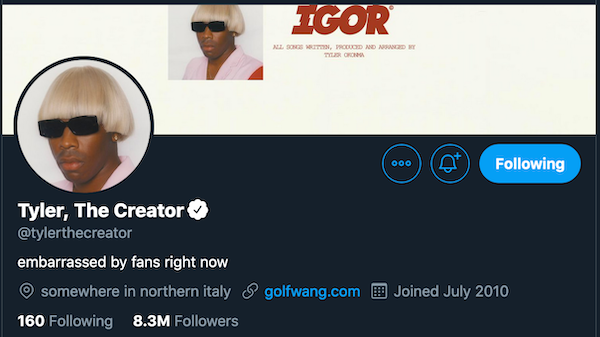 ------------------------
In the words of Destiny's Child: At first it started out real cool. The anti-establishment crowd at Dodger Stadium for Camp Flog Gnaw Carnival last night reportedly was cheering when Drake was first introduced. Then, ish went left. And a little quiet.
Tyler (at the bottom of the vid vibing out in the hat) was feeling Drake's set and didn't care that others weren't.
Looking over my vids and tyler was so happy. Drake didn't deserve to go out the way he did. pic.twitter.com/KdRuipl4er

— Juicy Jay (@Jayzuesss) November 11, 2019
By the way, Tyler organizes this festival himself every year and only asks artists he likes to come out to perform.
Then, after wrapping a few songs, Drake checked in with the crowd to see if they wanted him to keep going. They made it known they didn't, so he made it known he was cutting out early, and walked off to Boo's and his next record playing.
Here's a video from Camp Flog Gnaw.

Drake: "I'm here for you tonight. If you want to keep going, I will keep going. What's up?"

Some fans boo loudly. One yells "No!"

Drake seemingly cuts his set short & ends the show there. "It's been love."pic.twitter.com/n1BYrvLThc

— Andrés Tardio (@AndresWrites) November 11, 2019
Oop. At least he cut that ish short with class, i.e. how he used to close out his first tour shows.
At the end of another video, you can hear the crowd chanting "We Want Frank!"
this was PAINFUL to watch drake literally got boo'd off stage #campfloggnaw pic.twitter.com/Ic6PenmPXc

— ➳ trash (@trashminajx) November 11, 2019
Apparently, rapper Lil Uzi was also reportedly boo'd off stage. Summer Walker, H.E.R., Solange, 21 Savage, Juice WRLD, Daniel Caeser, Willow Smith, F.K.A. wigs and others also peformed, but no reports of boo's for them.
Everybody on Twitter is shocked and dismayed by the disrespect:
In a longer version you can hear the girl saying wait is that it...no one else is coming out. You boo'd Uzi, boo'd A$AP, and boo'd Drake. You're out of people. When the crew came out to start tear down they couldn't believe it.

— PrincessCarna (@PrincessCarna) November 11, 2019
Damn. Not even Drake's white side could shield him from the ire of those kids. You hate to see it.

— Zito (@_Zeets) November 11, 2019
whoa people really booed drake off bc they wanted FRANK?! wow. that is unbelievable and those fans are ungrateful. pic.twitter.com/mNaGrdrpfm

— solange's durag (@yungchlo_) November 11, 2019
Please understand what Drake being booed off stage means. What it means for us regular folk. Drake is like the most successful musical act ever. He surpassed MJ, the Beatles, and Elvis with sales.

And even he has merciless assholes who make him feel like shit.

— KFC (@KFCBarstool) November 11, 2019
"Yall wanna hear more?!!?" - Drake pic.twitter.com/7gabL6c0bE

— Pelicans 2-7 (@WolfeEvans) November 11, 2019
Drake getting booed off stage just shows that no matter how successful you are and no matter how many fans you have that there will always be a very loud crowd of people making you feel like you're irrelevant and seasoned. #DontListen #KeepGrinding #Drake

— Jessica Blevins (@JessicaBlevins) November 11, 2019
Y'all really booed off #drake the man that gave us Take care ??! Make it make sense pic.twitter.com/yRoM3nofqf

— D.e.n.n.y (@Ovo_Denny) November 11, 2019
NONE of you ungrateful fucks deserve Drake #campfloggnaw2019 pic.twitter.com/L3phXK8Uvu

— ya girl caro (@Thatssocaro) November 11, 2019
Wild as hell that Drake got booed, but if he was gonna get booed anywhere it's Camp Flog Gnaw. Tyler's core following is hella antiestablishment. And Drake might as well have been Bill Gates rapping on stage.

— OMG, LaJethro (@LaJethroJenkins) November 11, 2019
Drake walked off stage with a knot in his throat lol

— Moosa (@MoosaTDE) November 11, 2019
I never in a million years would've imagined that drake would get booed off a stage pic.twitter.com/zzjJXi2gdz

— Magnegro (@darkskinchoji) November 11, 2019
Frank watching the live stream of Drake getting boo'ed off the stage and yelling "WE WANT FRANK" while he's at home relaxing in his living room. pic.twitter.com/2Ie0TMO7k6

— junior (@JuniorLozano_) November 11, 2019
We guess Frank & Tyler's fans are more TikTok than Twitter because we didn't see nan a defense of the crowd's actions. So what type of weird a-- teeny bop fans are these, might you ask?
"drake is trash we wanted frank booo" pic.twitter.com/onQBhovP8t

— luis (@luis2988_) November 11, 2019
CAMP FLOG GNAW i love you all THIS WAS A DREAM thank you!!! until next time @campfloggnaw @tylerthecreator pic.twitter.com/lOJPpakq4Q

— slowthai (@slowthai) November 10, 2019
And there you have it. It's all good though. Drake might drop a half a tear in his million dollar whip on the way to his multi million dollar crib where he'll get it off his chest on another chart topping track that's a whole diss to Tyler's fans.
We know one person who probably appreciated all this though....
Photo: Shutterstock.com
​ ​
​ ​ ​