The White Woman Tapping LSU Running Back Clyde Edwards-Helaire While He Embraced His Father After A Huge Win Has Sparked A Race Debate
​
Nov 14 | by _YBF
​ ​ ​ ​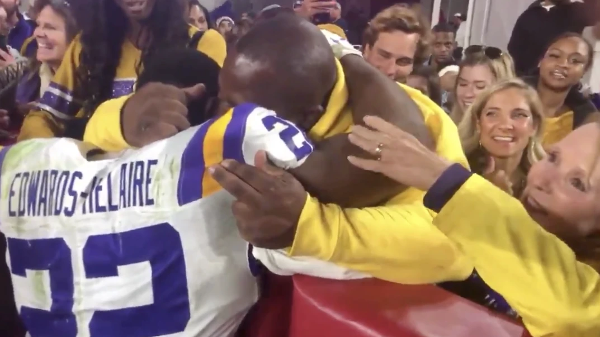 The white woman trying to disrupt LSU running back Clyde Edwards-Helaire during an emotional moment with father has sparked a race debate. Watch the clip and share your thoughts inside…
LSU running back Clyde Edwards-Helaire celebrated a major accomplishment when he helped clinched a win against their rivals Alabama last weekend. He made a tackle-breaking touchdown in the fourth quarter that sealed the deal. The college football player ran for 103 yards and scored three touchdowns. The Baton Rouge native also racked up 77 yards and a score as a receiver, helping LSU beat Alabama, 46-41. The victory ended an eight-game losing streak against the Crimson Tide, so emotions were uber high.
Once the game was over the college junior walked over to his father on the sidelines and shared an emotional hug. The father-son duo held each other, shed tears and the moment instantly went viral.
Watch the heartwarming moment below:
What a moment for Clyde Edwards-Helaire pic.twitter.com/0SyA4Qyx7j

— Cody Worsham (@CodyWorsham) November 10, 2019
As you can see, while these two men were sharing an intimate moment, a white woman continuously tapped on the LSU Tigers player's arm, likely trying to get a selfie or an autograph…or just his attention period. As she tapped on his arm while he's embracing his father, she yelled out "22!" – his jersey number. Guess she didn't bother to actually find out his name.
The actions of the woman have folks sounding off on social media and yes, race came into play.
Peep some of the reaction tweets below:
Does this lady not realize he's a little effing busy!?

— Nia (@Nia_Reichard) November 10, 2019
She thought she was in the white

— Charles Keyes (@Charlie_Kittles) November 10, 2019
Wonderful image of a father & his son. That woman needs to check her entitlement & attempts to disrupt a bonding moment.

— Onyx Paradigm (@C_Rich75) November 10, 2019
I'm so glad they ignored her. Because no offense but ... ok I'm going to say it ... black people are too damn polite most of the time.

— Eddie (@EddieEScott1) November 10, 2019
Please tell me someone is going to find that white lady and give her a lesson she won't soon forget. I literally mean a lesson. Sit down and let me tell you about your white entitlement and actions of ownership over a black man. This video should be touching but it's disgusting.

— Tracy "WARREN 2020" Dawson (@DawsonTracy) November 10, 2019
A privileged white female with no respect for personal space, and no awareness of what the outcome would be if Clyde or his dad grabbed and tapped her while her head was down, as she's did them.

The kind of broad who'd call the police on Clyde, because he walked down the street.

— Zuri's Mother (@friday_writes) November 10, 2019
That lady when she is trying to ruin a heart to heart moment pic.twitter.com/l601h3LkIh

— Alex (@SlayBater) November 10, 2019
"I hate to interrupt one of the happiest moment of your son's life but could you take a picture of me and my friend?" - Karen

— Travis Keys (@travkeys) November 10, 2019
Seriously, did this woman NOT see Clyde was sharing a special moment with his father? Several Twitter users pointed out that her white privilege got in the way of understanding what was unfolding right in front of her. This was clearly an emotional moment NOT to be interrupted for something like a selfie or an autograph. Do you think she was out of line?!
Also...
"We gonna beat their ass in recruiting We gonna beat their ass every time they see us. ROLL TIDE WHAT... F**K YOU"

Coach Orgeron went off on Bama pic.twitter.com/EX5vHnSXZd

— Complex Sports (@ComplexSports) November 10, 2019
After the game, one of the football players hopped on Instagram Live, filming from LSU's locker room after the big win. In the clip, it sounds like LSU's head coach Ed Orgeron goes HAM on Bama:

"We're going to beat their ass in recruiting. We're going to beat their ass every time they see us," the person can be heard saying. "You understand that? Roll Tide, what? F*ck you."
Oop. Talk your ish, coach.
Photo: Twitter Screenshot
​ ​
​ ​ ​