Colin Kaepernick Touches Down In ATL For NFL Workout, 11 Teams Will Reportedly Attend + Antonio Brown Wants IN!
​
Nov 15 | by _YBF
​ ​ ​ ​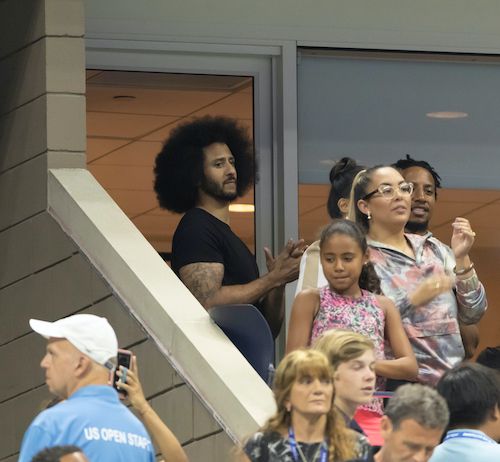 Colin Kaepernick just touched down in Atlanta before he shows off his skills in an NFL workout for tomorrow where 11 teams have reportedly committed to attend. And troubled NFL star Antonio Brown wants in on this practice. More inside…
Colin Kaepernick is in Atlanta!
As you know, the former 49ers quarterback is set to show off his skills tomorrow during a NFL workout that he hopes will result in getting back in the league.
According to TMZ sources, the quarterback – who hasn't played in the league for three years – hopped off a flight around 5AM and they say he's more than ready to kill it during the workout tomorrow, which is set for 3pm.
The site reports:
We're told he was with a very small group of people and the person who shot the pic tells us, "He looked like he was focused."

Of course, Colin was decked out in Nike gear -- no shock considering he has a deal with the Swoosh, which has stuck with him through everything.
Former Browns head coach Hue Jackson will lead the drills during the 32-year-old's workout. Former Miami Dolphins head coach Joe Philbin is also expected to be in attendance. According to reports, at least 11 teams have already committed to attend and the league expects more teams to commit before tomorrow. The teams who have committed so far include Arizona, Atlanta, Cleveland, Denver, Detroit, Miami, New England, New York Giants, New York Jets, Tampa Bay, and Washington.
"We will send video of the workout and interview to all 32 teams, including head coaches and general managers," the league said in a statement.
The former 49ers QB is going to need a wide receiver to catch during his workout and embattled NFL wide receiver Antonio Brown – who's a free agent – wants in. Even though he said twice he would never play in the league and backtracked both times.
AB hopped on Twitter, posting a meme of himself and Kap as kids playing with the same toy with the caption, "No Kap you need a catcher in the A Saturday."
No Kap you need a catcher in the A Saturday @Kaepernick7 #BabiesGottoEat pic.twitter.com/ZmrXIfb1pn

— AB (@AB84) November 15, 2019
And he does, but with the league currently investigating AB amid rape and sexual misconduct allegations we're not so sure if HE should be the one catching the balls. Ya know?
As of now, the NFL has not provided names of wide receivers they plan to have at the workout. It's rumored Kap is taking up former NFL wide receivers who volunteered to fly in on their own to help him at the workout.
It was previously reported Jay-Z had influence over the league's decision to give the former QB – who is an unrestricted free agent - a second chance, following his partnership with the league. Kap filed a collusion grievance against the league in 2017, but he (and Panthers player Eric Reid) settled for $10 million back in February.
A lot of people - including Eric Reid - feel like the workout is a PR stunt. We're keeping our fingers crossed it isn't and Kap gets back in the league since that what it seems like he wants to do.
Former NFL running back O.J. Simpson hopped on Twitter to weigh in on Kap's workout:
@Kaepernick7 Kick Some Butt on Saturday!!! pic.twitter.com/MVQqbjFSmW

— O.J. Simpson (@TheRealOJ32) November 14, 2019
Good luck, Kap! Whether it's a PR trap or not, do you.
Photo: DFree / Shutterstock.com
​ ​
​ ​ ​