Rapsody & Wale React To Grammy Snubs + Ari Lennox Pops Off On Soul Train Awards After She Didn't Win Award, Says She 'Quits'
​
Nov 21 | by _YBF
​ ​ ​ ​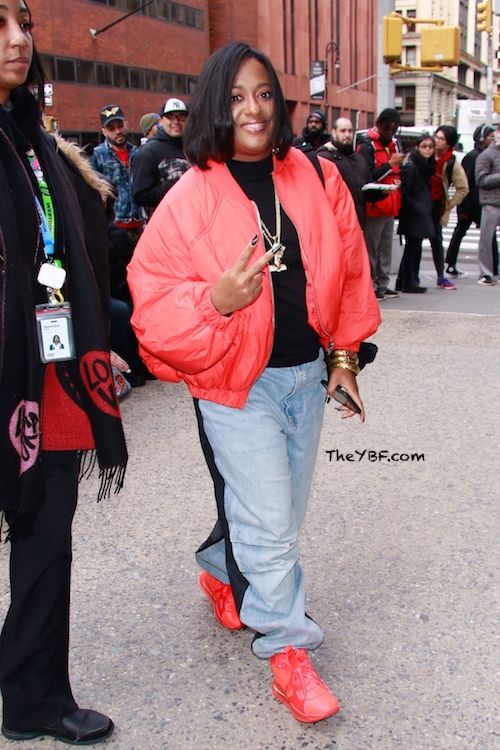 Rapsody, Wale and Ari Lennox are responding the award show snubs. Peep their reactions inside...
It's awards season and it always gets cutthroat when an artist or actor isn't nominated for an award.
However, rapper Rapsody took a different route. Yes, she responded to being snubbed by the Grammys, but she did it with class and motivational words for other artists.
Rapsody dropped her album Eve and it was loved by millions, but the Recording Academy looked it over when it came time to choosing who should be nominated for rap awards.
The Roc Nation rapper could have hopped on social media and popped off on the Grammys for overlooking her album. But, she didn't. Was she disappointed? Yes. Frustrated? Mos def. However, her response didn't show that. She served up a classy response to the snub on her Instagram.
"Today.....disappointed. Yes. Frustrated...beyond. But, you have to tell yourself the good fight is never an easy one," she captioned on IG with a picture of her album cover. "And the people that are the faces of the purpose behind your art are what makes creating not empty: with awards. nominations, or none at all."

"There's so much power and weight in numbers, nominations and awards....we artist know what that does for our exposure; and for the many, validation," she continued. "And you want people to continue to discover and play and be inspired by the music. That's what I get excited about anyway. But, hey....we keep on creating."
The 36-year-old raptress then gave a shoutout to fellow rapper MC Freddie Gibbs, who was also snubbed by the Grammys, calling his collaboration album with Madlib – titled Bandana – one of the best albums. She followed up with showing some love to those who were nominated and concluded her post with, "Art is too important not to share. Mad love."
Peep her full response above.
By the way, Rapsody has been nominated for three Grammys in the past.
Another rapper who reacted to being snubbed by the Grammys was Wale:
We all know Wale has no problem speaking out when he feels like his music isn't getting the respect he feels it deserves. Remember when he spazzed out and threatened to hurt Complex magazine staff for leaving his The Gifted album off "The 50 Best Albums of 2013" list? Click HERE if you missed it.
Well, the Ambition rapper didn't go THAT far, but he did serve up a response to the Grammys in a subtle, indirect way. He shared a video of himself and Kelly Price performing his track "Sue Me" with the caption, "Upset but not defeated."
The rapper also hopped on Twitter and tweeted, "On chill was VERY eligible. Very," referring to his track "On Chill," which appears on his album, Wow…That's Crazy.
On chill was VERY eligible . Very

— Wale (@Wale) November 20, 2019
Another artist who spoke out about being snubbed from different awards show was singer Ari Lennox.
When Ari Lennox realized her debut album, Shea Butter Baby, didn't win the BET Soul Train Award for Album of the Year (Lizzo won) she hopped on Twitter with a rant. She tweeted (then deleted) her frustrations and said she was quitting music.
She first tweeted, "I want this sh*t way more than it wants me. I'm learning I have to stop caring... Yea I'm hurt. I'm not built for these things lmao."
She continued:
In a series of now-deleted tweets, she said "It's not just an award. It wasn't any award show. It was the soul train awards. As you can see I'm big fan of soul music and huge fan of soul trains history," she explained. "Being snubbed was something I always expected and was definitely prepared for just not by them."
"My intent was to never shade other nominees. I'm hurt and I don't expect soulless haters to understand that," she continued. "Everytime I wrap my mind around it I just can't accept it. It feels like a break up. I made a soulful album. I never ran from who I am. I just expected that one platform to understand that."
A fan suggested she make a Christmas album and the "B.M.O" singer responded, "Naw I quit. I'm not selling out. So I quit."
"It's clear I'm not 'cool"'enough," she tweeted. "Not trendy enough and I don't care to be. I don't strive for that. I'm not going to chase this sh*t ever again. No more fake sh*t on my part."

"Dear fake fans please unfollow. I'm not entitled. I'm hurt. There's deeper things i would love to say but I just can't. It's not entitlement. It's blatant disrespect."
Ari then cleared her Twitter account. She's back now though and she's in a much better space being that Dreamville's compilation album, Revenge of the Dreamers III, was nominated for Best Rap Album. She's featured on the album with J. Cole, DaBaby, Lute, EarthGang, and more.

"Hey everybody I'm happy and I'm ok. Next time [heart emoji]. The true award is little beautiful baby black babies singing and loving my songs," she tweeted. "This morning when I found out, I honestly felt peace. I'm happy. I know I'm on the right track. Wishing the best to all the beautiful black folks nominated and I hope they sweep that sh*t."
Well alright.
Speaking of the Grammys, do you feel Megan Thee Stallion was snubbed for Best New Artist? In case you missed, find out all of the YBF artists who were nominated for the 2020 Grammy Awards HERE.
Photo: Backgrid
​ ​
​ ​ ​