Will.I.Am Could Possibly Face A Lawsuit Over Airline Racism Claims + The Veronicas Back Him Up
​
Nov 21 | by _YBF
​ ​ ​ ​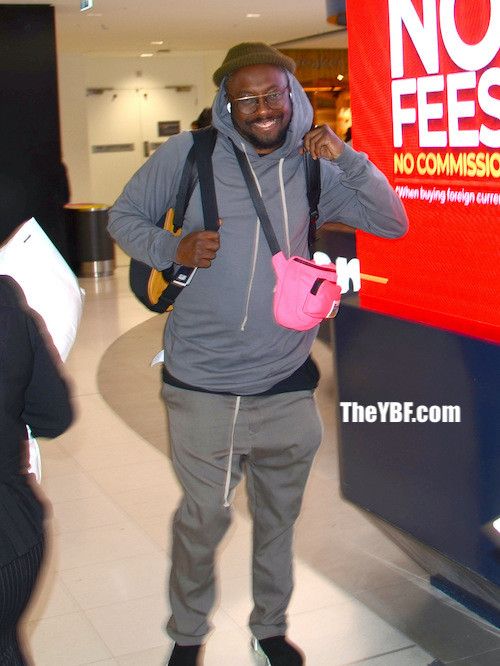 Will.i.am had a bad experience – which he believes was rooted in racism - on Qantas Airlines and tweeted about it. Now, he could be facing a lawsuit. Deets on what went down, plus what singers The Veronicas said that seemingly back his claims inside…
Will.i.am could possibly be in hot water after an incident that went down on Qantas Airline recently.
The Black Eyed Peas frontman (seen above departing Sydney International Airport with Black Eyed Peas band member Apl.de.ap on an Air New Zealand flight to Auckland) was on a Qantas Airline flight from Brisbane to Sydney, but he ended up being escorted off the plane by five police officers. He claims the female flight attendant, who he said was "overly aggressive" and "beyond rude," targeted him because he was black.
Apparently, he was wearing noise-cancelling headphones and he didn't hear the flight attendant's instructions to put away all electronics. After he didn't move fast enough for her, she ended up calling the cops on him and he was escorted off the plane. We guess a quick shoulder tap like they all do was out of the question.
Soon after, he hopped on Twitter to air out his frustrations with the airline, tagging them and posting the flight attendants name in a series of tweets: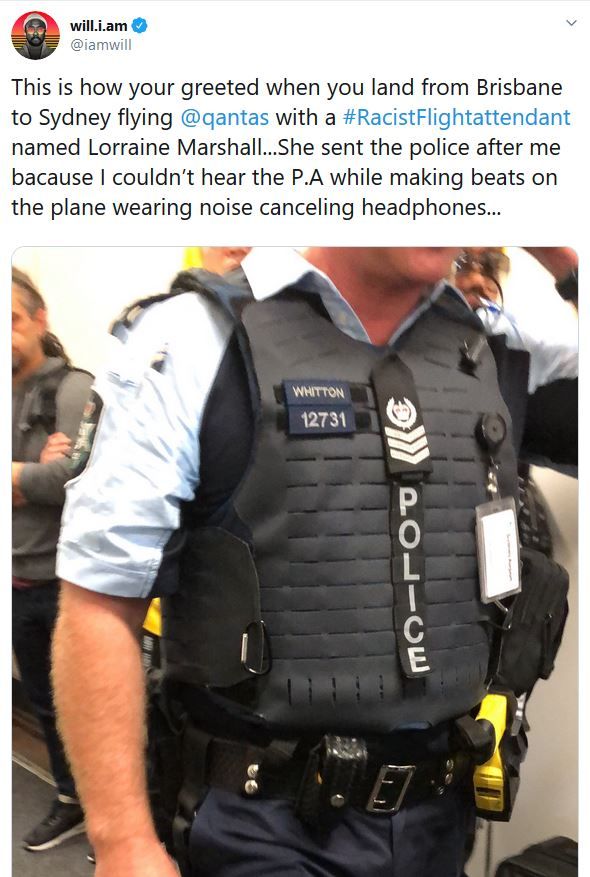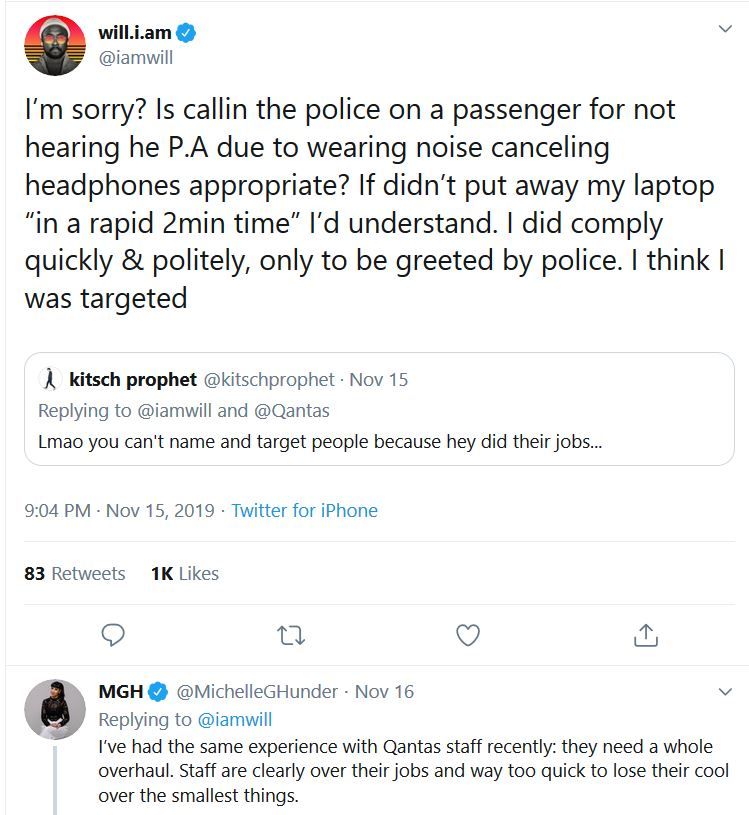 "I did comply quickly and politely, only to be greeted by police. I think I was targeted," he tweeted.
He mentioned other passengers on the plane felt she was doing the most as well: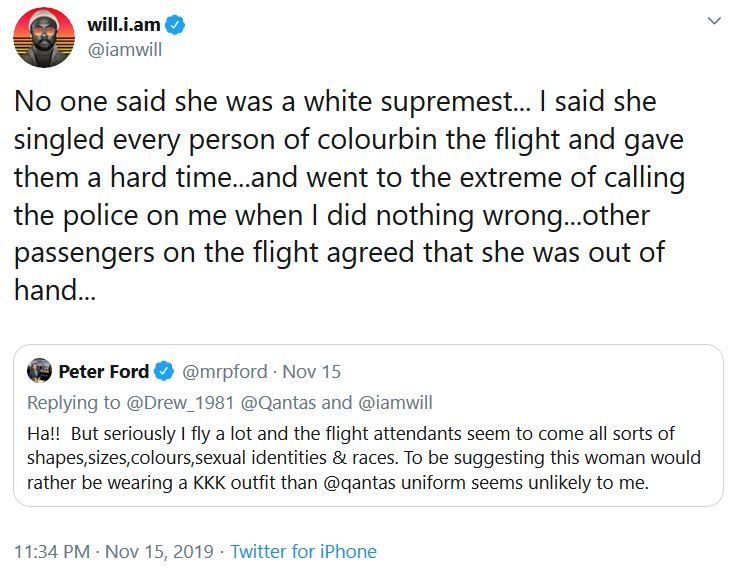 I am in the public eye & I behave even when I have a bad day...my mother raised me to be polite & treat people with respect...being a public figure puts extra guards rails so I stay polite & serve...everyone should operate with respect. especially people who serve the public https://t.co/bDKRkNEPrj

— will.i.am (@iamwill) November 18, 2019
We live in 2019 & technology is advancing...they have WiFi is certain planes & noise canceling is becoming a standard...people who serve the paying public need to know that passengers have on devices that block out outside sound...sending the POLICE after them is a bit much https://t.co/CZHJaMFLUE

— will.i.am (@iamwill) November 18, 2019
Twitter users called him out for posting the woman's name and for airing out the details of what happened to his 12.8 million Twitter followers instead of filing a personal complaint with the airline:
I was intimidated by 5 police officers when I landed...for what? I put away my laptop when she asked...why would she feel threatened by me to call the police? What did I do wrong? I wasn't out of hand.. I was polite & did what she asked... now you're asking me to take abuse? https://t.co/1390ThymY3

— will.i.am (@iamwill) November 16, 2019
This is me filing a "proper complaint"...this way I know my complaint & treatment will be heard...I'm using the same tool you would use if you were wrongly accused of doing something & pulled away by police officers. I still don't know what I did wrong for police to come https://t.co/i3ShYc3PaX

— will.i.am (@iamwill) November 16, 2019
I am posting so that this doesn't happen again...it shouldn't happen to a Aboriginal, Latino, African, LGBTQ White, Red or anyone... everyone deserves to be treated with respect... https://t.co/rcND4e1JUx

— will.i.am (@iamwill) November 16, 2019
I wasn't the only one that felt the same abuse... https://t.co/UOTJis21EG

— will.i.am (@iamwill) November 16, 2019
Now, will.i.am could be facing a lawsuit. A spokesperson for Qantas Airlines told CNN that they are prepared to sue him if he refuses to retract the racially charged accusations.
"Absent a retraction, and if the crew member wanted to take the matter further, we'd certainly be willing to provide legal support for them to do this," the spokesperson told the publication.
By the way, The Black Eyed Peas are in Australia as a part of the band's 2019-20 world tour.
The Veronicas also had an issue with the exact same female flight attendant over luggage and they too were escorted off the plane.
The Daily Mail reports:
Jess and Lisa Origliasso [The Veronicas] were themselves removed from a Sydney to Brisbane flight in September after a disagreement with staff over luggage.

They asked a flight attendant for help manoeuvring a bag in the overhead locker, but were refused because it was against company policy.

A fellow passenger helped instead but later after they were seated, they claimed two flight attendants came over and lectured them, then ordered them off the plane.

The singers claim one of the employees was the same one will.i.am claimed was 'racist' and aggressive' towards him on his flight on Saturday.
After catching wind of will.i.am's incident, they posted a statement supporting the Black Eyed Peas artist: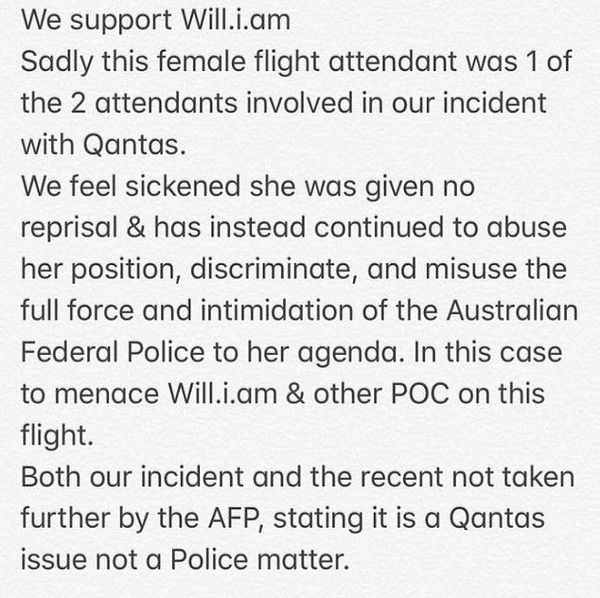 It's reported The Veronicas ended up deleting their Twitter account after posting the statement.
Will.i.am hasn't retracted his claims, but he did hop back on Twitter to ask his fans not to bully the female flight attendant:
https://t.co/lILTVnKT57 https://t.co/IG2aniv6lX

— will.i.am (@iamwill) November 16, 2019
I will do that...I don't wish any harm to anyone...I just everyone to be respected and treated with dignity... the last thing I want is for someone to be in harms way... thanks for the advice... and thank you for trying to see it from the side of the passengers that felt targeted https://t.co/nreiQFnKIL

— will.i.am (@iamwill) November 16, 2019
Please do not send Hate...This type of disrespect and name calling is uncalled for...I don't support abuse & attacks like this...I hope that everyone can be more compassionate & understanding towards one another...because it was the lack of compassion that caused this #noH8 pic.twitter.com/zNwoIyyaBP

— will.i.am (@iamwill) November 16, 2019
In an interview with Australia's The Daily Telegraph, he said he doesn't want the flight attendant to lose her job over the incident, however, he feels she should "be retrained on how to deal with people."
A mess.
Photo: MEGA
​ ​
​ ​ ​