NO HOLDS BARRED! Yvette Nicole Brown & Isaiah Washington Engage In A Brutal Twitter War About Racism, Coonery & More!
​
Nov 30 | by _YBF
​ ​ ​ ​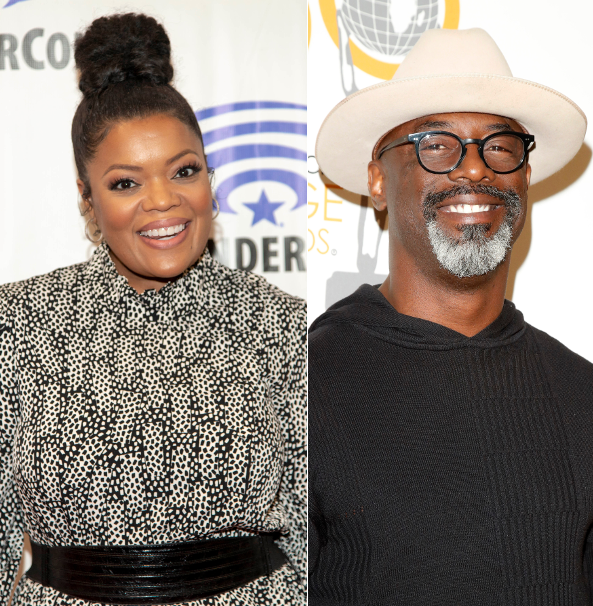 Whew lawd! Yvette Nicole Brown and Isaiah Washington engaged in a war of words on Twitter and neither one of them held anything back. It got dirty! Peep their exchange inside...
Something must have been in the air over the holidays because actress Yvette Nicole Brown and actor Isaiah Washington (a known Republican/Trump supporter) got into it via Twitter and things got uber heated.
Yvette Nicole Brown – who plays a character in the new remake of Disney's Lady and the Tramp – posted the announcement about Isaiah Washington landing his own Fox Nation series. Honestly, it's no surprise as he has been vocal about leaving the Democratic party for the Republican party and wanting to help Trump "Make America Great Again."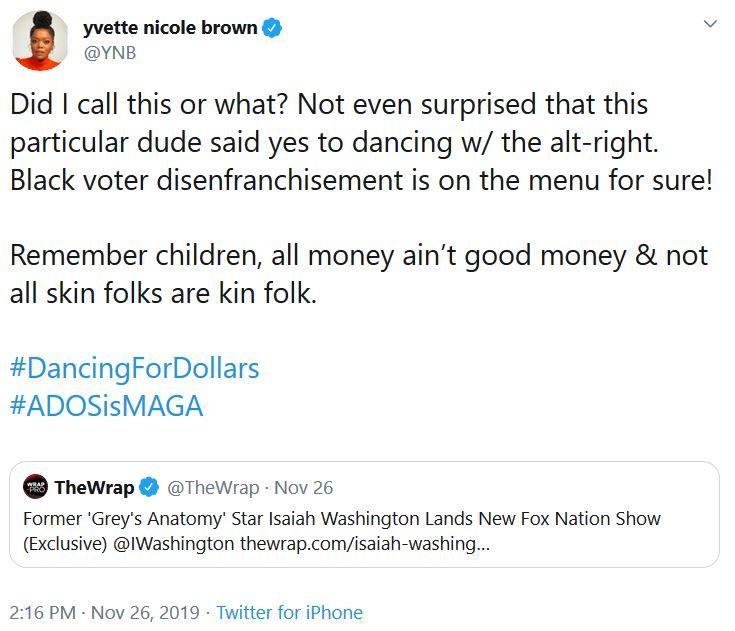 "Did I call this or what? Not even surprised that this particular dude said yes to dancing w/ the alt-right. Black voter disenfranchisement is on the menu for sure! Remember children, all money ain't good money & not all skin folks are kin folk," she tweeted with a link to a article about his new gig.
Days after she posted this tweet. All hell broke loose...on THANKSGIVING.
While awaiting their Thanksgiving feasts, Yvette and Isaiah went back and forth on Twitter after Isaiah called her out for calling him a "coon" and saying he was "dancing for dollars."
"No dear @YNB I'm a Midnight Gutter Coon. Listen, I Followed you so we can perhaps have a chat before I drag you. I could easily drag a 48 year female that is currently starring in a @Disneyuniverse @disneyplus film #LadyAndTheTramp I know Disney hates scandals, so just move on," he tweeted.
Ish took a turn for the worse, as they both got low while debating, calling each other "clowns (using the emoji), fools, and more. YNB accused Isaiah of selling his soul to FOX.
They made low blows, clowning each other's resumes:
YNB even called him out for be "unemplpyed":
Their exchange gets pettier and pettier by the minute. Watch it go down below: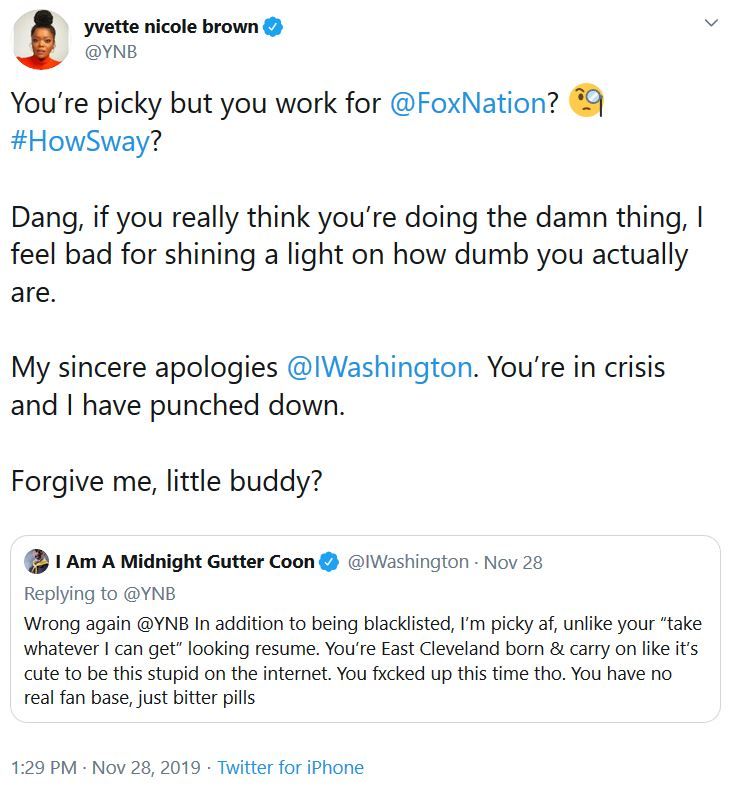 When you can afford to not work, it's not called being unemployed, it's called...I do what the hell I want when I want.

— I Am A Midnight Gutter Coon (@IWashington) November 28, 2019
No dear #ADOS and #MAGA is now your threat, because #LadyAndTheTramp has a fool for its Lead. You did this to yourself. You really should stop calling out black people as Coons with a GIF or otherwise. You canceled yourself engaging me so disrespectfully and I don't know you. https://t.co/D8657nJk77

— I Am A Midnight Gutter Coon (@IWashington) November 28, 2019
#ADOS and #MAGA will show you just how the numbers game works Missy. Tough Talk on the internet is fun, but not real. I 'see' you now and so does millions. So nasty and disrespectful. Shame. https://t.co/519OJRxMVn

— I Am A Midnight Gutter Coon (@IWashington) November 28, 2019
So my recent shows on @TheCW @tvonetv @BET @CBS and now @foxnation are "nobody's" to you? All those jobs were given to me, because I'm a horrible actor, producer and person? Wow. Yup! You're a https://t.co/7HjtqkAPYq

— I Am A Midnight Gutter Coon (@IWashington) November 28, 2019
Well, that didn't take long! You're a VICTIM NOW?! You posted a disrespectful tweet about me yesterday and posted a GIF of a Coon. I don't celebrate Thanksgiving, so I'm happy to roast your Ass here on Twitter Tho ! YOU STARTED THIS, let's GO! https://t.co/1ftP1Q3dcZ

— I Am A Midnight Gutter Coon (@IWashington) November 28, 2019
Kissing your fake Followers Ass here on Twitter isn't gonna help you. For some reason you want to tie the political group #ADOS to me as I happen to be ADOS through lineage, but that's a MISTAKE. Yes, I rock with #MAGA, just like I did with Reagan. You are a fool and it SHOWS. https://t.co/WFWjmD4dmQ pic.twitter.com/nc4fixUvfp

— I Am A Midnight Gutter Coon (@IWashington) November 28, 2019
.@YNB Nah...you ain't win! I'm still right here on your Coon calling behind. I can do this all day. I didn't come for you. You have an issue with #ADOS and #MAGA, but you crossed the line homie. Just apologize or fall back and leave my name outcha mouf. You do you Dog Catcher. https://t.co/1zRAEqShlW

— I Am A Midnight Gutter Coon (@IWashington) November 28, 2019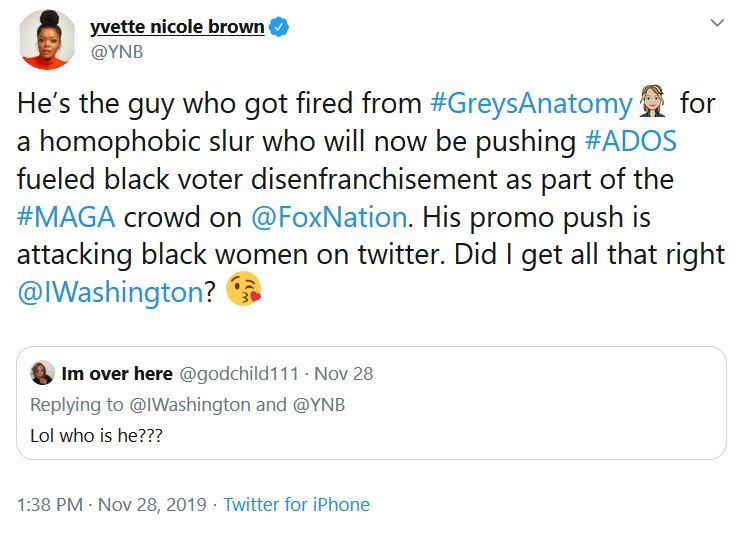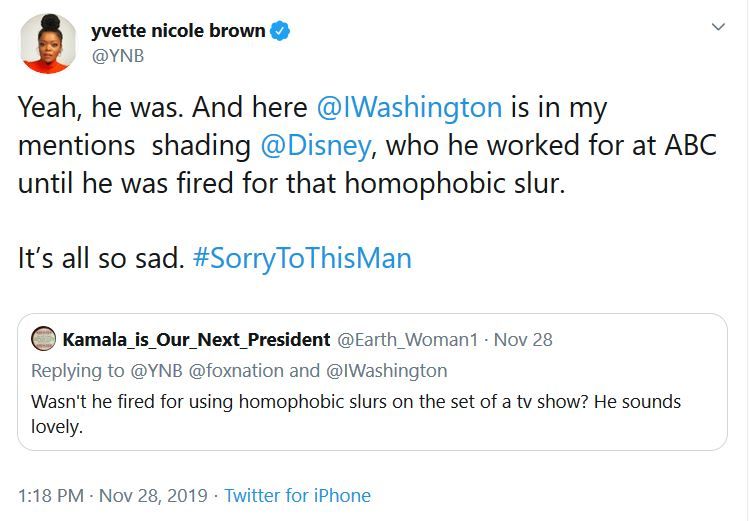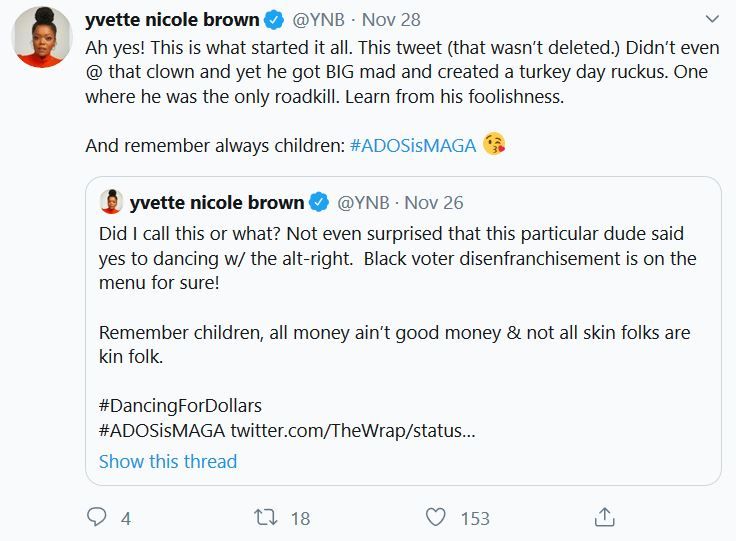 Whew, chile! All of this on Thanksgiving! A whole mess. Thoughts?
Photos: Eugene Powers / Kathy Hutchins /Shutterstock.com
​ ​
​ ​ ​