REPORT: 11 People Injured, 2 In Critical Condition After Shots Ring Out In New Orleans
​
Dec 01 | by _YBF
​ ​ ​ ​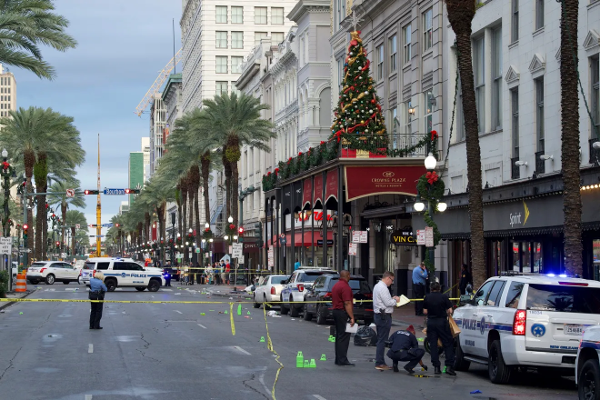 There are reports that 11 people have been shot – 2 in critical condition – early Sunday in New Orleans' famed French Quarter. Details inside…
Shots rang out early Sunday morning in New Orleans' French Quarter and it resulted in 11 people being shot, leaving 2 of them in critical condition.
The New Orleans Police Department initially said there were 10 victims. However, they added an additional person after that person walked into a local hospital seeking treatment.
Anyone w/info on shooting that injured 10 people this morning in 700 block of Canal Street asked to call #NOPD at 504-658-6080 or @CrimestopperGNO at 504-822-1111.https://t.co/VEjrhtkNlR pic.twitter.com/u7PTjsShTT

— NOPD (@NOPDNews) December 1, 2019
UPDATE: The total number of victims in this incident is 11. A victim walked in at a local hospital for treatment. Investigation remains ongoing. #NOPDAlert

— NOPD (@NOPDNews) December 1, 2019
The shooting happened right off of Bourbon Street near a busy commercial block of Canal Street. There was a high police presence in the area due to the annual Bayou Classic football game between Grambling State University and Southern University that's played at the Mercedes-Benz Superdome. The game always brings out a crowd, so police were in the mix.
CORRECTION: An individual was detained near the scene. However, their possible involvement in this incident remains under investigation. No arrests have been made at this time. Investigation remains ongoing. #NOPDAlert

— NOPD (@NOPDNews) December 1, 2019
While police reported they detained someone near the scene, they still haven't made any arrests yet. Police Supt. Shaun Ferguson said police didn't waste any time to respond to the shots since they were already in the area.
New Orleans mayor LaToya Cantrell issued a statement via Twitter addressing the shooting:
The shootings on Canal Street early this morning were an ugly disruption of an otherwise beautiful holiday weekend. We will do everything we can to wrap the victims and their families in our love and support, and to bring the criminals responsible to justice.

— Mayor LaToya Cantrell (@mayorcantrell) December 1, 2019
The City of New Orleans will not allow incidents like this to derail the progress we have made, or to further disrupt our community.

— Mayor LaToya Cantrell (@mayorcantrell) December 1, 2019
I applaud our public safety team for their instant and efficient response — particularly our @NOPDnews officers who were on the scene within seconds. This tragedy will not define us, and it will not deter us from moving our City forward and keeping our people safe.

— Mayor LaToya Cantrell (@mayorcantrell) December 1, 2019
Folks are expressing their frustration about the shooting being associated with the Bayou Classic on Twitter - from both sides:
Just unfriended someone on FB who blamed the entire Bayou Classic event for the shooting. And also defended the practice of #ClosedForEssence. If I see you do it, I'll drop you too.

— I'm about as subtle as a flying brick (@AmandaSoprano) December 1, 2019
"This is the second mass shooting to occur on the weekend of Bayou Classic in recent years."

THE PEOPLE WHO VISIT FOR BAYOU CLASSIC ARE ALWAYS VIOLENT AND WE SHOULD HAVE CANCELLED THE EVENT YEARS AGO. I'm very, very, VERY angry about this. https://t.co/zP03kEqsik

— harm to ongoing matter (@what_itissbaby) December 1, 2019
Bayou Classic has absolutely nothing to do with dumbass ppl shooting on Bourbon. Please don't confuse the two. https://t.co/SJ83mXbyzn

— Brandon O'Neal (@Bran_Tillery) December 1, 2019
Nighas be shooting in the city, BR, and other parts of Louisiana everyday but when it's around Bayou Classic time, that's when everyone wants to care. Smh

— Krishawn HEAUXgan (@CindyMcFEARson) December 1, 2019
Why do they be shooting every year for bayou classic ? Like every year https://t.co/5FFwJAiSBk

— From where they make gumbo at (@Ladychef07) December 1, 2019
The Bayou Classic Game has nothing to do with the Shooting. You might as well cancel Mardi Gras as well. Bayou Classic brings millions to the city it ain't going anywhere. https://t.co/BkZVoGAzHn

— UncleBryson (@BrysonBradford) December 1, 2019
There was a shooting on Canal. The news is really pushing the story more than the usual "if it bleeds it leads" manner.

I suspect that the hopes are this will be associated with the Bayou Classic and disparage the event.

— The Bearded Educator (@LiteraryBeardo) December 1, 2019
I hope people stop saying man they gone stop the bayou classic! No they are going to continue it because they shooting on canal had nothing to do with it

— Tommy (@TommyBolds) December 1, 2019
Why they making this shooting sound like a mass killing every bayou classic they air that bitch out

— Grand Theft indo. (@Voyage_To_India) December 1, 2019
I already know everyone is gonna associate what happened last night with "Bayou Classic" when the people doing the shooting prolly didn't have shit to do with neither schools

— Coldest Kicks @ SU (@iam_flykicks) December 1, 2019
The investigation is still ongoing.
Do you think they should cancel the Bayou Classic due to the violence or nah?
Photo: AP
​ ​
​ ​ ​